Best Document Holder for your Important Papers
These document holders are made up of different materials and they also make the documents sit at your eye level so that you can work easily. There are plenty of options to choose from and it can be quite a daunting task to narrow down your options. So, here is some help from us:
1.Rolodex Mesh Collection Nesting Document Holder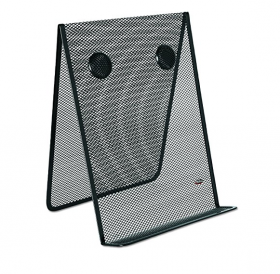 The Rolodex document holder is the perfect accessory for any office desk. It has a meshwork design which looks quite classy in an office. This product is available in the black which makes it aesthetically appealing and adds to its class and elegance. The document holder is very effective for keeping your papers at eye level while you type. This ensures that you do not have to look down or up again and again.
This is a blessing for those people who need to work for long hours since moving their neck too much can be painful in the long run. The document holder has quite a simple design. It comes with two magnets that are used to hold the papers in place. The design accommodates letter size paper.
Pros
Can be used to keep your documents
No need to worry about looking up and down while working or typing
Very classy design for office use
It is handy for students as well
Cons
The meshwork design can get damaged if you accidentally bring it in contact with sharp pens or pencils
Check out the latest prices at Amazon
2.BestBookStandActto BST-09 Green 180 angle adjustable
The BestBookStand document holder provides ultimate ease for working while keeping your documents at your eye level. This keeps the aches and pain away and also ensures that the work gets done faster. You do not have to keep it in one place. It is quite light weight and can be taken around whenever you need to do so.
The style of this document holder is quite unique and the color is also pleasantly cool to have on your study or work desk. Not only does it handle documents well, it also accommodates planners, books or any other thing that you need to work with. It is approximately 10 by 8 inches in size, which is suitable space for keeping your A4 documents and for even your everyday planners.
Students who need to type while they take information from a book can also keep their reference book on this holder for faster and easier working. The manufacturers claim that their main purpose is to provide satisfaction to the users. That is why they have combined the health benefits with the ease of work.
Pros
Keeps your documents at your eye level
Supports spinal health by not straining the neck
Ensures faster working
Can be used for planners too
Cons
The color may not be for everyone
It may be too bright for people working in formal work places
Check out the latest prices at Amazon
3.Cosmos Plastic Document Holder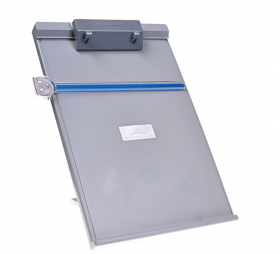 This document holder is something that you need to keep with your computer since it works well with those people who need to work on their computer for a long time and also have to take information from paper documents.
Work comfortably with the documents at the level of your sight so that you do not need to move your neck up and down every few seconds. This does not only save time, it also protects your back and neck from aching and injury.
It also comes with a guide bar that helps you to keep your documents in the correct order. This saves even more time and is a delight for people who like to stay organized. You can just clip your papers onto the document holder and start working. It is a very simple document holder without any over the top design which makes it good for even keeping in office place. Or you can use it at home, if you work from home or you just have some stuff to do at home.
Pros
Prevents back injury
Keeps documents organized
The documents can be clipped in place easily
The documents also stay safe from scattering around when kept in orderly form.
Cons
The design could be more updated since some students may also want to keep it on their study desk.
Check out the latest prices at Amazon
4.CoBean Black metal desktop document book holder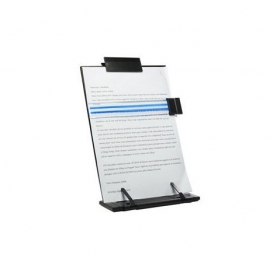 The CoBean document holder is the classiest holder that you can get for your desk. It is made up of very sturdy material which ensures that the holder with not break under the weight of papers. Also, there are clips in front to keep the documents in place. You do not need to worry about your documents slipping down from the document holder since there are clips to hold it up.
Clips can also be placed on the side edges for better support and to keep the documents in place and not move even a bit. One of the coolest features of this document holder is the guide line that is removable. It can be moved around on the paper and kept on the heading of the text so that you know where you are working from.
There are seven different positions in which you can keep the document holder. These positions can be altered depending on which position your feel most comfortable in. It also depends on the height of the person and the chair they are sitting on. Just carry around the document holder with you and adjust the position of the display for your ease.
Pros
The design is quite sophisticated
Fit for office use
Has seven different holding styles
Has extra clips on the side for keeping documents in place
Can be used by students. They can keep it on their study desk as it also matches the aesthetics of an Instagram-able study desk
Cons
Check out the latest prices at Amazon
5.3M Desktop Document Holder with Adjustable Clip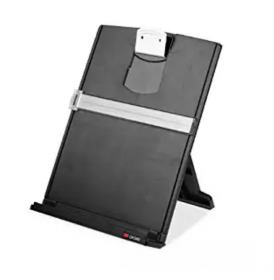 The 3M desktop document holder is made for professionals as its features fulfil all the needs of busy workers. It comes with clips to hold the pages in place and it has a capacity of up to 150 pages. As such, you can keep your whole project in it, in an orderly manner, and work easily through them all.
Read your legal documents on it by keeping them in the correct order. The dimensions of this document holder are 3.375 in x 12.0 in x 1.75. It comes in black, which further increases its attractiveness. The design is made with simple details and the sophistication that is needed on a work desk. There is also a ruler guide which can be set by the reader to know where they stopped or where they are working from, that day.
Pros
Has clips for extra security
Has a capacity of up to 150 pages
Can be used by professionals
Can be used by students for their projects and assignments
Cons
The ruler guide can break if it is not used with caution
Check out the latest prices at Amazon
6.3M Document Holder Wedge, 20 Sheet Capacity (DH140)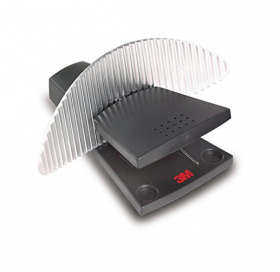 This document holder is a bit different from your average document holder. The clip holds up to 30 pages in place at one, which is more than sufficient for students or people that need to work on a daily basis. It is easily portable and you can even carry it in your bag if you want to. Just keep it anywhere and start working.
Most people would think that it does not have a back support so it will not be able to hold the weight of the papers. However, that is not the case since the base is weighted well. Due to this, the papers do not slide off and they stay where they are supposed to be.
Pros
Is easily portable
Keeps documents organized and aligned for faster working
The style is quite unique
Can be kept on your study desk
Cons
The papers may tip off if you try to put too many sheets. It can only hold a certain amount of weight
Does not look as professional as the document holders with a back support
Check out the latest prices at Amazon
7.Page-Up Color Plus Document Holder – Black – 01484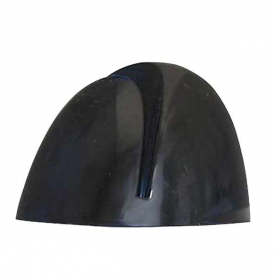 This Page Up document holdercomes with a unique design. It is simply a small apparatus that you need to keep on your desk and you can simply keep your papers in it. The bottom is quite sturdy and is weighted so you do not need to worry about the papers falling off. The document holder is available in many colors. Professionals can take it in black or any other tone. Students can go for brighter colors if they want.
This is great for people who work from home or any student that needs to work with an article from the internet or type an assignment on the computer. Keep it on your study desk or your computer desk. It can be carried around easily and you can even take it to your office and bring it back home with you.
Pros
Suitable for professionals and students alike
Is available in a huge selection of colors
Is quite easy to carry
Is a new design as compared to the document holders with back supports
Boasts good reviews and ranking by customers
Cons
Can only be shipped inside the US.
Check out the latest prices at Amazon
8.Sparco SPR38950 Easel Document Holders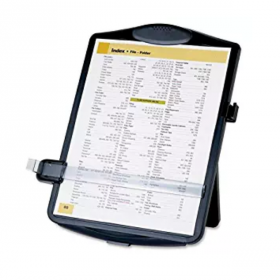 The Sparco Easel document holder is available in black, which makes it a good choice for office goers. It can help you work for long hours without feeling the killing pain in your back or in your neck. Keep the documents at your eye level so that you can see the document clearly and can work from it easily.
It also comes with a guide line marker that can be placed anywhere to see where you are supposed to be working from. Students can put this to good use by studying with it. Keep your book on there and read at eye level, so that your neck does not get tired after a while.
It can be used to keep a lot of sheets of paper. You can keep your legal documents on it to read them or keep your letters on there for better reading. Many users have found this to be quite helpful for their daily use. Even professionals love it because it saves them much time and the pain of uncomfortable neck and back movement.
Simply, keep the document that you need to see through the day on the document holder. It could be your time table or something that needs to be submitted that day.
Pros
Keeps the document at your eye level
Can be used read legal documents as well.
Is good for students too
Can bear the weight of books
Cons
May not be able to bear the weight of thicker course books for students
Check out the latest prices at Amazon
Conclusion
Document holders are extremely important if you want to work for a long time and not be exposed to any negative effects of such stress condition on the body. Therefore, take your pick from the choices given above and work for as long as you want without having to move your neck, unnecessarily.