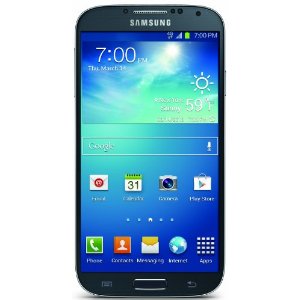 Product description
Make your life more meaningful and your work easier with Samsung Galaxy S4. Featuring a 5-inch Full HD 1080p Super AMOLED touch-enabled display, this unit allows you to enjoy your favorite movies and view the beautiful pictures.
Don't want to miss any special moment and memory? Get this Samsung Galaxy S4 which boasts a Dual Camera function. It is equipped with a 13-megapixel rear camera and a 2-megapixel front-facing camera. You can use of both front and rear cameras simultaneously. And the pictures you captures can be blended naturally or adjusted the size of the small picture inside the big one. In addition, with the Story Album function, your special moments can be automatically stored in a photo album.
Click here to see what others are saying…
Thanks to the Dual Video Call function, you can make and receive a video call with friends and family while showing what you are looking at during the call.
Featuring a 441 ppi (pixels per inch) pixel density for stunning viewing quality and Corning's Gorilla Glass 3, its 5-inch screen is stronger and more resistant to scratches and cracks than ever before.
Have you ever wondered that you can enjoy music, photos, documents, and games with those around you without even requiring a Wi-Fi or cellular signal? This is not a dream with Samsung Galaxy S4. With the Group Play function, this unit allows you to connect directly to other Galaxy S4 users instantly. Easily share and experience many of life's pleasures together with family and friends.
You definitely will appreciate the infrared sensor feature of Samsung Galaxy S4. It allows the Galaxy S4's WatchON feature to change the TV channel from your phone. Additionally, you can watch more music, movies, and games with one app and one sign-in thanks to the Samsung Hub.
As a SAFE-designated device, the Galaxy S4 has additional security features to safe-guard sensitive data and communications. Its KNOX solution provides comprehensive mobile security at the hardware level and enhanced personal privacy for individuals at the software level.
Key features
3G/4G LTE connectivity
(LTE available in limited markets)
Android 4.2.2 (Jelly Bean) with TouchWiz enhancements
1.9 GHz quad-core processor
5.0-inch touchscreen Full HD display (1080 x 1920)
13-megapixel rear camera; Full HD 1080p video capture
Front-facing 2.0-MP camera
16 GB storage + 2 GB of RAM
Wireless-N Wi-Fi + Bluetooth 4.0 + NFC
2600 mAh battery for a full day of use
Specification
Display: 5.0-inches
Camera: 13-MP
Processor Speed: 1.9 GHz
OS: Android 4.2 (Jelly Bean)
Size (LWH): 2.8 inches, 0.3 inches, 5.4 inches
Weight: 4.64 ounces
Network Compatibility: LTE
Minimum Rated Talk Time: 180 minutes
Minimum Rated Standby Time: 240 hours
Pros
Nice 5 inches Super AMOLED HD screen
The battery life is quite long
Removal battery
Fast with apps
Excellent Bluetooth compatibility
Cons
Limited to 16gb of on board storage
Back of the device is a little bit slippery