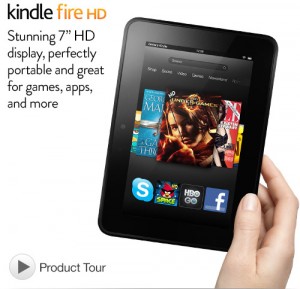 Product description
Using In-Plane Switching (IPS) to improve color reproduction and featuring an advanced polarizing filter and custom anti-glare technology, this Kindle Fire HD delivers rich color and deep contrast from every angle. Its 1280×800 high definition LCD display allows you enjoy rich, HD video and vivid, beautiful photos.
Never worry about the sound of Kindle Fire HD Tablet. It uses the power of Dolby Digital Plus, delivering a world class audio experience, with or without headphones. Dolby Digital Plus features some technology to adjust volume, create virtual surround sound, and deliver easier-to-understand dialogue in movies and TV shows. When you are watching a movie, listening to music, or talking on Skype, Kindle Fire HD will automatically optimize the audio profile based on what you're doing. This Kindle Fire HD Tablet also features dual-driver stereo speakers on both sides of the display, delivering a wide sound-field similar to that of a home stereo.
Click here to see what others are saying…
As the first tablet to feature dual Wi-Fi antennas and Multiple In/Multiple Out (MIMO) technology for powerful, HD-ready Wi-Fi, the Kindle Fire HD allows you to enjoy fewer dropped connections, more than 35% faster media streaming and go further from your wireless hotspot. In addition, Kindle Fire HD is able to automatically switch between the 2.4 GHz and 5 GHz Wi-Fi frequencies, which means you can use this less congested 5 GHz band for better range and less interference.
Kindle Fire HD also has the Greatest HD Games including Angry Birds Space, Where's My Perry?, Fibble, andSkylanders Cloud Patrol, and your Favorite App like Netflix, HBO GO, Facebook, Hulu Plus, Pinterest, Skype and so on.
Want to keep contact with your friends? No problem with Kindle Fire HD Tablet. Its new email app makes sending mail, viewing attachments, and syncing contacts simple. It full support for the world's most popular email providers including AOL, Exchange, Gmail, Hotmail, Yahoo!, and more.
Features
High Definition Touchscreen Display
Richer Colors at Wider Angles
Reduced Screen Glare
Exclusive Dolby Audio
Dual-Driver Stereo Speakers
Two Antennas, Better Bandwidth
Dual Band Support
Powerful HD Processor
Over 11 hours of Battery Life
Plenty of Storage for HD Content
The Greatest HD Games
Your Favorite Apps
Specification
Display: 7"
Size: 7.6″ x 5.4″ x 0.4″ (193 mm x 137 mm x 10.3 mm)
Weight: 13.9 ounces (395 grams)
Storage: 16GB internal storage
Battery life: 11 hours
Charge Time: 4 hours via the Kindle PowerFast charging accessory
Ports: USB 2.0
Sensors: Ambient light sensor, accelerometer, gyroscope
Audio: 3.5 mm stereo jack and integrated stereo speakers with exclusive Dolby audio engine
Pros
Looks great
Quite long battery life
Fast Wi-Fi
Amazing sound
Sturdy and durable
Cons
Takes a little bit long time to charge the battery
No charger provided