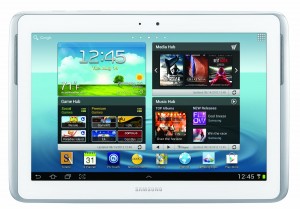 Product description
The Samsung Galaxy Note 10.1 Update is equipped with an improved predecessor which offers easier, faster navigation and multitasking. You can view and access up to 16 different apps at the same time thanks to Cascade View.
With Air View, this Samsung Galaxy Note 10.1 is easy to start playing a movie at exactly the right scene, or preview the contents of a photo album or folder. Even more you can quickly scan emails and attachments or scroll through Web pages.
Click here to see what others are saying…
Thanks to the Android 4.1, Jelly Bean, you can view the Samsung Gallery in three modes: timeline view, grid view, and spiral view. The Android 4.1, Jelly Bean also features Page Turning which allows you to navigate from one page to the next.
Paired with a special screen, the integrated S Pen offers unparalleled precision for note-taking, photo editing, and illustrating. Additionally, the Samsung Galaxy Note 10.1 Update comes preloaded with a version of the Adobe Photoshop Touch which has been optimized specifically for the S Pen, allowing you to edit, crop, enhance, and annotate photos with ease.
Equipped with 16 GB of onboard memory storage, the Samsung Galaxy Note 10.1 Update allows you to store your favorite video, music, and other media. And there is a microSD card slot to expand the tablet's memory. It also comes with an online file-hosting service to store up to 50 GB of digital content, as well as a free two-year subscription to Dropbox.
Don't want to interrupt video play while browsing the Internet, composing emails, or even playing games? No problem with this Samsung Galaxy Note 10.1. It features Samsung's innovative Pop Up Play, making it possible to collapse any video you are watching into a smaller window.
Features
Pressure-sensitive S Pen for easy drawing and note-taking
View and access up to 16 apps simultaneously with Cascade View
Preview content before opening it with Air View
Create personalized photos and handwritten notes
Fast performance with quad core processor and Android 4.1 Jelly Bean
Specification
Hardware Platform: Unknown
Processor: 1.4 GHz Tablet Processor
Number of Processors: 1
RAM: 2 GB
RAM Type: Unknown
Special Features
Built-in Flash
Built-in Microphone
DC in Jack
Integrated Card Reader
Touch Sensitive Screen
Video Recording
Video playback
Hard Drive
Size: 16 GB
Manufacturer: SSD
Type: Unknown
Graphics and Display
LCD Native Resolution: 1280 x 800
Cases and Expandability
Size (LWH): 7.09 inches, 1.31 inches, 10.32 inches
Weight: 1.31 pounds
Power
Battery Type: Lithium ion
Rated Charge (normal use): 9 hours
Wireless
Wireless Type: 802.11bgn
Pros
Fast charging and long battery life
Great for class notes
Fast and smooth
Loud and decent quality speakers
Cons
The camera is a little bit small
Charging connector is not the bottom not the side