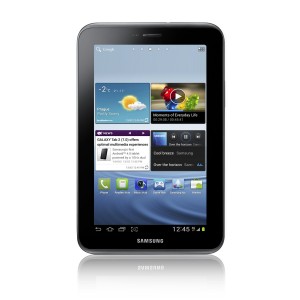 Product description
Weighing just 12 ounces and featuring a vibrant 7-inch touchscreen display, this Samsung Galaxy Tab 2 is designed to keep you entertained no matter at home or on the road.
You can enjoy the most ramped up, up to the minute features and multitudes of apps supported by new the ICS technology, thanks to the Android 4.1 OS (aka, Jelly Bean). The evolved, intuitively designed UI you'll get transitions seamlessly across all your applications, plus enhanced web browsing, faster overall response, and easier accessibility to preloaded Google Mobile apps such as YouTube, Maps, and so on.
Click here to see what others are saying…
Want to get access to Google Search, Gtalk, Google+, and contacts/calendar synchronization more easily and quickly? No problem with this Samsung Galaxy Tab 2. It features integrated Google technology, offering one-touch access to the popular Google mobile services millions use every day. In addition, you can also get access to thousands of useful applications and fun games to download and install on your tablet through Google Play.
If you are looking for a tablet that allows you to immediately check out top e-books, latest hit songs, premium games, and recent video releases, then this Samsung Galaxy Tab 2 is your ideal choice. By providing direct access to apps you use all the time, the home screen layout maximizes your experience of Samsung Hub services.
Samsung's ChatON app provides a more expressive, dynamic way with unique features like Group Chat, Multimedia Transmission, Buddy Interaction and more for you to connect your friends and acquaintances. Additionally, the Google+ Hangouts allows you to easily engage in spur-of-the-moment group video sessions.
Melding digital content from different networked devices into one seamless flow, the AllShare Play allows you to download photos or movies to store, then push to watch later on your Samsung HDTV. It can also provide web storage services, allowing you to upload and backup your data conveniently and securely for safekeeping or sharing.
Features
Android Jelly Bean 4.1.2
10.1-inch Multitouch 720p HD Screen (1280 x 800)
16GB Internal Memory, microSD expansion up to 32GB
Wireless N Wi-Fi (802.11b/g/n); Bluetooth 3.0, GPS Enabled with Latitude, Google Maps
1GHz Dual-Core Processor
Specification
Screen Size: 10.1 inches
Screen Resolution: 1280 x 800
Processor: 1 GHz
RAM: 1 GB DDR2
Hard Drive: 16 GB
Wireless Type: 802.11B, 802.11G, 802.11n
Average Battery Life (in hours): 7 hours
Hardware Platform: PC
Operating System: Android 4.0
Item Weight: 1.3 pounds
Item Dimensions L x W x H: 6.90 x 0.38 x 10.10 inches
Color: Grey
Rear Webcam Resolution: 3 MP
Processor Count: 1
Computer Memory Type: DDR2 SDRAM
Flash Memory Size: 16
Hard Drive Interface: Serial ATA
Battery Type: Lithium-Ion (Li-Ion)
Pros
Great screen, bright and clear display
Long battery life
The sound is incredible
Quite easy to use
Cons
No standard USB port
Takes a little bit long time to charge the battery