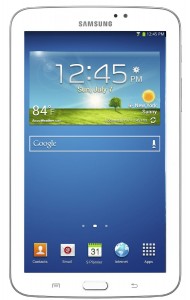 Product description
Featuring a 7-inch display with a 1024×600 resolution and a 1.2 GHz dual-core processor, this Samsung Galaxy Tab 3 is designed to meet your diverse needs, including downloading and watching the latest movies and TV shows, reading digital books, playing games, and more.
Have a lot of important documents, favorite movies, musics, pictures and videos to store? Don't worry, this Samsung Galaxy Tab 3 offers 8 GB of onboard memory and features a microSD card slot, allowing you to add up to 64 GB of additional memory (microSD card sold separately). It also comes with 50 GB of storage at Dropbox, an online file-sharing service.
Click here to see what others are saying…
With hundreds of dollars' worth of pre-loaded content, Samsung Galaxy Tab 3 offers a free 3-month Hulu Plus membership along with 12 months of free, unlimited Boingo Wi-Fi access in North America. Also, there is $10 Google Play store credit to purchase apps, books, music, and TV shows.
You can use the Galaxy Tab 3 as a universal remote to operate nearly any TV or DVR thanks to its built-in IR blaster which is the same kind found in standard television remote controls. In addition, Samsung's WatchON app is able to share content wirelessly between the tablet and TV, and interacts seamlessly with Samsung Smart TVs.
Powered by a 1.2 GHz dual-core processor and offering up to eight hours of battery life on one charge, this thin and lightweight Samsung Galaxy Tab 3 allows you to browse the web, download apps, check email, and enjoy social networking, no matter where you are.
With a 1.3-megapixel front-facing camera, this Galaxy Tab 3 allows you to conduct video chats with friends and family members. And a 3-megapixel rear-facing autofocus camera will never let you miss any special moment.
Features
Android 4.1.2 Jelly Bean OS, 1.2 GHz dual-core processor
8 GB Flash Memory, 1 GB RAM Memory
Store photos, videos, music, and more with up to 64GB of memory available through a microSD slot and 50GB of free Dropbox storage
Camera: 3MP rear-facing, 1.3MP front-facing
Over $300 of free content including Hulu Plus membership, Google Play credit and Boingo Wi-Fi Access
Specification
Hardware Platform: PC
Processor: 1.2 GHz Tablet Processor
Number of Processors: 2
RAM: 1 GB
RAM Type: DDR2 SDRAM
Special Features
Built-in Microphone
Integrated Card Reader
Touch Sensitive Screen
Video Recording
Hard Drive
Size: 8 GB
Type: Serial ATA
Graphics and Display
LCD Native Resolution: 1024 x 600
Cases and Expandability
Size (LWH): 0.39 inches, 4.37 inches, 7.4 inches
Weight: 10.72 ounces
Power
Battery Type: Nonstandard Battery
Wireless
Wireless Type: 802.11bgn
Pros
Thin, lightweight, quite portable
Easy to connect WiFi
The SD card slot holds up to 64GB
The battery life is quite long
Pros
The voice assist feature is a little bit low
Low internal storage