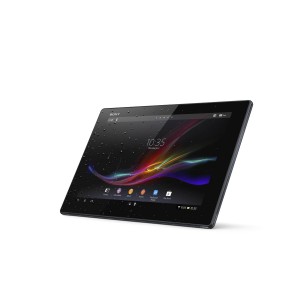 Product description
You definitely will be alarmed by how slim the Xperia Tablet Z is. Measuring just 0.27 thick and weighing 1.09 lb.2, the Xperia Tablet Z is the world's slimmest 10.1?? tablet. Powered by Mobile BRAVIA Engine 2, the Xperia Tablet Z features a 10.1?? full-HD Reality Display, ensuring a brilliant HD TV-like viewing experience with enhanced color reproduction. It also provides the widest color spectrum on any tablet, delivering a vivid, life-like display2.
Never worry about your tablet getting wet. The Xperia Tablet Z is water-resistant up to 3 feet for up to 30 minutes4.
Click here to see what others are saying…
Featuring Sony's One-Touch feature which is based on NFC technology (Near Field Communication), this Xperia Tablet Z allows you to transfer content, including audio, video and images, among compatible devices.
Have you ever wondered that you can control the TV, browse the channel guide and change the channel with your tablet all without having to minimize what you're watching on the TV? This Xperia Tablet Z can help you. In addition, it lets you learn more about the show you're watching right now, like cast and episode details. With a built in search function, you will never need to worry about you can't find what you want to watch.
Equipped with an 8MP rear camera which features the Exmor R for mobile sensor, this Xperia Tablet Z will never let you miss any special moment. The 2MP front camera also features the Exmor R for mobile sensor, allowing you to video chat with your family and friends. You can share your pictures directly to Facebook or upload them to PlayMemories Online, Sony's free, online photo and video sharing service.
Key features
The Clear Audio+ technology delivers richer, deeper and more life-like Songs, soundtracks and effects
The battery STAMINA mode allows you to have intelligent battery management
The fast Qualcom Snapdragon S4 Pro quad-core processor gives you powerful computing and improved multitasking ability while conserving battery life
Android 4.1 Jelly Bean, 10.1 inches Display
Qualcomm Snapdragon S4 1.5 GHz
16 GB Flash Memory, 2 GB RAM Memory
9.0-hour battery life, 2.21 pounds
Specification
Hardware Platform: PC
Processor: 1.5 GHz Snapdragon S4
Number of Processors: 4
RAM: 2 GB
RAM Type: DDR2 SDRAM
Special Features
Integrated Card Reader
Touch Sensitive Screen
Video Recording
Hard Drive
Size: 16 GB
Type: Serial ATA
Graphics and Display
LCD Native Resolution: 1920 x 1200
Sound
Speakers: Stereo
Ports and Connectivity
USB 2.0 Ports: 1
Cases and Expandability
Size (LWH): 11.89 inches, 8 inches, 1.89 inches
Weight: 1.09 pounds
Power
Battery Type: Lithium ion
Rated Charge (normal use): 9.8 hours
Wireless
Wireless Type: 802.11bgn
Pros 
Beautiful look, lightweight
Color reproduction is nice
Battery life is decent
Easy to set up
Cons
Takes a little bit long to charge
The charging port is on the bottom