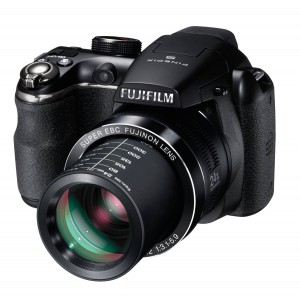 Product description
Want maximum reach without compromising image quality or convenience? Get this Finepix S4200. It is equipped with the high-quality 24x Fujinon optical zoom lens, delivering advanced features and excellent performance.
The lens elements used in the FinePix S4200 have been treated with multilayer Super EBC (Electron Beam Coating). It means this FinePix S4200 will reduce ghosting and lens flare, ensuring clear image quality. In addition, you can frame every shot with precision accuracy thanks to smooth 42-step zoom control.
Click here to see what others are saying…
Combining the high sensitivity with CCD shift image stabilization, the Dual Image Stabilization of this Fujifilm FinePix S4200 is designed to eliminate blurred photos by freezing action and minimizing blurs at maximum zoom range.
The FinePix S4200's crisp, clear electronic viewfinder delivers the flexibility of framing your shots. The bright EVF accommodates a traditional shooting style, making it easy to steady the camera, even when shooting with the 24x zoom fully extended.
The 3.0-inch large, bright LCD display makes it easy to compose great photos. The high-impact 230,000-dot resolution makes it a pleasure to share pictures.
Featuring SR AUTO, an auto 6 scene-recognition function with fully loaded detection functions, this Fujifilm FinePix S4200 can detect faces, blinks and smiles for clear optimized people photos. Red-eye removal automatically detects and corrects flash reflection for a perfect end result. The Face Detection can instantly detect up to 10 faces. Thanks to the Blink Detection, the camera will warn you when people in the frame are blinking so you can save or delete the image before you take the next shot. What's more, this unit will never let you miss the adorable smile since it features a Smile & Shoot Mode which will automatically release the shutter when the smile appears.
If you are not sure whether it's best to use flash, then this Natural Light and with Flash mode will help you. It will automatically capture the same scene twice: once with high sensitivity and natural light, and the second time with Intelligent Flash.
Tracking Auto Focus keeps fast moving subjects in the frame and in focus, making it ideal for capturing dynamic close-ups. Instant Zoom is a function to follow moving subjects in standard wide view for easy framing at high zoom settings.
Features
3-inch LCD display
High Quality Fujinon 24x Optical Zoom Lens
14MP CCD
720p HD Movies
4-AA Batteries
Pros
Good image quality.
Easy to use.
Fast and accurate auto-focus.
Good camera for the money.
Cons
The blink setting doesn't perform well.
The quality of video needs to be improved.
Indoor color is not good.