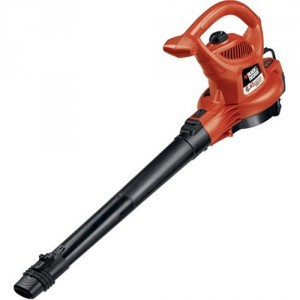 Product description
Keep your yard clean easily and efficiently with this Black & Decker Leaf Hog Electric Blower/Vacuum. When used as a blower, the Leaf Hog is able to generate up to 240-mph air speed to clear matted leaves or sweep hard surfaces. And mulching mechanism devours and deposits up to 16 bags' worth of debris into the included rear bag when switch to the vacuum function.
No matter you want to sweep your patio, workshop, walkway clean, or use the 240-mph air speed to make quick work of wet, matted leaves in your yard, this Black & Decker Leaf Hog Electric Blower/Vacuum won't let you down. Featuring a dual-speed switch, the Leaf Hog will decrease air flow when you're working around delicate flower beds, patio furniture, or automobiles in your garage.
Click here to see what others are saying…
When you want to collect loose leaves, twigs, and grass clippings, the Leaf Hog can convert easily to a 385 CFM lawn vacuum. It features an internal mulching mechanism to grind everything down.
Tired of the noise of your blower? Try this Black & Decker Leaf Hog Electric Blower/Vacuum. Powered by a 12 Amp motor, this unit needs greatly reduces the roar that's common with gasoline blowers, protecting your hearing and reducing noise pollution.
There is an included shoulder strap to add extra support when you're using the Leaf Hog. Weighing in at just 8.1 pounds, this blower/vacuum is ideal for anyone to use for extended periods. Also, it is covered by a two-year warranty.
Key features
Three-in-one blower, vacuum, and mulcher keeps your yard and driveway neat and tidy
Handles even wet piles of leaves; 240 MPH blow speed and 385 CFM air volume
Two-speed switch gives you more control around garden beds
Weighs 15.4 pounds; 2-year warranty
Includes a Leaf Blaster nozzle, vacuum attachment with tube, leaf bag with zipper, adjustable shoulder strap, and air concentrator
Pros
Lightweight, easy to use
Switch between blower/vacuum easily
Easy to empty bag
Affordable
Cons
Have to drag extension cord around
Cause a bit more vibration