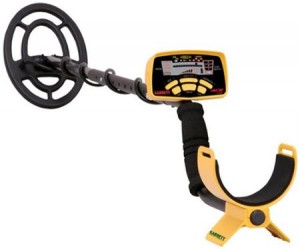 Featuring a full range notch discrimination, graphic target ID, pinpoint feature , and touch & go technology, the Garrett Ace 250 has been regarded to be one of the UK's most popular detectors. Also, its graphic target ID cursor with 12 element GTA notch discrimination provides a much greater accuracy. The coin depth mode 8 sensitivity settings, 5 pre set hunting modes and the most advanced LCD graphic screen make sure to identify the target quickly and easily. The Optional Regton Starter packs are a great addition to your Garrett Ace detector.
Reviews:
Just like all males approaching middle-age are renowned to do, I purchased one to look for treasure. Before I bought it, I checked the reviews and knew that the Garre was reliable, relatively cheap and 'productive'. It didn't let me down.
As a novice detector, you may imagine that you can find a Saxon crown. But for me, I would be very happy if I discovered anything from the past, no matter it is valuable or important. Although I haven't found something valuable yet, I'm satisfied with the Garret 250. I will keep searching.
Before I got this detector, I was looking for a metal detector for several months. I read one bad review about one detector because it had no headphone jack and not adjustable stem. And at the end of this review the chap said spend the extra money and but a Garett ace 250. So I began to have a look on it and found it was great. I ordered one at once. A few days later I received it and used it several times in the back garden. Now I get used to the different sounds and settings and found a George 3rd half penny from 1799 in my mum and dad's garden. I can't wait for a good weather so I can search something that has been buried for a long time.
As a gift from my girlfriend, I got my first detector. I was so happy to have this because it didn't let down at all. With a pretty good range of features and be able to take a beating in the elements no matter on the beach or in the woods, this item has an excellent performance. Also, it can dismantle quickly and fit into a messenger bag, making great for biking to the search area.
I haven't used a metal detector before and this is my first detector. I was glad to find that in just a few days, I found some interesting stuffs. It was so easy to operate and worked as advertised. Although I haven't found any silver or gold yet, I found coins and I was satisfied.
As a beginner, I took this detector out for the first time in the woods. I was so surprised to find that I can handle it correctly. It was quite easy to use. I have only found some old shotgun cases and some obscure bits of metal, but I will keep going and go out for my second search.
This detector has taken me quite a bit of time to learn to operate well. But it is light and easy to swing. The most difficult thing to learn is the pinpointing feature. Unlike some other detectors that give an increasingly loud or higher-toned signal to pinpoint, this detector gives a double signal on either side of the target and nulls out over the target itself. Anyway, I love the price and its features. Happy to have it.
Click here to see what others are saying…