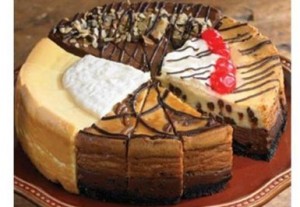 Cheesecake originated in ancient Greece and is a kind of dessert which is made up of fresh, soft cheese which is mainly cream cheese. The base is prepared with crushed cookies or biscuits and is like a sponge. It is decorated with fruits, nuts and dark or white chocolates as toppings which make different presentable textures. It can taste sweet with the use of sugar as well as tangy with the use of fruits in it. It can be baked with eggs and is quite high in fat content.
Swedish cheesecake, ostkaka, is made up of sugar, cream, eggs and almonds. It is mainly eaten when it is lukewarm and is served with jams, frits, whipped creams or ice creams. It is not layered and is different from the rest of the cheesecakes. French cheesecake is light and mild and is served with fresh fruits as its topping. It is just 1 to 2 inches tall. In New York style cheesecake heavy cream is used making it dense and tall up to 6 inches. This cake is very smooth because of the usage of egg yolks. Cottage cheese and lemon is used to give it a bit of sour taste. Irish style cheesecakes are not baked but refrigerated. It is made up of coffee, tea, white chocolates and marshmallows and has a base of crushed biscuit and butter. Asian style cheesecake is made up of Japanese green tea, lychee and mango. Its texture is light and spongy and is less sweet than other cheesecakes.
It's a misconception that cheesecake is a type of a cake but actually it is a pie because cheesecake does not rise or swell up like cakes. Cakes are old fashioned thus cheesecakes can add on new color in the important days of your life such as birthdays, weddings and anniversaries.