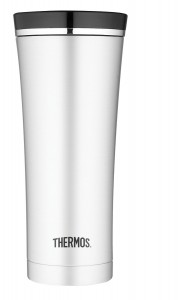 The Thermos brand has gained a high reputation for its high quality and excellent performance in insulated food and beverage products. It's insulated beverage containers feature both fashion and function, making them a great gift to anyone who always on the go. 
Designed to be durable and unbreakable, this Thermos 16-Ounce Vacuum-Insulated Travel Tumbler is constructed with double wall stainless steel. Besides, it features a built-in tea hook which can accommodate most loose leaf infusers for brewing tea on the go, making it a great gift for tea drinkers.
This Sipp Travel Tumbler also comes with a leak-proof lid which is made of BPA-free Eastman Tritain copolymer to resist staining and provide durability. The stainless steel body stays cool to the touch with hot beverages and condensation-free with cold beverages thanks to the double wall insulation.
Click here to see what others are saying…
Featuring Thermos vacuum insulation technology, this unit virtually eliminates temperature change within the beverage container by creating an airless space between two stainless steel walls. A superior insulated container allows you to keep your beverages hotter, colder, fresher or longer. In addition, This Thermos 16-Ounce Vacuum-Insulated Travel Tumbler will keep beverages hot for 5 hours or cold for 9.
Features
The Sipp Thermos line comes with both sleek style and unique functional features.
TherMax double-wall vacuum insulation is able to keep liquids hot for 5 hours and cold for 9 hours.
Constructed with an unbreakable stainless-steel interior and exterior, the tumbler is made to endure.
Eastman Tritan lid is BPA free and has a built- in tea hook for tea bags or most loose-leaf infusers.
Leak-proof lid with one-hand push-button operation; holds up to 16 ounces; cleans safely and easily in the dishwasher.
Pros
Does a good job keeping drinks hot.
Features beautiful design with the stainless and glossy black finish.
Fits comfortably in hand.
Durable and unbreakable.
Dishwasher safe.
Cons
Keeps drinks are too hot.
It is sometimes rather hard to tell if it is open or closed.