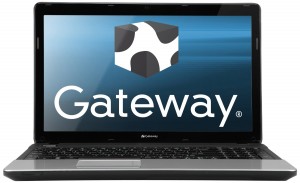 Product description
Gateway NE56R34u 15.6-Inch Laptop will be a great gift for everyone who'd like you make their life and work more convenient and enjoyable. It comes with a series of great features to meet all your needs.
Delivering an exceptional balance of proven technology and exceptional value while being energy-efficient, this Gateway NE56R34u 15.6-Inch Laptop allows day-to-day computing. And wherever you are, the Gateway® NE Series Notebook will come in handy since it provides superior Gigabit Ethernet connectivity when you're home and swift 802.11/b/g/n Wireless when you're mobile. Featuring new Windows 8, this Gateway NE56R34u 15.6-Inch Laptop allows you to spend less time searching and more time doing.
Click here to see what others are saying…
Thanks to the high-quality 15.6″ HD LED-backlit LCD Display with 720p Ultrabright™ screen, you can enjoy the latest high-resolution movies, digital content and media for a true cinematic view while saving more energy. The Media Control Keys allow you to truly enjoy your entertainment, making operation easy. It's also equipped with an earphone/microphone jack, so you can listen to your favorite music and chat with friends and family without the hassle of switching jacks. What's more, the SuperMulti Double-Layer DVD Drive and a HDMI® port even make it possible to extend your HD viewing experience to any HDMI-equipped high-def TV or digital monitor. The Integrated Intel® HD graphics provide turbo-charged performance, bringing games and entertainment to life with life-like graphics and supporting for the latest Microsoft® DirectX® 10.1.
The Gateway NE56R34u 15.6-Inch Laptop comes with a comfortable keyboard that extends to an independent Numeric Keypad, making number key-in's quick and streamlining productivity. And the Multi-in-1 Media Card Reader makes it easy and convenient to transfer files or share media. There are no cable and tangle any more when you transfer photos and digital files from your portable devices.
Features
15.6″ HD Widescreen Ultrabright™ LED-backlit Display:(1366 x 768 resolution, 16:9 aspect ratio)
Intel® Pentium® Processor B960(2.2GHz, 2MB L3 Cache)
Windows 8
500GB Hard Drive
4GB DDR3 Memory
Intel® HD Graphics with 128MB of dedicated system memory
802.11b/g/n Wi-Fi CERTIFIED™
Built-in 1.3 Megapixel HD Webcam
8X DVD-Super Multi Double-Layer Drive
High-Definition Audio Support
Two built-in stereo speakers
3- USB 2.0 Ports
1- HDMI™ Port with HDCP support
Gateway Social Networks Key
Multi-Gesture Touchpad
Dedicated Numeric Keypad
6-cell Li-ion Battery
5.5 lbs.| 2.5 kg(system unit only)
Pros
It looks good with a glossy black finish.
The screen is big enough.
Very comfortable to use.
Features the 10-key number pad.
Fast processing.
Affordable.
Cons
It takes a while to get adjusted to the new Win 8 for some people.
Some of the keys are not functional for many users.
Not fast enough for some big tasks.