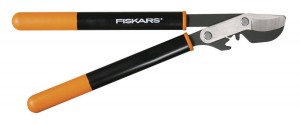 Product description
As the winner of the Arthritis Foundation Ease-of-Use Commendation, this 9625 PowerGear lopper maximizes your cutting power while minimizing effort. Its patented gearing technology is designed to multiply the force in the middle of the cut where resistance is greatest, making it cut three times easier compared with traditional single-pivot tools. The smooth-action design aims at eliminating the jarring conclusion at the end of the cuts.
Click here to see what others are saying…
This Fiskars 9625 PowerGear Bypass Lopper comes equipped with razor-sharp, precision-ground blade that resists rust and delivers the sharp cut. It also features Ultra-tough DuraFrame handles which are ergonomically curved to fit the shape and natural motion of the hand comfortably. In addition, its rust-resistant, low-friction coating makes it much easier to cut.
Key features
Patented PowerGear non-circular gearing technology multiplies leverage to make cutting up to three times easier than single-pivot tools
Earned the Arthritis Foundation Ease-of-Use Commendation because of its easy-to-use design
Razor-sharp, precision-ground blade delivers less resistance cuts than thicker blades
Rust-resistant, low-friction coating helps blades glide through the wood and prevents the blades from gumming up with sap and debris
Ergonomically curved handles ensure a comfortable grip
Bypass lopper ideal for light and heavy-duty garden pruning
Length: 18″, maximum cutting capacity: 1-1/2″ diameter
Backed by a lifetime warranty
Pros 
Lightweight and very easy to cut
Does a good job cutting through hard or soft branches
Great quality, heavy duty construction
Cuts smoothly
Cons
It will be a little bit hard to use in tight spaces