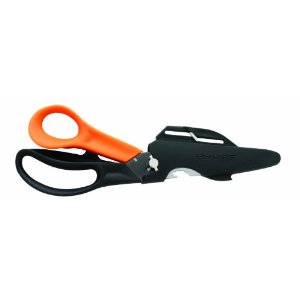 Product description
Get more jobs done without having to rummage through every drawer in your house with this Fiskars Cuts More 5-in-1 Multi-Purpose Scissors. Equipped with high-quality blades, this unit delivers excellent cutting performance on a wide variety of materials. Its large, ergonomically sculpted finger and thumb loops ensure excellent comfort and control when cutting.
Click here to see what others are saying…
The Cuts More Scissors even can be taken apart and you can use the titanium-coated blade as a knife. An innovative sheath with a built-in tape cutter and a ceramic scissors sharpener are also included to keep the blades on your Cuts More Scissors performing at their best. Other highlights include a power notch for cutting light rope, wire cutter, twine cutter, pointed awl tip and bottle opener. What's more, this unit is dishwasher safe.
Key features
High-quality blades delivers excellent cutting performance on a wide variety of materials
Ergonomically sculpted finger and thumb loops ensure comfortable use and control
A power notch for cutting light rope
Wire cutter makes cutting wire without damaging the blades quick and easy
Twine cutter ensures clean and quick twine cuts
Pointed awl tip is perfect for piercing small holes in cardboard, leather and more
Bottle opener makes it easy to open bottles
Scissors can be taken apart for a titanium-coated knife
Dishwasher-safe for easy cleaning
Sheath protects blades, sharpens scissors and includes a tape cutter for opening boxes
Lifetime warranty
Pros
Solid build quality
Very sharp and can handle many kinds of task that need cutting
The ceramic sharpener works well
Easy to clean and easy to take apart
Cons
The holes for the fingers and thumb are a bit uncomfortable