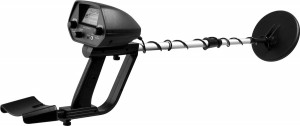 Product description
The Winbest Pro Edition Metal Detector provides two operation modes for custom detecting. All-metal mode is designed to search for different types of metal with auto ground balance and high sensitivity. Disc Mode, by contrast, is designed to search by discriminating what kind of metal is being detected.
Click here to see what others are saying…
Winbest Pro Edition Metal Detector's adjustable knobs are designed for sensitivity. This unit also features discrimination sensitivity and volume control for speaker or headphones (headphones not included) and a low battery indicator. Operates on two 9V alkaline batteries (not included), this unit comes with a 6.5-inch waterproof search coil that allows you to search in shallow water.
Other highlights includes adjustable stem from 15.5" to 25" inches, preset ground balances to adjust to different terrain and 1 year limited warranty.
Key features
Features two operation modes for custom detecting
All-metal mode searches for different types of metal with auto ground balance and high sensitivity
Disc Modes searches by discriminating what kind of metal is being detected
Preset ground balance to adjust to different terrain
Adjustable stem from 15.5 to 25 inches
1-year limited warranty
6.5-inch waterproof search coil allows you to search in shallow water
Adjustable arm rest
Can be used with headphones for privacy
View meter swings to the right when unit detects any metal
Pros
Easy to assemble and operate, great for starters
Does a good job detecting metal
Lightweight and well built
Very reasonable price
Cons 
Sometimes it is a little bit too sensitive