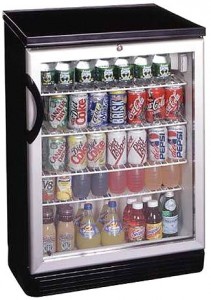 If you prefer beverages such as cold sodas, water bottles and juice to alcohol, then keeping a beverage refrigerator in your house is your perfect choice. These models won't take up too much space and they are usually small enough to fit into nearly any home. Also, these beverage refrigerators are the college students' favorite choice since they can keep their favorite beer cold in their dorm room or apartment.
1. Danby DBC120BLS Beverage Center – Stainless Steel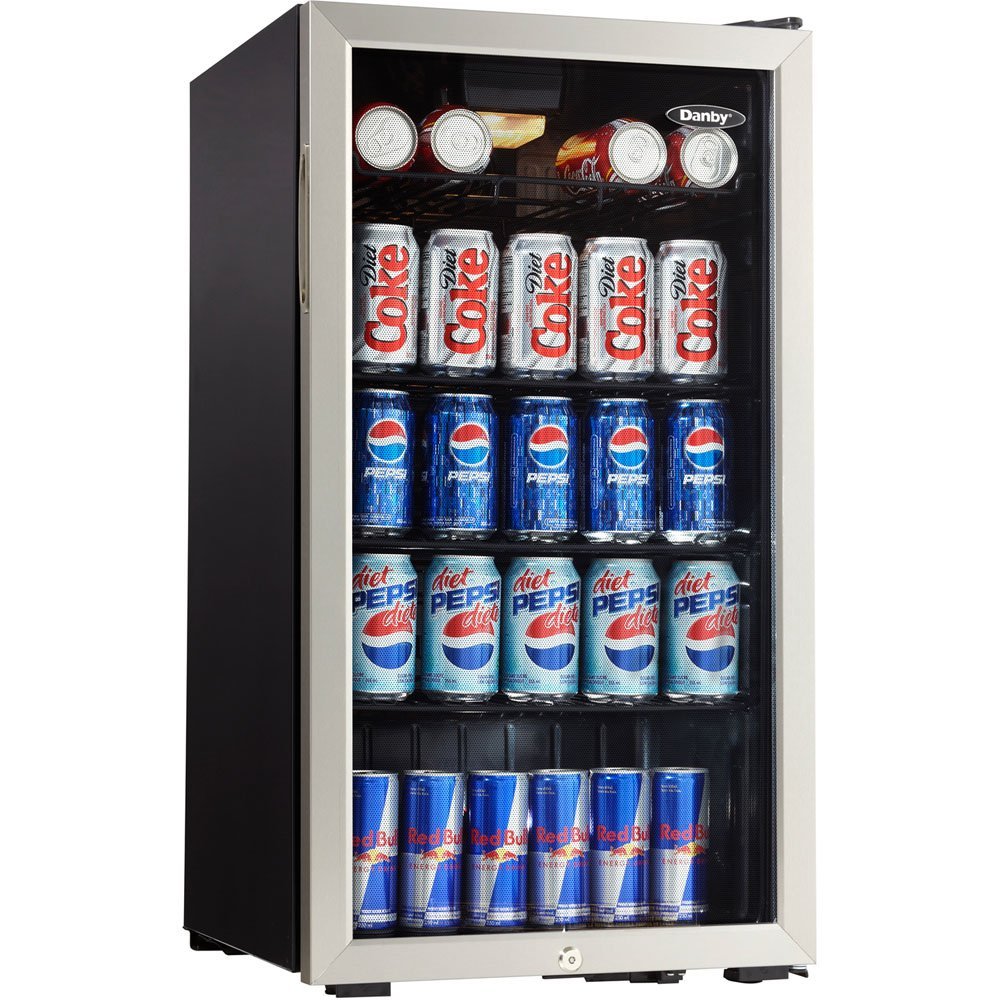 Featuring a 120 can storage capacity, this Danby DBC120BLS Beverage Center will never let you lack ice cold beverages. It also features 3 black wire shelves and the interior light will illuminate the compartment when the door open. It is equipped with a recessed side mount door handle and integrated lock with key. The tempered glass door and stainless steel trim makes it more attractive.
Buy on Amazon.com
2. Avanti BCA184BG 1.8 cu. ft. Beverage Cooler – Black

This Avanti BCA184BG 1.8 cu. ft. Beverage Cooler allows you to enjoy a nice and cold beverage without sacrificing too much space. Equipped with a large shelf and a smaller one, this unit is perfect for storing bottles on their side. It also comes with a full-range temperature control, auto defrost and a reversible double-pane glass door that is designed to ensure efficiency and cold beverages.
Buy on Amazon.com
3. Koldfront 80 Can Built-In Beverage Cooler – Black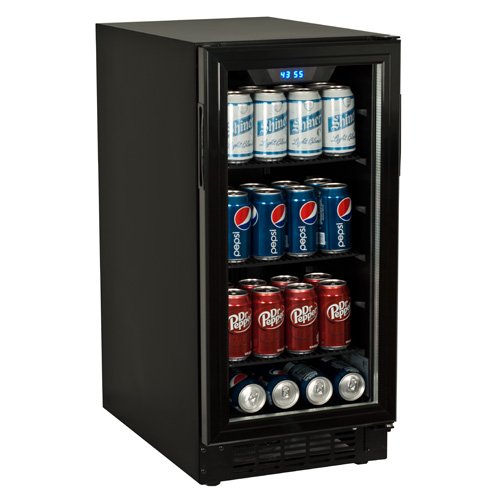 At an affordable price, this Koldfront 80 Can Built-In Digital Beverage Cooler (BBR900BL) providing quality services. With a capacity of 80 12 oz. cans, this unit keeps your beverages cold at a temperature range between 38 and 50 degrees Fahrenheit. It also features three wire shelves for accessing easily, offering cold and fresh beverage whenever you want.
Buy on Amazon.com
4. EdgeStar 148 Can Stainless Steel Beverage Cooler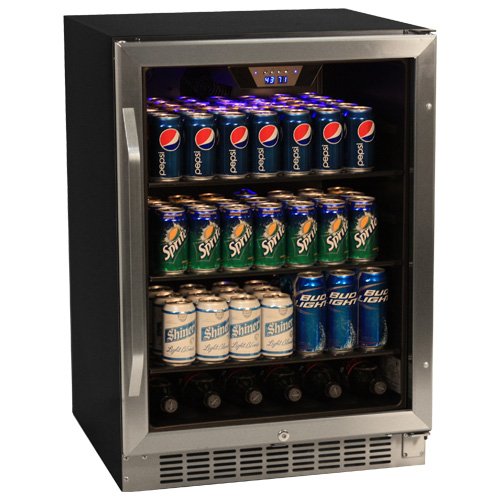 With a capacity of 148 standard 12 oz. cans, this EdgeStar 148 Can Stainless Steel Beverage Cooler is able to provide enough cold and nice beverages for you to entertain guests or throw a party. This unit is equipped with a built-in carbon filter to protect your beverages from odors inside the room. The LED light control panels are designed to show the current temperature inside the cooler. And the factory-installed lock provides additional security.
Buy on Amazon.com
5. Newair 126-Can Stainless Steel Beverage Cooler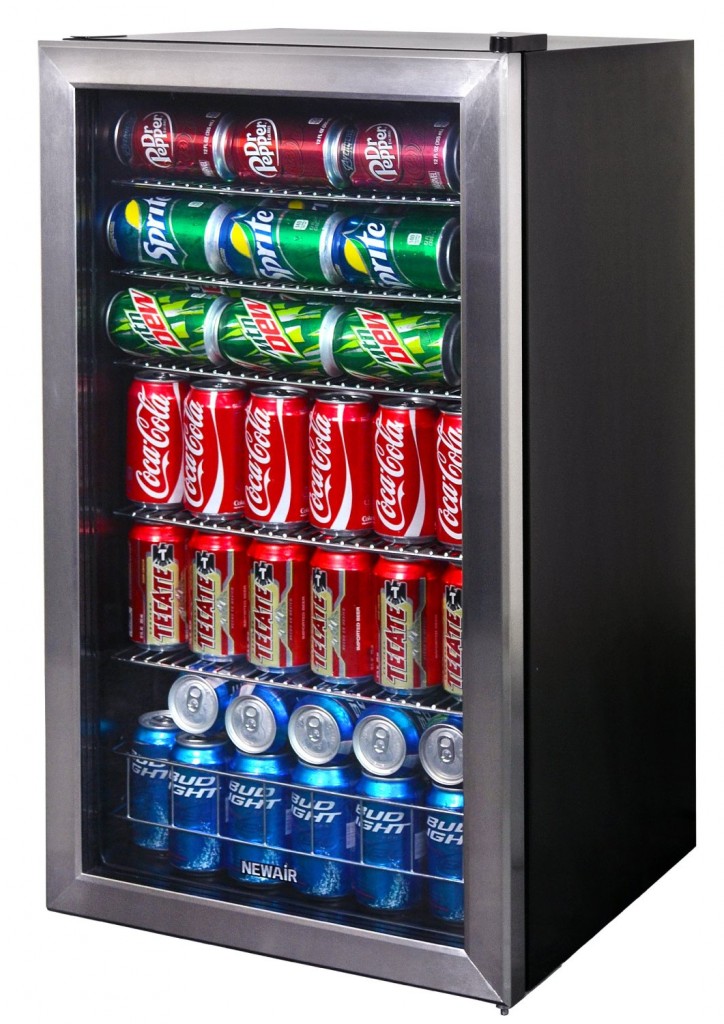 Enjoy your favorite beverages with this Newair 126-Can Stainless Steel Beverage Cooler. Featuring a versatile black and stainless steel finish, this unit is able to store up to 126 cans, providing ample beverage whenever you want. It is also equipped with an interior LED light, seven thermostat settings and removable metal racks, ensuring your beverage is at your favorite temperature.
Buy on Amazon.com
This is a list of the top 10 most popular products by consumers.
Bestseller No. 1
comfee 115-120 Can Beverage Cooler/Refrigerator, 115 cans capacity, mechanical control, glass door with stainless steel frame,Glass shelves/adjustable legs for home/apartment
Adjustable Thermostat – the adjustable thermostat allows you to adjust the temperature from 33.8 ℉ to 50℉(1℃ to 10℃) to store your favorite beverage in an optimum temperature. Equipped with Comfee Advanced Compressor Technology, the cooler can also maintain the internal temperature evenly and accurately in low noise, which makes the beverage cooler works efficiently and energy saving.
Large Capacity & Low-e Three Panel Glass Door with Modern Design – The cooler is equipped with 3 adjustable and removable glass shelve, which can hold 115 cans of beverages. As for irregular shaped bottle, it is easy for you to store it by removing shelves. The front door is also equipped with a low-e three panel glass to prevent cool air leaking and UV to get inside the cooler to affect wines' taste. The door is equipped with a whole glass panel with no frame, which looks delicate and modern!
Reversible Hinge Door and Legs – The reversible hinge door allows you to install the door for either left or right side opening. Accompanied with adjustable legs for leveling, the freezer is versatile for different places such as garage.
LED Internal Lights – The Beverage Cooler features a recessed handle which makes it easy for you to open the door and gives the cooler a modern and sleek look. The internal LED light allows you to easily find your beverages at night.
One Year Warranty - Come with 1-year Gold Warranty for parts and labors, 2 years with compressor parts. Please do not use this cooler to store fresh foods, such as meats, sea food, vegetables, fruits, etc. This product can only be used to chill beverages.
Sale
Bestseller No. 2
NewAir Beverage Refrigerator And Cooler, Free Standing Glass Door Refrigerator Holds Up To 126 Cans, Cools Down To 37 Degrees Perfect Beverage Organizer For Beer, Wine, Soda, Pop, And Cooler Drinks
YOUR GO-TO BEVERAGE REFRIGERATOR - Our 126 Can cooler refrigerator is perfect for any room indoor or outdoor, Requiring no installation can keep your cool beer, wine, and soda cold in your living room, kitchen, dorm, man cave, or office
CUSTOM COOL TEMPERATURE CONTROL - Our beverage cooler has 7 custom "set-it-and-forget-it" temperature settings to keep beer, wine, and soda at the perfect temperature for serving. Store all your family favorites from 37°F-64°F.
STORE MORE THAN DRINKS - Our mini fridge mini fridge is perfect for storing lunch at the office, leftovers in your dorm room, or a cold drink/ beverage anywhere in your home. No installation necessary, simply plug it in and you're ready to go
ADJUSTABLE SIZE FRIDGE - Adjust the removable mini fridge shelves to hold nearly any combination of Drinks, or food. Pack it full of 126 cans—that's over 20 full six-packs—or make room for taller sized cans and bottles.
Bestseller No. 3
hOmeLabs Beverage Refrigerator and Cooler - 120 Can Mini Fridge with Glass Door for Soda Beer or Wine - Small Drink Dispenser Machine for Office or Bar with Adjustable Removable Shelves
MODERN ELECTRIC BEVERAGE COOLER - This 3.2 cubic feet, free standing beverage refrigerator features an elegant see through, left hinge glass front door with a stainless steel frame for you to view your wine, beer or soda at a glance. Its white LED interior light illuminates for easy, nighttime selection of your favorite chilled drink
LARGE CAPACITY BEER & WINE CHILLER - Under counter beverage cooler with large, internal storage design is equipped with 3 adjustable and removable chrome shelves. Drinks organizer conveniently holds up to 120 standard sized soda or beer cans, or several bottles of wine
ADVANCED TEMPERATURE CONTROLS - Single zone beverage mini refrigerator has an easy touch temperature control that cools down to 34°F, and large digital display for quick monitoring and setting of any temperature. Its memory function automatically restores the preset temperature of the cooler in case it becomes unplugged, or in the event of a power outage
POWERFUL COOLING SYSTEM - Our 120V 240W heavy duty, vertical chiller features energy efficient advanced technology, and a whisper quiet compressor that works with a small convection fan to cool quickly, and keep consistent air circulation for a uniform temperature supply inside. Perfect for an office, dorm, apartment, RV, restaurant, home kitchen and more
AUTO DEFROSTING FUNCTION - Beverage cooler is also designed with an additional temperature sensor for auto defrost mode. External size: 18.9" W (front across) x 33.3" H (top to bottom) x 17.30" D (front to back). Internal size: 16" W x 29" H x 12" D. NOTE: Images show EXTERNAL Dimensions rounded UP to nearest decimal. Warning: Do not use this cooler to store fresh foods, such as meats, vegetables, fruits, etc. This product can only be used to chill beverages.
Sale
Bestseller No. 4
Sale
Bestseller No. 5
Kalamera 24 inch Beverage Refrigerator - 154 Cans Capacity Beverage Cooler- Fit Perfectly into 24" Space Built in Counter or Freestanding - for Soda, Water, Beer or Wine - For Kitchen or Bar with Blue Interior Light
★LARGE CAPACITY FOR WINE AND CANS: This mini fridge holds up to 154 cans of your favorite drinks or wines in different size. Soft blue LED light help you selection of your favorite drink at all times. This beverage refrigerator could hold the wine you like too. You would not just enjoy your drink, could enjoy your wine too.
★STAINLESS STEEL & AIR OUTLET: Special stainless steel frame with 2 layers of tempered glass stabilize temperature levels inside and keep glass from fogging. This wine and beverage refrigerator with automatic defrosting function, this function would work every six hours. The white air outlet is so cool and fit for different kitchen, only Kalamera have this unique design on the market.
★SINGLE ZONE/ONE-TOUCH CONTROL: LED control display makes it easy to set temperature from 38-50, providing perfect chilling temperature at all times! Kalamera unique design make this small beer fridge could be installed as built-in small refrigerator or freestanding wine cooler.
★TEMPERATURE MEMORY FUNCTION: These small wine & beverage cooler restore the set temperature in the cooler after it is back on from power lost, which keeps your wine collection from going bad with increasing temperature. To hold your wine and drink better, we choose 5 high quality wire shelve. The shelf is removable with stopper. On two sides of each shelf placed two stoppers, protecting the bottles from falling when pulling out the shelf.
★VERSATILE INSTALLATION: Takes just 23.4 x 33 x 22.4 inches of space and can be installed under a counter in kitchen or bar area, or used as a freestanding unit! ★Kalamera wine cooler & beverage refrigerator has been sold since 2014, we do what our customers need. Any further information needed before purchasing, you could contact us.
Sale
Bestseller No. 6
NewAir Beverage Refrigerator Built In Cooler with 177 Can Capacity Soda Beer Fridge, NBC177BS00, Black Stainless Steel
[XL Capacity Has Room for 177 Standard Cans] With space for up to 177 standard cans, you can fit all the drinks you want inside, so you'll never be left high and dry in the middle of a party or potluck. The NewAir Built-in 177 Can Black Stainless Steel Beverage Fridge is perfect for entertaining — you'll have drinks for family or for a crowd.
[Built-in or Stand-alone Installation] The quiet, front-venting compressor system allows this beverage fridge to fit snugly under standard kitchen counters. Just slide it into place for a sleek, integrated look that blends perfectly with your cabinetry — or let it stand alone. The choice is yours.
[Accurate Digital Thermostat] The NewAir Built-in 177 Can Black Stainless Steel Beverage Fridge features digital temperature controls that put you in charge. Dial it all the way down to 36 degrees for icy-cold sodas, or turn it up a bit to keep craft brews at their best.
[Adjustable Storage Shelves for Flexibility] Smart interior fittings let you adjust the shelves to hold nearly any combination of items. Pack it full of cans for a party, or make room for taller sized bottles and cans, or even a week's worth of juice boxes for the kids.
[Triple-Paned Doors Keep It Cold] A triple-paned glass door provides outstanding insulation to keep all that cold air inside. The durable black stainless-steel door is not only attractive but can also be locked for peace of mind. The finishing touch? Blue LEDs light up the interior for a modern look.
Sale
Bestseller No. 7
TYLZA Beverage Refrigerator 24 Inch, 190 Can Built-in/Freestanding Beverage Cooler Fridge with Glass Door and Advanced Cooling Compressor for Beer and Soda or Wine, Low Noise, 37-64 F
【Large Capacity Beer Chiller】The beverage refrigerator chills drinks down to 37 F (Temperature range: 37-64 F). It holds up to 190 cans of drinks. Tylza beverage cooler's intelligent thermostat will maintain the interior at the temperature you want. Set and forget it. Maintain the optimal temperature for your beverages.
【Powerful& Quiet Cooling System】This mini refrigerator's upgraded compressor effectively provides Fast, Strong, Stable cooling and accurate Humidity, which preserves your drinks in the best condition. It operates with low vibration—Noise can be controlled under 38 dB, which provides a quiet environment for your house. Stylish modeling, the Tylza beer fridge can add a touch of chic to your house.
【Digital Display& Adjustable Shelf】Large display and white Led light to let you monitor the temperature and interior condition even in the dark. The beverage fridge's shelf is removable so you can change the rows to accommodate different sizes of beverage.
【Smart Temperature Memory】The Tylza drink refrigerator can restore to the temperature history you set last time when restarted if there occurred with power-off.
【Tempered Glass Door & 2 Safety Locks】The Tylza beverage refrigerator Double-paned tempered glass door and seamless design ensure a safe operation and seamless air insulation. The soft-close door features magnetic seals. Plus, there is a door key lock on the bottom of the beverage. Prevent incident hurt to kids.
Bestseller No. 8
Antarctic Star 26 Bottle Wine Cooler/Cabinet Beverage Refrigerator Small Mini Red & White Wine Cellar Beer Soda Clear Front Glass Door Counter Top Bar Fridge Quiet Operation Compressor Adjust Temperature Freestanding Black
KEEP WINE COOL: Heat is enemy number one for wine. The Wine Cooler enables you to store your wine in optimal conditions for long-term aging. Working temperature range is 40°F- 61°F, and allows you to customize the temp (55°F is often cited as close to perfect).
IDEAL LIGHT and HUMIDITY: With its reinforced glass door with air tight seal and help to maintain an ideal humidity level, this beverage refrigerator gives you a compact and modern design perfect for your living room . Blue soft LED interior lighting not only beautifully showcases the wine but won't damage the wine.
PERFECT WINE STORAGE: 26 standard red or white wine bottles capacity, also perfect for canned beer and beverage storage. Horizontal racking is a space-efficient way to store your bottles, and it definitely can't harm your wines.
NO VIBRATION and QUIET: Equipped with an advanced cooling system that will keep your beverages at the right temperature without making a noise. With no disturbance to its natural occurring sediments. Equipped with Movable Black Shelves, Glass Door and Adjustable Leveling Legs.
FREESTANDING: Freestanding application only, NOT for built in use. The beverage and wine center door will close more easily when the two front leveling legs are extended slightly.
Bestseller No. 10
Ivation 101 Can Beverage Refrigerator | Freestanding Ultra Cool Mini Drink Fridge | Beer, Cocktails, Soda, Juice Cooler for Home & Office | Reversible Glass Door & Adjustable Shelving - Black
ECO-POWER TECHNOLOGY|Ivation Innovations Have Made History Again With This Smart Powered Beverage Cooler|Ultra Cool Compressor Works Quickly to Bring Your Drinks to the Optimal Temperature, While Energy-Efficient Mechanics Keep the Environment Out of It
EASY, CONVENIENT SET UP|Compact, Freestanding Setup Requires No Mounting—Just Place, Plug, & Enjoy| Reversible Door & Adjustable Shelving Allows Easy Access For Stocking and Hosting |Perfect for Parties, Lunchrooms, Offices, Bars, & Lounges
COMPLIMENTARY DESIGN|Sleek Black Enamel Exterior—Complete With Recessed Door Handle & Dual Pane Tinted Glass—Blends Beautifully With Any Decor| Soft, Interior, LED Lighting Adds Atmosphere While Keeping Drink Selection Effortless
SIMPLE, INTUITIVE CONTROLS|Set Temperature & Lighting Preferences at the Touch of a Button, Then Let the Ultra Cool Technology Do the Rest |Choose from 5 Different Cooling Points & a No-Fuss Interior LED Light to Create the Perfect Setting for Your Next Soiree
WHISPER-QUIET OPERATION|Powerful Coolant Compressor Provides Consistent Cooling at a Fraction of the Volume|Subtle, Efficient Operation & Compact Size Makes This Fridge Ideal for Any Setting, From Dorms, Gamers Room, Apartments, & RVs, to Offices, Restaurants, & Home Kitchens.
Last update on 2022-01-22 / Affiliate links / Images from Amazon Product Advertising API