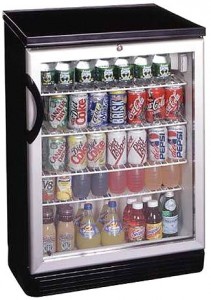 If you prefer beverages such as cold sodas, water bottles and juice to alcohol, then keeping a beverage refrigerator in your house is your perfect choice. These models won't take up too much space and they are usually small enough to fit into nearly any home. Also, these beverage refrigerators are the college students' favorite choice since they can keep their favorite beer cold in their dorm room or apartment.
1. Danby DBC120BLS Beverage Center – Stainless Steel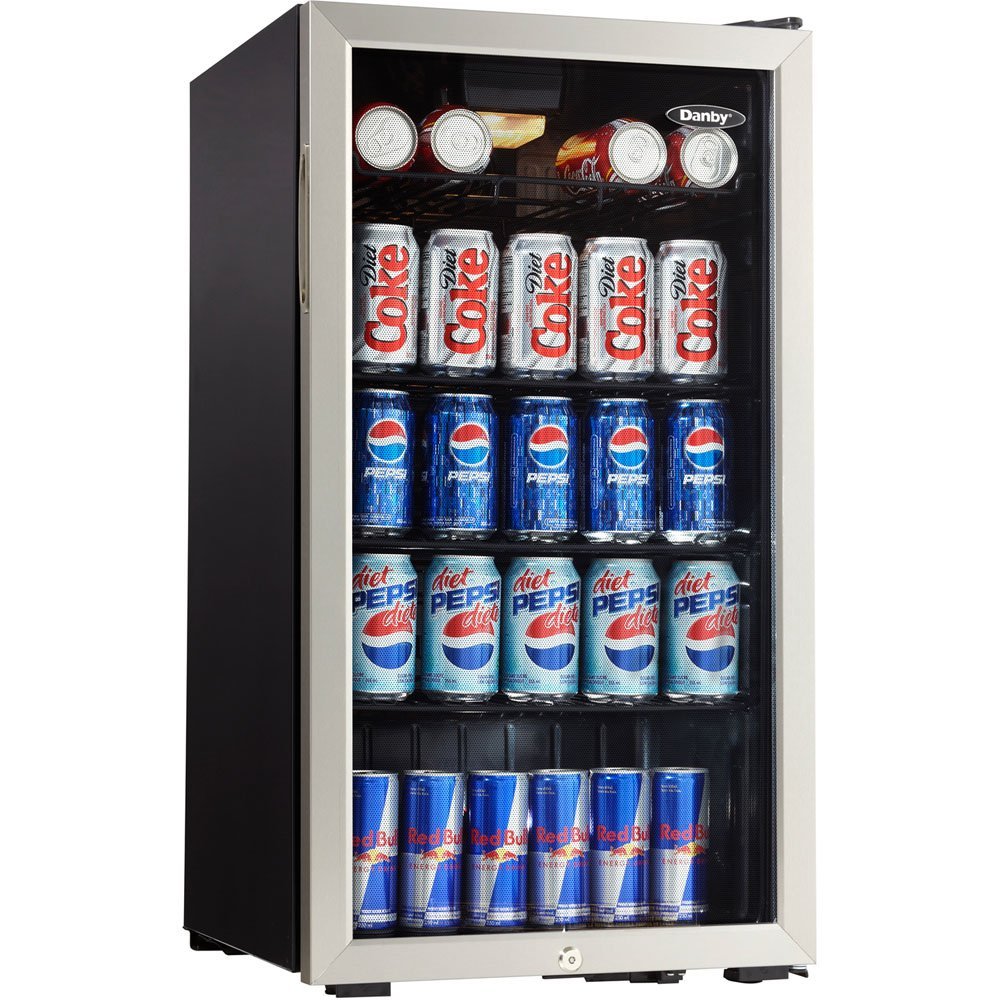 Featuring a 120 can storage capacity, this Danby DBC120BLS Beverage Center will never let you lack ice cold beverages. It also features 3 black wire shelves and the interior light will illuminate the compartment when the door open. It is equipped with a recessed side mount door handle and integrated lock with key. The tempered glass door and stainless steel trim makes it more attractive.
Buy on Amazon.com
2. Avanti BCA184BG 1.8 cu. ft. Beverage Cooler – Black

This Avanti BCA184BG 1.8 cu. ft. Beverage Cooler allows you to enjoy a nice and cold beverage without sacrificing too much space. Equipped with a large shelf and a smaller one, this unit is perfect for storing bottles on their side. It also comes with a full-range temperature control, auto defrost and a reversible double-pane glass door that is designed to ensure efficiency and cold beverages.
Buy on Amazon.com
3. Koldfront 80 Can Built-In Beverage Cooler – Black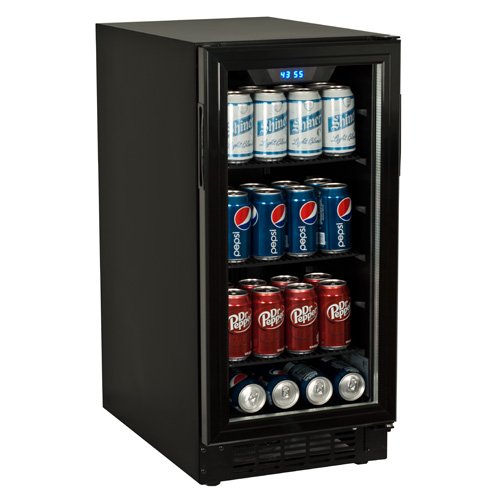 At an affordable price, this Koldfront 80 Can Built-In Digital Beverage Cooler (BBR900BL) providing quality services. With a capacity of 80 12 oz. cans, this unit keeps your beverages cold at a temperature range between 38 and 50 degrees Fahrenheit. It also features three wire shelves for accessing easily, offering cold and fresh beverage whenever you want.
Buy on Amazon.com
4. EdgeStar 148 Can Stainless Steel Beverage Cooler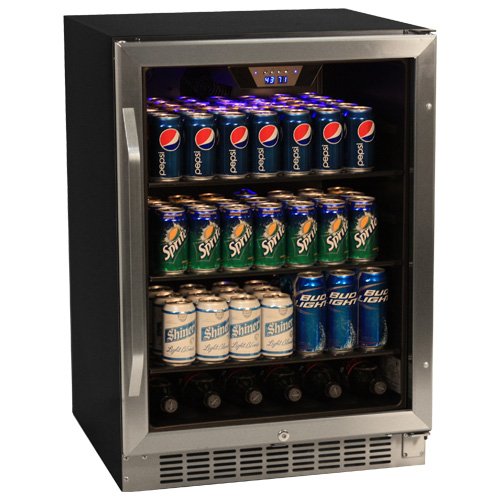 With a capacity of 148 standard 12 oz. cans, this EdgeStar 148 Can Stainless Steel Beverage Cooler is able to provide enough cold and nice beverages for you to entertain guests or throw a party. This unit is equipped with a built-in carbon filter to protect your beverages from odors inside the room. The LED light control panels are designed to show the current temperature inside the cooler. And the factory-installed lock provides additional security.
Buy on Amazon.com
5. Newair 126-Can Stainless Steel Beverage Cooler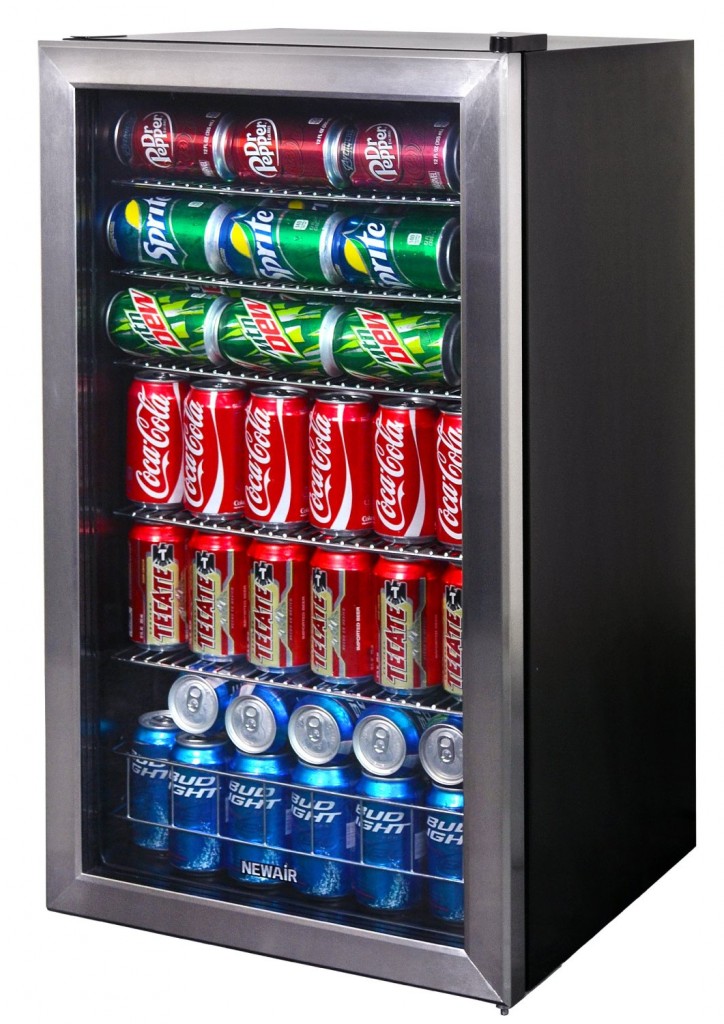 Enjoy your favorite beverages with this Newair 126-Can Stainless Steel Beverage Cooler. Featuring a versatile black and stainless steel finish, this unit is able to store up to 126 cans, providing ample beverage whenever you want. It is also equipped with an interior LED light, seven thermostat settings and removable metal racks, ensuring your beverage is at your favorite temperature.
Buy on Amazon.com
This is a list of the top 10 most popular products by consumers.
Bestseller No. 1
hOmeLabs Beverage Refrigerator and Cooler - 120 Can Mini Fridge with Glass Door for Soda Beer or Wine - Small Drink Dispenser Machine for Office or Bar with Adjustable Removable Shelves
MODERN ELECTRIC BEVERAGE COOLER - This 3.2 cubic feet, free standing beverage refrigerator features an elegant see through, left hinge glass front door with a stainless steel frame for you to view your wine, beer or soda at a glance. Its white LED interior light illuminates for easy, nighttime selection of your favorite chilled drink
LARGE CAPACITY BEER & WINE CHILLER - Under counter beverage cooler with large, internal storage design is equipped with 3 adjustable and removable chrome shelves. Drinks organizer conveniently holds up to 120 standard sized soda or beer cans, or several bottles of wine
ADVANCED TEMPERATURE CONTROLS - Single zone beverage mini refrigerator has an easy touch temperature control that cools down to 34°F, and large digital display for quick monitoring and setting of any temperature. Its memory function automatically restores the preset temperature of the cooler in case it becomes unplugged, or in the event of a power outage
POWERFUL COOLING SYSTEM - Our 120V 240W heavy duty, vertical chiller features energy efficient advanced technology, and a whisper quiet compressor that works with a small convection fan to cool quickly, and keep consistent air circulation for a uniform temperature supply inside. Perfect for an office, dorm, apartment, RV, restaurant, home kitchen and more
AUTO DEFROSTING FUNCTION - Beverage cooler is also designed with an additional temperature sensor for auto defrost mode. External size: 18.9" W (front across) x 33.3" H (top to bottom) x 17.30" D (front to back). Internal size: 16" W x 29" H x 12" D. NOTE: Images show EXTERNAL Dimensions rounded UP to nearest decimal. Warning: Do not use this cooler to store fresh foods, such as meats, vegetables, fruits, etc. This product can only be used to chill beverages.
Bestseller No. 2
Sale
Bestseller No. 3
Euhomy Beverage Refrigerator and Cooler, 120 Can Mini fridge with Glass Door, Small Refrigerator with Adjustable Shelves for Soda Beer or Wine, Perfect for Home/Bar/Office, Black Stainless Steel
PERFECT CAPACITY - Euhomy 3.2 Cu.Ft Beverage Refrigerator and Cooler is equipped with a Black Stainless Steel frame, making this the only black stainless-steel cooler on the market! Adjustable and stable shelves make you conveniently store options up to 115-120 cans of standardized soda, beer, or several bottles of wine with 3 removable shelves, either upright or on their sides. However many and whatever type of beverage you prefer, this cooler will keep them at the temperature you want!
QUIET + ADVANCED COOLING SYSTEM - With a powerful compressor and internal air-cooled system, Euhomy's mini fridge creates an evenly cooled space by ensuring that air flows throughout the entire beverage center.In addition, ultra quiet cooler of beverage cooling machine doesn't affect your daily rest or working. With our cooler, you won't just enjoy cold drinks, you'll have a quiet environment too.
lNTELLIGENT CONTROL & AUTO DEFROST - Euhomy Beer and Wine Chiller offers a variable temperature selection ranging from (34°F to 50°F) to meet your multiple storage options. The digital display allows you to easily monitor and set whatever temperature you need. Unlike most beverage coolers, Euhomy's free standing beverage cooler defrosts automatically, so all you have to do is enjoy your beverages!
HIGH-END DESIGN & LED LIGHT - The sleek glass door showcases the beverage without leaving the door open. Three-layer glass door provides superior thermal insulation to reduce the impact of ambient temperature. The three pane glass door can help to maintain an ideal humidity level to ensure the taste of drinks. Mini beverage fridge gives you the perfect lighting experience - The soft, white LED interior lighting beautifully showcases your beverages, even at nighttime.
FLEXIBLE PLACEMENT - With a reversible door and adjustable feet, you have more options when choosing where to place your cooler. Measuring 18.9 x 17.3 x 33.3 inches, whether you place it under a counter or in a free-standing location, it's the perfect solution for any size kitchen, home, bar, RV, apartment, or dorm room. *For best results: keep Bevergae Cooler upright for at least 24 hours before first using it. It is an imoprtant prerequisite a good refrigeration effect.
Bestseller No. 4
Miroco Beverage Refrigerator Cooler Beer Fridge, Drink Fridge with 3 Layer Glass Door, Removable Shelves, Touch Control, Digital Temperature Display, LED Light for Home Kitchen Bar Office, 3.2Cu.Ft
Effective Cooling: Beverage refrigerator is engineered with a powerful compressor and convection fan to evenly distribute cold air throughout the cabinet to prevent hot spots, frosting and uneven cooling
Low-E Glass Door: 3-layer low-e glass cooler door reduces the heat that passes through the glass, for maximum insulation to prevent fog and water drops forming
Large Capacity: 3.2cu. ft. capacity easily fits various quantities of cans or bottles, a great addition to your home, kitchen, office, dorm room or social event
Customizable Shelf Height: 3 removable shelves and 6 shelf slots allow you to adjust the height between shelves to accommodate cans and bottles of various sizes and shapes
Temperature Control: Intuitive touch control panel with digital LED display to precisely set the temperature between 34-50°F to maintain optimal temperature for your beverages
Sale
Bestseller No. 5
Ivation 126 Can Beverage Refrigerator | Freestanding Ultra Cool Mini Drink Fridge | Beer, Cocktails, Soda, Juice Cooler for Home & Office | Reversible Glass Door & Adjustable Shelving - Black
ECO-POWER TECHNOLOGY|Ivation Innovations Have Made History Again With This Smart Powered Beverage Cooler|Ultra Cool Compressor Works Quickly to Bring Your Drinks to the Optimal Temperature, While Energy-Efficient Mechanics Keep the Environment Out of It
EASY, CONVENIENT SET UP|Compact, Freestanding Setup Requires No Mounting—Just Place, Plug, & Enjoy| Reversible Door & Adjustable Shelving Allows Easy Access For Stocking and Hosting |Perfect for Parties, Lunchrooms, Offices, Bars, & Lounges
COMPLIMENTARY DESIGN|Sleek Black Enamel Exterior—Complete With Recessed Door Handle & Dual Pane Tinted Glass—Blends Beautifully With Any Decor| Soft, Interior, LED Lighting Adds Atmosphere While Keeping Drink Selection Effortless
SIMPLE, INTUITIVE CONTROLS|Set Temperature & Lighting Preferences at the Touch of a Button, Then Let the Ultra Cool Technology Do the Rest |Choose from 5 Different Cooling Points & a No-Fuss Interior LED Light to Create the Perfect Setting for Your Next Soiree
WHISPER-QUIET OPERATION|Powerful Coolant Compressor Provides Consistent Cooling at a Fraction of the Volume|Subtle, Efficient Operation & Compact Size Makes This Fridge Ideal for Any Setting, From Dorms, Gamers Room, Apartments, & RVs, to Offices, Restaurants, & Home Kitchens.
Sale
Bestseller No. 6
NewAir NBC126SS02 Beverage Refrigerator and Cooler, Holds up to 126 Cans, Cools Down to 37 Degrees Perfect for Beer Wine or Soda, 126 Can, Silver, 126 Can
[PERFECT FOR ANY PURPOSE] - Requires no installation, holds 126 cans, and is perfect for living rooms, dorms, offices, or any room in the home.
[A FRIDGE YOU CAN USE ANYWHERE] - This mini fridge is perfect for storing lunch at the office, leftovers in your dorm room, or a cold drink anywhere in your home. No installation necessary, simply plug it in and you're ready to go.
[FLEXIBLE STORAGE FOR FOOD AND DRINKS] - Adjust the removable shelves to hold nearly any combination of items. Pack it full of 126 cans—that's over 20 full six-packs—or make room for taller sized cans and bottles.
[7 CUSTOM TEMPERATURE SETTINGS] - Choose from 7 custom "set-it-and-forget-it" temperature settings to keep beer and soda at the perfect temperature for serving. Store all your family favorites from 37°F-64°F.
[INSULATED DOUBLE PANED GLASS DOOR] - Double-paned glass doors keep in the cold while providing a timeless stainless-steel look.
Bestseller No. 7
Antarctic Star 26 Bottle Wine Cooler/Cabinet Beverage Refrigerator Small Mini Red & White Wine Cellar Beer Soda Clear Front Glass Door Counter Top Bar Fridge Quiet Operation Compressor Adjust Temperature Freestanding Black
KEEP WINE COOL: Heat is enemy number one for wine. The Wine Cooler enables you to store your wine in optimal conditions for long-term aging. Working temperature range is 40°F- 61°F, and allows you to customize the temp (55°F is often cited as close to perfect).
IDEAL LIGHT and HUMIDITY: With its reinforced glass door with air tight seal and help to maintain an ideal humidity level, this beverage refrigerator gives you a compact and modern design perfect for your living room . Blue soft LED interior lighting not only beautifully showcases the wine but won't damage the wine.
PERFECT WINE STORAGE: 26 standard red or white wine bottles capacity, also perfect for canned beer and beverage storage. Horizontal racking is a space-efficient way to store your bottles, and it definitely can't harm your wines.
NO VIBRATION and QUIET: Equipped with an advanced cooling system that will keep your beverages at the right temperature without making a noise. With no disturbance to its natural occurring sediments. Equipped with Movable Black Shelves, Glass Door and Adjustable Leveling Legs.
FREESTANDING: Freestanding application only, NOT for built in use. The beverage and wine center door will close more easily when the two front leveling legs are extended slightly.This premium wine cooling unit is backed by a 1 year quality warranty of complete satisfaction.
Bestseller No. 8
Vremi Beverage Refrigerator and Cooler - 110 to 130 Can Mini Fridge with Glass Door for Soda Beer or Wine - Small Drink Dispenser Machine for Office or Bar with Removable Shelves and Adjustable Feet
3.6 cubic feet, free standing beverage cooler has an elegant low-e blue tinted (will appear blue at certain angles), reversible triple-pane glass door with a sophisticated stainless steel frame and soft white backlit LED lighting for more convenient viewing of your beer or soda without opening the cooler
Compact under counter beverage cooler designed with a roomy interior that can store 110 - 130 drink cans depending on the arrangement and size. Equipped with 3 adjustable and removable black shelves to hold the drinks in place
Mini beverage fridge features a user-friendly cooling control system that allows you to adjust the temperature between 32°F to 61°F and a large digital display for quick monitoring and setting of temperature. With memory function that automatically restores the set temperature in the event of a power outage
120V, 60W single-zone vertical chiller is smartly constructed with energy-efficient advanced cooling technology, whisper-quiet compressor, and a small convection fan to ensure that the cold air is evenly distributed throughout the beverage center, preventing hot spots or uneven cooling
18.9 x 18.7 x 33.8 beverage cooling machine comes complete with an additional temperature sensor for auto defrost mode so you won't have to worry about regularly unplugging your fridge and cleaning it out when ice buildup
Bestseller No. 9
BODEGA Wine and Beverage Refrigerator, 24 Inch Dual Zone Wine Cooler, Built-In or Freestanding, Memory Temperature Control, 2 Safety Locks, Soft LED Light, Quiet Operation, Hold 19 Bottles and 57 Cans
🍒【Advanced Cooling and Air Circulation System】BODEGA wine beverage cooler with upgrade cooling system,it can holds 19 bottles standard 750 ml Bordeaux wine with size:2.75''W*11.8''H and 57 cans about beverage(sodas,beer,sprite,Pepsi,fancy water,others).Combining with fan circulation system and low vibration compressor, the wine cooler ensures quick cooling and quiet performances, and store your wine to keep good taste.
🍒【Independent Temperature Zones For Wine and Beverage】BODEGA wine refrigerator with digital LED temperature display.Wooden shelves for wine, wire shelves for beverage. The left zone offers a temperature range of 41-68ºF for wine while the right zone offers a range of 38-50°F for beverage.You can easily adjust temperature (℃/℉)and precisely set the temp level to your liking.Soft interior LED light and front vent system chill your drinks with our advanced temperature control technology system.
🍒【Built-in or Freestanding Installation】Great for home, mini bars, hotels, office, kitchen counter, meeting room,in the wine cellar or used as a freestanding unit.It only takes 23.8 in(W)*23.1in (D)*34.6 in(H) for your space.The child lock also can save your wine and beverage prevent the children to erroneous operation.
🍒【Quiet Compressor Operation】Low vibration and noise for wines and beverage rest in peace.The whisper like compressor system ensures quiet performances and the low energy blue LED lights facilitate drink picking even when it's dark. Let you become a real wine connoisseur.
🍒【Sincere and Effective Service】We offer 1 year warranty service and long-life after-sales service.If you have any issue during use process,please contact us via amazon.We will provide you professional technical support and best solution.Any information needed before purchasing, you also can contact us via amazon.We will reply you within 24-hour.
Bestseller No. 10
Aobosi 24 Inch Beverage and Wine Cooler Dual Zone, 2-IN-1 Wine Beverage Refrigerator with Independent Temperature Control, LED Light, Quiet Operation, Energy Saving, Hold 18 Bottles and 57 Cans
🍇Advanced Temperature Control System--You can control the dual zones independently. Just want the wine cooler zone to work? turn it on and go. No effect on the beverage cooler area. The left zone offers a temperature range of 35.6℉-50℉ while the right zone offers a range of 41℉-64.4℉.Chill your wines and drinks at the perfect temperature and provide you with best taste.
🍇2-IN-1 Wine and Beverage Cooler--Hold up 18 standard Bordeaux bottles (width: 2.75 inch, height: 11.8 inch) and 57 pops cans. This unit is perfect for you to store Wine,Soda,Beer,Water, together.Safety lock is available.The shelves are easily adjustable or removable depending on the size of the bottles.Help you to make full use of the space inside.
🍇Quiet and Quick Cooling--Utilizing the cooler runs quietly(≤42dB) and cool quickly, Cold air is distributed via high-efficiency compressor and circulation fans, the whole cooler can be maintained ideal climate settings. Ensure that every bottles or cans keep the same humidity.Each cooling zone is illuminated by blue LEDs which establishes a sleek high-end aesthetics.
🍇Built-In or Freestanding Installation--Thanks to the stainless steel front vent, You do not need to leave much space for heat dissipation when built in under your counter.With its fashion look, it would catch your eye easily while it is freestanding in your living room, office etc. Adjustable feet help you to make the unit stand horizontally.
🍇Warranty Service--1-Month Free Trial and 1-Year Warranty.Meantime, we provide lifelong technical consultation and customer service for the item. Product warranties are automatically valid with Amazon order ID. Any questions, please feel free to customer service by contacting us through Amazon.com. We will respond within 24 hours.
Last update on 2021-04-19 / Affiliate links / Images from Amazon Product Advertising API