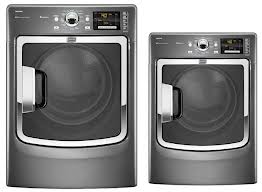 So many cloth dryers are available to attract the consumers with their amazing features. Some of them are top rated for their extraordinary features and drying power. 5 best cloth dryers are discussed here shortly:
Amana NED7200TW
The Amana NED7200TW is an electric dryer. Its popularity is high too. It is a 7.1 cubic foot cloth dryer. This dryer has many amazing features. This electric cloth dryer has a sensor for keeping moisture and this sensor turns this electric dyer off sensing the cloths dryness. This also helps in saving energy as well as saves the laundry from over drying. It includes 3 temperature setting and 6 drying cycles. It has a warranty of one year
Amana NGD7200 TW
This cloth dryer works with the power of gas rather than electricity. As it is gas powered, it is not that much expensive. This is also another high rated version of the electric dryer of Amana NED7200TW. Its moisture sensor helps to save the energy. It does not make any type of noise. This also can dry cloths fast. It has warranty of one year.
GE Profile DPSE810 EGWT
This dryer is another best and top rated dryer among other cloth dryers. This cloth dryer includes so many important features. It has a moisture sensor as well as 5 temperature settings. It has an extra feature that this includes a drying rack. This dryer is actually 7cubic feet. This dryer has a great accommodation system, that's why it can dry bulky amounts of item at a time. This has a warranty of one year.
GE Profile DPSE810GGET
This is another top best version of the GE Profile DPSE810 EGWT. This is gas-powered cloth dryer. For this reason it is not that much expensive. This has a great popularity to the consumers of cloth dryers. It is a multi-featured cloth dryer and has a control penal for easy using. This also helps to prove perfect temperature for various types of laundry.
Samsung DV448AEW
This is the top rated cloth dryer. It attracts the consumers by its satisfactory features. This is actually a great drying performer. This dryer add steam mode, which can be able to reduce the wrinkle. This has 5 temperature settings and eleven drying cycles. This dryer also includes a moisture sensor. It has the warranty of one year.