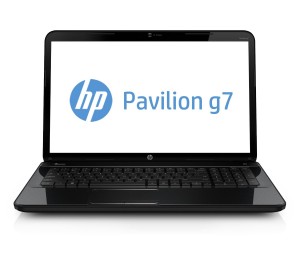 Product description
Get your tasks done quickly and efficiently with this HP Pavilion g7-2270us 17.3-Inch Laptop. This unit is designed to meet your needs, including emailing, watching movie, listening to music, playing games, sending files and so on.
This HP Pavilion g7-2270us 17.3-Inch Laptop is equipped with a third generation Intel Core i3-3110M Processor. This dual core CPU is designed primarily for use in small to medium sized laptops. Featuring Intel's Hyperthreading technology, this unit allows each core to handle up to two threads simultaneously but doesn't support Turbo Boost. As a result, the processor speed is locked at 2.4GHz.
Click here to see what others are saying…
Supported by 6GB of DDR3 RAM, the processor provides enough space for the pre-installed copy of Windows 8 to show all of its new features. The 750GB hard drive allows permanent storage of your important documents, favorite pictures, music, movies and videos. In addition, it is protected by HP ProtectSmart Hard Drive Protection technology.
Driven by Intel HD graphics 4000 with up to 1664MB total graphics memory, this HP Pavilion g7-2270us 17.3-Inch Laptop makes it a breeze to handle your day-to-day tasks. Although the HD Graphics 4000 may struggle with today's more demanding games, it allows HD video and casual gaming.
The built-in 17.3 inch display allows you to enjoy your favorite movies. Equipped with an HDMI port, this unit can connect to an external monitor or HDTV easily. And the legacy VGA port is designed to connect to older monitors and projectors.
Features
Intel Core i3-3110M 2.4 GHz (3 MB Cache)
6 GB DDR3
750 GB 5400 rpm Hard Drive
17.3-Inch Screen, Intel HD Graphics 4000
Windows 8, 3.45-hour battery life
Specification
Screen Size: 17.3 inches
Max Screen Resolution: 1600 x 900 pixels
Processor: 2.4 GHz Core i3-3110M
RAM: 6 GB DDR3
Hard Drive: 750 GB SATA
Graphics Coprocessor: Intel HD Graphics 4000
Wireless Type: 802.11bgn
Number of USB 2.0 Ports: 1
Number of USB 3.0 Ports: 2
Average Battery Life (in hours): 3.45 hours
Pros
Easy to setup.
Does a good job handling everyday task.
Features full sized keyboard.
Large 750GB Hard Disk.
Won't get very hot when it operates.
Windows 8.
Cons
Underpowered for serious gaming.
Takes a while for some people to get used to the Windows 8.
Conclusion
If you're looking for a machine to get your everyday tasks done quickly and efficiently, then this HP Pavilion g7-2270us 17.3-Inch Laptop is your ideal choice. Its large display screen allows you to enjoy your favorite movies. Then the large hard disk let you store important documents, musics, movies and so no. Although it isn't a gaming machine, it does meet your basic needs.