Best Magnetic Wristbands
Magnetic wristbands are great tools for construction work. If you are doing a DIY project at home or you are someone who is always ready to try every home renovation project you can find on the internet, these wristbands are your best helpers. They hold many tools that act as the 'third hand' for you while you work. It is often hard to find the best magnetic wristbands that can hold the most weight and are the easiest to carry. Here are some of the best options with the most notable features.
1.Magnelex Best Magnetic Wristband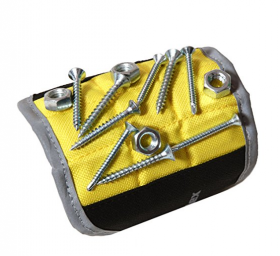 The Magnelex wristband is quite wide, as compared to other wristbands, and provides a much larger magnetic surface. This feature of the wristband helps you work with a lot more ease and efficiency by holding on to more products. There are 9 magnets in all on the surface of this wristband.
Making your work easier, this third helping hand is made with good quality polyester. This material is quite lightweight while also being durable. The ergonomic design of this wristband makes it sturdy and functional.
The size of the wristband has been specially designed to ensure that one size can fit most people. Whether you want to use it for everyday house improvement tasks or for professional purposes, this wristband won't disappoint.
The magnets can hold things like screws, nails, washers and so much more. With this wristband, you can get jobs done quickly as you won't have to waste your time looking around for the tools you need. The product is somewhat costly but given its quality and practicality, is worth the price tag.
Pros
Cons
The size may not be suitable for thinner arms.
Pricier than other wristbands of the same sort.
Check out the latest prices at Amazon
2.RAK Magnetic Wristband with Strong Magnets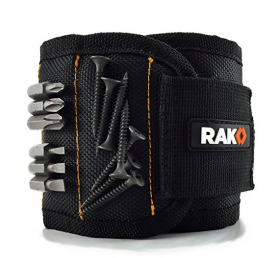 The RAK Magnetic Wristband is not only stylish but is also very functional. The wrist surface has 10 magnets for securing screws, nails, drills and so much more. The wristband surrounds your whole wrist and can be the helper you need in your home improvement projects carpentry hobbies.
You can use this magnetic wristband for anything from DIY projects to your sewing projects. This wristband saves you the headache of having to constantly pick up tools that you drop or finding the right tool from a heap of tools on your workbench.
This is an amazing gift for men around the house or even women who like to do construction or sewing DIYs. You never completely understand the need for a magnetic wristband until you get one on your hand. It will make your tasks so much easier and quicker. The best part about this wristband is that it is adjustable. The size of the wristband can be adjusted to whatever size your arm is.
The manufacturers are keen to see you satisfied, and that is why they offer a money-back guarantee. If the buyer is not satisfied with the product, the manufacturers will accept returns in the span of a year.
Pros
It has 10 magnets, for holding more tools.
It saves the trouble of finding tools among tens of them.
It is the perfect gift for your dad or husband.
The size of the wristband is adjustable, making it suitable for every arm size.
Cons
The warranty is only valid if you buy the product from the brand owners, Ad Hoc.
Check out the latest prices at Amazon
3.Kusonkey Magnetic Wristbands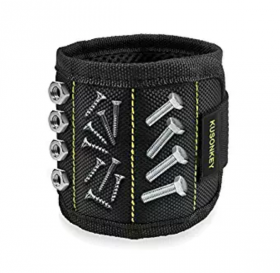 If you have ever been troubled by nuts and nails falling around, you know how frustrating it can be to look for smaller tools, while you are trying to get a project done. This magnetic wristband from Kusonkey can help solve this problem as it has 15 magnets to hold smaller tools like drill bits, nails, and bolts.
You can easily pick anything you want without having to scramble through a heap of tools. The wristband is functional while being very lightweight. It can be ported around as need be. The weight of this amazing helper tool is as little as 70g. You can even wear this while working on a ladder and go about your business safely.
The wristband covers the whole wrist and the ample magnets can hold smaller parts like needles and larger ones like washers and wrenches. The wristband is made up of polyester, which is quite durable. The strap is made up of Velcro that extends up to 13cm. This tool-holding magnetic wristband has a breathable design for easier carrying and usage.
Pros
The wristband comes with a 12 month warranty.
Buyers may return the product if they do not find it satisfactory.
The wristband strap is quite extensive.
The wristband is lightweight to carry.
Cons
Some users did not find it as strong as they expected it to be.
A little on the pricier side.
Check out the latest prices at Amazon
4.Lopunny Magnetic Wristband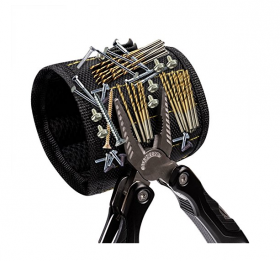 The Lopunny Magnetic Wristband is an ideal wristband for your daily projects. It wraps around the whole wrist and aids in tasks like woodwork and other DIY projects. There is one size that fits everyone and the magnets are quite strong, holding the parts in place.
This ergonomic wristband can hold up to 5kg of weightage. You can shake it all you want but the tools will not fall off.
The wristband is made of Oxford Polyester and nylon. These materials are durable and friendly for the skin while providing extreme comfort for long periods of usage.
Pros
One size can fit different people.
The manufacturing materials are comfortable, even when the wristband is worn for hours.
The maximum weight that the wristband can hold is 5kg, which is enough.
Cons
There are only 5 magnets, which is a much lesser number than other products of this sort.
If you are doing extensive projects, 5kg max weightage may not be suitable for you.
Check out the latest prices at Amazon
5.Magnetic Wristband, G-TING Adjustable Super Magnetic Wrist Band
The G-TING Magnetic Wristband is a great gift to give to your husband, boyfriend, or your father. It has 15 magnets embedded in it, which makes it possible for this wristband to hold a large amount of weight. Just stick your tools in this wristband and you are good to go for the project, without the hassle of having to look for the parts everywhere while working.
The wristband is quite convenient to use due to its lightweight of just 70 g. This lightweight design makes the wristband a great alternative to heavy toolboxes.
It rids you of the trouble of looking for tools and parts all-around your workspace. The Velcro strap provides the ultimate comfort for long-hour usage and does not bother your wrist at all. The design is made breathable so that the wristband may also be used for professional purposes.
With this amazing helping hand, you will not even have to move an inch to get the part you need. The strap size is adjustable so the thickness of your arm is not a problem. Use it for your carpentry, sewing, or other projects and make your life easier.
Pros
This wristband makes your life much easier with its breathable design.
Has 15 magnets for stronger attachment.
The wristband is light weight and can be ported around.
Cons
It May not be suitable for people who only want to use it for smaller tasks.
Check out the latest prices at Amazon
6.HORUSDYMagnetic Wristband, with Strong Magnets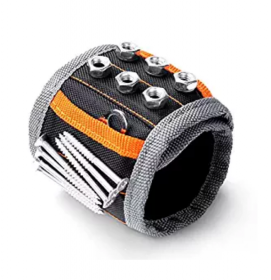 The HORUSDAY Magnetic Wristband is made with ballistic polyester which is durable and lightweight. The wristband has 5 magnets for holding different parts like nails and screws. Moreover, it also has two pockets for holding smaller tools. You can keep all kinds of parts in it, including metal parts like screws, bobby pins, and fasteners to make DIY tasks much easier.
This wristband saves time and the worry of having to look for tools while working. This enhances the efficiency of your work and makes working easier.
This wristband is something every household needs to have in its toolbox. People who are always involved in DIY projects would love to get it as a gift. The design is quite ergonomic to ensure that users can wear the wristband for the whole day without feeling any discomfort.
Pros
This magnetic wristband makes a unique gift for the DIYers in your life.
It is a necessity in every toolbox.
Saves you the trouble of having to carry a toolbox around.
The meshwork design makes wearing for long hours comfortable and airy.
Cons
There are only 5 magnets, which might not be suitable for larger projects.
The hold may not be strong with only 5 magnets.
Check out the latest prices at Amazon
7.Magnetic Wristband, MrLi for Men Gifts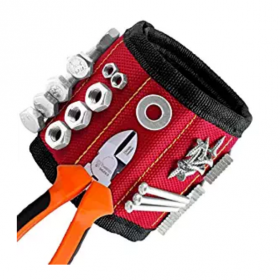 The MrLi Magnetic Wristband comes with 5 magnets for holding small tools you need for your home improvement projects and woodwork projects. This wristband acts as your third helping hand and keeps everything you need close to you, to save time.
Increasing working efficiency, this wristband can be given as a gift on any occasion. Moreover, it makes the job much easier to do. MrLi combines design with functionality and provides the users with a choice of selecting between red and black.
The wristband is made with nylon. On the side of the band that is in contact with the skin, there is a meshwork design to provide airflow to the region. This ensures that the user does not become a victim of sweaty hands and discomfort. The straps and Velcro design work well for a tighter fit. One size can fit everyone as the size can be adjusted according to need.
Pros
The wristband comes with a warranty period of up to one and a half years.
The backside of the band is padded to ensure greater airflow.
Five magnets can hold a lot of screws, fasteners, and washers.
Cons
Five magnets may not be enough for larger projects.
The padded backside may produce heat in summer time.
Check out the latest prices at Amazon
8.SKYTECHO Magnetic Wristband with 5 Upgraded Strong Magnets
This SKYTECHO magnetic wristband is convenient for usage in all types of environments, whether professional or household. It can be quite frustrating to drop your tools while working or looking for something in your huge toolbox and not being able to find it. With this wristband, this worry is gone.
It has 5 magnets for holding screws, nails, and washers. No matter how much you move your arm while working, the tools will not fall off from this strong magnetic hold. The wristband is quite lightweight so it will not hold you down while working.
This wristband can be used for a diverse range of tasks such as auto repairs and other DIY projects. Even smaller projects such as sewing can find a use for this wristband. The manufacturers provide a 12-month warranty and money back option for users who are not fully satisfied with the product. If you return the product, the manufacturers ask no questions.
Pros
Holds your tools firmly while you work.
12 month warranty.
Ergonomic design for comfortable wear.
Saves you the worry of picking up tools that you have dropped.
Cons
5 magnets may not be suitable if you want to use the wristband for professional purposes.
Check out the latest prices at Amazon
All of these wristbands are
unique with their own features
and can make the task at hand so much easier. In fact, no toolbox is complete without these wristbands. Another use for these wristbands is that they can be given as gifts to people or made part of gift baskets. Most manufacturers also give a warranty of up to 12 months and take the product back if the buyer does not find it satisfactory.