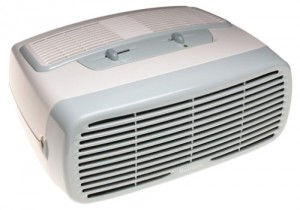 Product description
Ideal for rooms up to 109 sq ft, this Harmony air purifier from Holmes has a dual-position slim design, making it great for table or desktop use. You can place it vertically or horizontally to best suit your space.
Equipped with a HEPA filter, this Harmony air purifier is able to trap 99 percent of typical airborne particles. In addition, there is an activated carbon filter to absorb and eliminate common household odors. The two filters are accessed through a pop-off cover, and sliding switches control the settings.
Click here to see what others are saying…
The Microban protection on the durable plastic housing is able to guard the product against microbial growth, such as mold, mildew, and bacteria.
This unit is a gift for those allergy sufferers. The True HEPA filtration removes up to 99.97% of airborne allergens, including mold, dust and pet dander that may cause coughing and sneezing. Besides, HEPA-Type filtration effectively removes up to 99% of smoke and pollutants from the airstream, reducing pollutants associated with second-hand smoke.
Key features
HEPA type filter helps remove up to 99% of airborne particles as small as 2 microns from the air passing through it
Filter is enhanced with Arm & Hammer baking soda to help eliminate common household odors
3 speed settings provide options for different conditions, and optional ionizer assists in particle removal
Slim dual positioning design can be placed vertically or horizontally to best fit your space
Recommended for rooms up to 109 sq ft (10ft x 11ft), Smoke CADR 70
Filter is enhanced with Arm and Hammer Baking Soda to help eliminate common household odors
HEPA-type filter helps remove up to 99% of airborne particles as small as 2 microns from the air passing through it
Slim dual positioning design – can be placed vertically or horizontally to best fit your space
Three speed settings provide options for different conditions, and optional ionizer assists in particle removal
Pros
Works very fine in small rooms
Quiet and efficient, makes a little white noise on high setting
Compact size
Cons
Not good looking