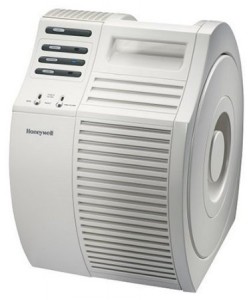 Ideal for filtering the air in a closed room up to 168 square feet (12 by 14 feet), this Honeywell 17000 Pure HEPA QuietCare Air Purifier continuously circulates a room's air. This unit is a great gift for asthmatics and allergy sufferers since it is able to remove smoke, dust, pollen, animal dander, molds, viruses, bacteria, and odors efficiently. 
The HEPA filter of this unit removes 99.97 percent of airborne particles that are greater than 0.3 micrometers in size. It is also equipped with a carbon pre-filter to absorb the volatile molecules, eliminating the sources of odors and protecting the HEPA filter. Each filter features a button. When press the button it will activate a light which blinks or shines steadily. One blink means there are lots of life remaining. Two blinks indicate less life. When there are three blinks, this unit has a very little life remaining and a steady light indicates the filter needs changing.
Click here to see what others are saying…
You can move this Honeywell 17000 Pure HEPA QuietCare Air Purifier to any room you want. It weights only 11 pounds and comes with a handle, making it quite easy to be carried.
Features
True HEPA filter is able to capture 99.97 percent of common household airborne pollutants.
Dramatically reduces the number of allergens, odors and pathogens you breathe.
Soft-touch electronic controls with 3 speeds and indicator lights.
Comes with a permanent HEPA filter which can be vacuumed.
Measures 16 by 13 by 17 inches and weighs 11.5 pounds.
5-year limited warranty.
Pros
It does a good job cleaning the air.
Small and light enough for young people to move it.
Powerful in air-exchange in a room.
Fairly quiet.
Cons
A little bit noisy on high setting.
The filters are pricey.