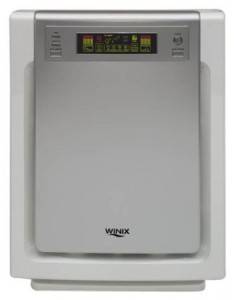 Product description
Want an air cleaner to purify your large room efficiently? Get this Winix WAC9500 Ultimate Pet True HEPA Air Cleaner. This unit is loaded with technologies not typically found on an air cleaner, making it great to meet the rigorous standards of any household, no matter you are a pet owner or not.
You will be surprised by the way this unit cleans. With PlasmaWave technology, the Winix WAC9500 Ultimate Pet Air Cleaner delivers a 5-Stage cleaning process to capture pet odors, hair and all of the unseen particles suspended in the air, providing a clean, fresh living room or large bedroom for you.
Click here to see what others are saying…
Washable Advanced Odor Control Carbon Filter (AOC) is responsible for absorbing and neutralizing offensive pet and household odors. Compared with a standard disposable carbon filter, this unit that made from natural coconut shell is 3 times more effective at removing ammonia and other offensive odors.
True-HEPA Filter removes 99.99% of all airborne pollutants as small as 0.3 microns from the air passing through the filter, including pet dander, smoke, soot, micro-dust, mold spores, pollen and most airborne microbials.
Winix's own PlasmaWaveTM will break apart odor, allergens, chemical vapors and other pollutants at the molecular level without producing any harmful ozone.
Don't worry about your Winix WAC9500 when you are asleep or away from home, it features a Light Sensor which will automatically adjust the air cleaner for "quiet" and "energy efficient" operation. This unit can adjust settings automatically for optimal performance delivering true Set-and-Forget convenience thanks to its 3 Smart Sensors.
Key features
True HEPA Filtration captures 99.99% of airborne pollutants, pet dander and allergens as small as 0.3 microns.
Washable advanced odor control carbon filter especially formulated to capture offensive pet odors as well as smoke, cooking and other household odors.
Washable Anti-Microbial Pre-Filter extends the life to your filter by capturing Pet Hair and larger airborne particles.
PlasmaWave technology attacks pollutants at a molecular level to neutralize viruses, bacteria, odors, and gases in the air
Smart Sensors with Auto-Mode. Odor, Dust and Light Sensors automatically adjust your air cleaner settings to meet the needs of your environment.
Pros
Features sleep mode
Sensitivity to odors, ideal for bedroom
Quiet and efficient
Cons
The fan is a little bit weak
"Turbo" mode is a bit loud