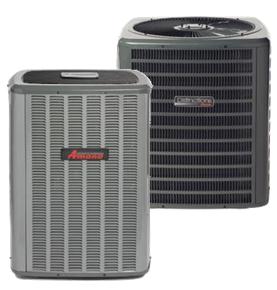 About Amana:
The Amana brand has long been an American institution. And the same commitment to quality and innovation behind Amana brand home appliances goes into Amana brand heating and air conditioning equipment.
Don't risk the loss of indoor comfort of your home. For long-lasting performance, we suggest you choose an Amana brand central air conditioning system in your home. Keep your home cool, lower your energy costs, and enjoy our best limited warranty protection for peace of mind.
Click here to see what others are saying…
Amana air conditioner overview:
Amana air conditioners include these models: 18 SEER ASXC18, 16 SEER ASXC16, 16 SEEK ASX16, 13 SEEK ASX13, 13 SEER ANX13. All of them are covered by a Lifetime Unit Replacement Limited Warranty. If the compressor ever fails, a new condensing unit will be provided to the original purchaser of the central air conditioning system as long as they live in the same single-family residence. All remaining functional parts are covered by a 10-Year Parts Limited Warranty. For a full description of all warranties applicable to this product, please see your local Amana dealer or click on the consumer brochure and product warranty links above.
Additional information:
Before purchasing this appliance, read important information about its estimated annual energy consumption, yearly operating cost, or energy efficiency rating that is available from your retailer. What's more, please read the user manual carefully before you use it.
From us:
We have introduced some details about Amana air conditions to you. If you want to have a good air conditioner for your home or office, Amana air conditioner is not a bad choice. Amana will offer you the best service and ensure a long lasting use and a enjoying time.