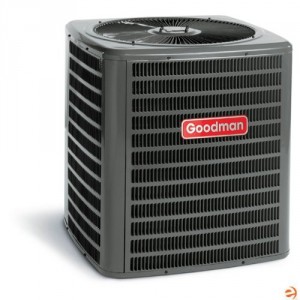 About Goodman:
Goodman air conditioning and heating equipment are built since 1982. Given our decades of experience in the heating and cooling business, our customers can be assured that Goodman air conditioning and heating systems meet the highest industry standards and are installed by some of the best and most experienced professionals in the industry.
When you choose the Goodman, you can rest assured that you'll receive a refreshingly affordable product that's covered by what many consider to be the best product warranties in the heating and cooling industry.
Click here to see what others are saying…
Goodman air conditioner overview:
The Goodman brand has a central air conditioning system that is perfect for your home — at a refreshingly affordable price. Even on the hottest days of the year, you can keep your home cool and comfortable while enjoying low energy costs with a high-efficiency Goodman brand air conditioner. Goodman air conditioner provides several different models: 18 SEER DSXC18, 16 SEER DEXC16, 16 SEER GSX16, 13 SEER GSX13, and 13 SEER GSC13. Don't choose between affordability, durability, and optimum cooling comfort. Install a Goodman brand air conditioner and get all three — and what we believe to be the best warranty protection in the heating and cooling industry.
Addition information:
All Goodman brand air conditioners come with outstanding warranty coverage. You can visit each air conditioner product page to learn about the warranties that apply to each specific product, or get a copy of the applicable warranty from any dealer. Please read the user manual carefully before your use them.
From us:
We encourage you to explore our site to learn first-hand about Goodman air conditioners, our industry-leading warranties, and the vision of our founder: to provide high-quality heating and air conditioning to consumers at a refreshingly affordable price.