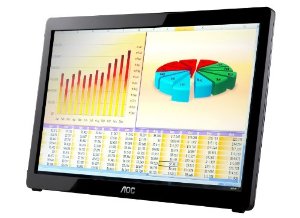 Product description
Powered from the USB port of your laptop or PC, this lightweight 16″ e1649Fwu USB monitor is a portable display that requires no external power cord, making it ideal for presentations and dual monitor displays.
Featuring a foldable smart flex-stand, this e1649Fwu USB Monitor allows viewing in landscape or portrait mode. Landscape mode is designed for presentations and Excel sheets, while the Portrait mode provides an easy vertical view of your instant messaging program, or sidebars such as search results. And you will never change the settings as you switch between landscape and portrait mode thanks to its unique pivot feature which automatically adjusts the image according to the display's orientation.
Click here to see what others are saying…
If you are a frequent traveler and always need to pack multiple displays, then this e1649Fwu USB Monitor is your ideal choice. Delivering a 500:1 contrast ratio, 5ms response time, and a 1366 x 768 resolution @60Hz, this lightweight e1649Fwu USB Monitor can easily fit into any 15″ laptop bags or backpacks and is perfect for business presentations, the frequent traveler, photo frame applications, and dual monitor setups on-the-go.
Thanks to the built-in DisplayLink USB graphics, you can connect the multiple USB monitors to a laptop to function as a multi-monitor PC if necessary. You can easily add multiple USB monitors for external displays without unnecessary extra hardware by simply installing DisplayLink software on the PC.
Key features
USB-powered display; no external power cord required
Ultra-thin design with piano-black glossy bezel
Smart foldable flex-stand for either landscape or portrait viewing
Multiple connections to USB monitors
Perfect accessory for the frequent traveler or on-the-go presentations
Specification
Viewable image size: 15.6" ( 16.9 )
Brightness (typical): 200cd/m2
Response time: 5ms
Contrast Ratio: 500:1
Optimum Resolution: 1366 x 768 @ 60HZ
Colors Supported: >16 Million
Digital Input: USB
ENERGY STAR Compliant
EPEAT Rated
Dimensions: 14.8 x 9.3 x 1.4"
Weight: 2.3 lbs
Pros
No power cord, no VAG cord, USB only
Great resolution
Small, thin and lightweight
Great screen, good quality
Cons
With no pouch to protect the screen when transporting it
Limited viewing angles