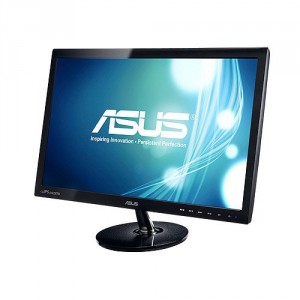 Product description
VS series monitors come with embedded power adapters into the design while still remaining slim and stylish, making them ideal for being used in the office environment. And you can neatly place it on a wall since these monitors are VESA compatible. Compared with non-LED backlit monitors, VS monitors are LED backlit delivering brighter displays and deliver Full HD quality visuals. You can enjoy smooth motion playback for videos and movies.
Featuring ASUS Smart Contrast Ratio (ASCR) which is a dynamic contrast ratio that measures how dark a screen can get, this ASCR VS239H-P has high dynamic contrast ratios of 50,000,000:1, delivering a more defined image especially while watching night scenes in movies, playing games, or giving presentations.
Click here to see what others are saying…
This ASUS VS239H-P is also equipped with ASUS Splendid Video Intelligence Technology which is a -quick image setting selectable through buttons on the monitor. With different scenario settings ranging from game to scenario modes, you can choose your preferred one for your task at hand.
Featuring the latest in display technology, connect to your devices with an assortment of options. More inputs mean you have more options for customizing your PC setup like setting up multiple displays.
Features
HDMI, D-Sub, and DVI-D inputs (DVI and VGA cables included)
Convenient key controls for functional set-up in the multi-language OSD
Easily detachable base for wall mount (VESA Wall Mount Standard (100 x 100 mm))
25° (forward 5°, backwards 20°) Tilting Angle
KENSINGTON Security Lock
Full HD displays for amazing high-definition visual clarity
5ms response times for smooth motion playback
Resolution:1920 x 1080
LED backlit for energy-efficient operation and brighter luminance
Built-in power adapters for space-saving yet still slim design
50,000,000:1 ASUS Smart Contrast Ratio for more defined images in dark colors
Advanced connectivity for convenient ways to connect your PCs and notebooks
Splendid Video Intelligence Technology quick image presets for your preferred task at hand
Corporate Stable Model certified for one year guaranteed supply
ASUS Rapid Replacement service for quick product replacement should a unit be sent for repair
Specification
LCD Native Resolution: 1920 x 1080
VGA Video Out Ports: 1
Size (LWH): 7.88 inches, 21.73 inches, 15.76 inches
Weight: 7.72 pounds
Pro
Great screen quality
Comes with DVI port
HDMI input
Large viewing angle
Clear, sharp image quality
Cons
A little bit unstable
No bulit-in speakers