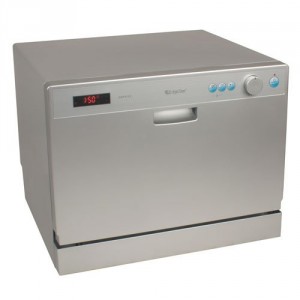 Product description
Get your housework done quickly and give yourself more time to enjoy your weekend with this EdgeStar 6 Place Setting Countertop Portable Dishwasher. Standing just over 17 inches tall, this compact countertop dishwasher has a great fit to most cabinetry with no permanent installation needed.
This EdgeStar 6 Place Setting Countertop Portable Dishwasher delivers high performance while saving you a lot of money on your water and energy bills. It uses only 200 kilowatt hours per year, which means it consumes approximately 61% less energy than similar countertop dishwashers. In addition, this unit will never waste you too much water.
Click here to see what others are saying…
Featuring an LED display with full digital controls which includes a child lock function, six wash cycle programs, and a delayed start feature, this EdgeStar 6 Place Setting Countertop Portable Dishwasher allows you to wash dishes whenever you want.
With a stainless steel interior, this dishwasher features a modern look and can be a great addition to any kitchen. Its powerful spray arm provides a deep and thorough wash of all your dishes. There is a built-in rinse agent dispenser to help to minimize water spotting on dishes. Additionally, the internal water heater and the heavy wash cycle can boost the water temperature up to 149 degrees Fahrenheit, eliminating germs and bacteria effectively.
This compact dishwasher washes up to six standard place settings, and its cutlery basket and cup shelf are designed for added organization. It is also equipped with a quick connect faucet adapter and five-foot hose, making it simple to hook-up to almost any faucet.
Key features
Digital control panel with LED display / Six (6) standard place setting capacity
Holds plates up to 10.5″ in diameter / Six (6) wash cycles
Delayed start feature / Child lock function / Input voltage: 120 V/60 Hz
Fits under most cabinetry / Stainless steel interior / 5 foot hose included
Dimensions: 17-3/16″ H x 21-11/16″ W x 19-11/16″ D
Pros 
Compact, fits great in small areas
Does a good job cleaning the dishes
Relatively quiet
Easy to hook up
Reasonable price, affordable
Cons
The wash cycle is quite long