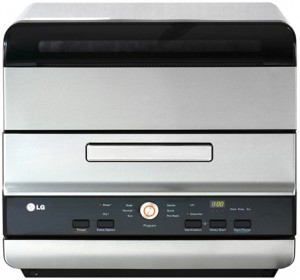 Maybe you have a small-size kitchen, maybe you are a college student or a renter, or maybe you just want to find a suitable compact dishwasher which can be your honest kitchen aid. If so, please spend a minutes in the introduction about 5 best compact dishwashers. They work efficiently, flexibly, time-saving and ensure your dishes clean. With the high temperature drying heater, these dishwashers will inhibit the growth of stain-and-odor causing bacteria.
1. SPT Countertop Dishwasher, White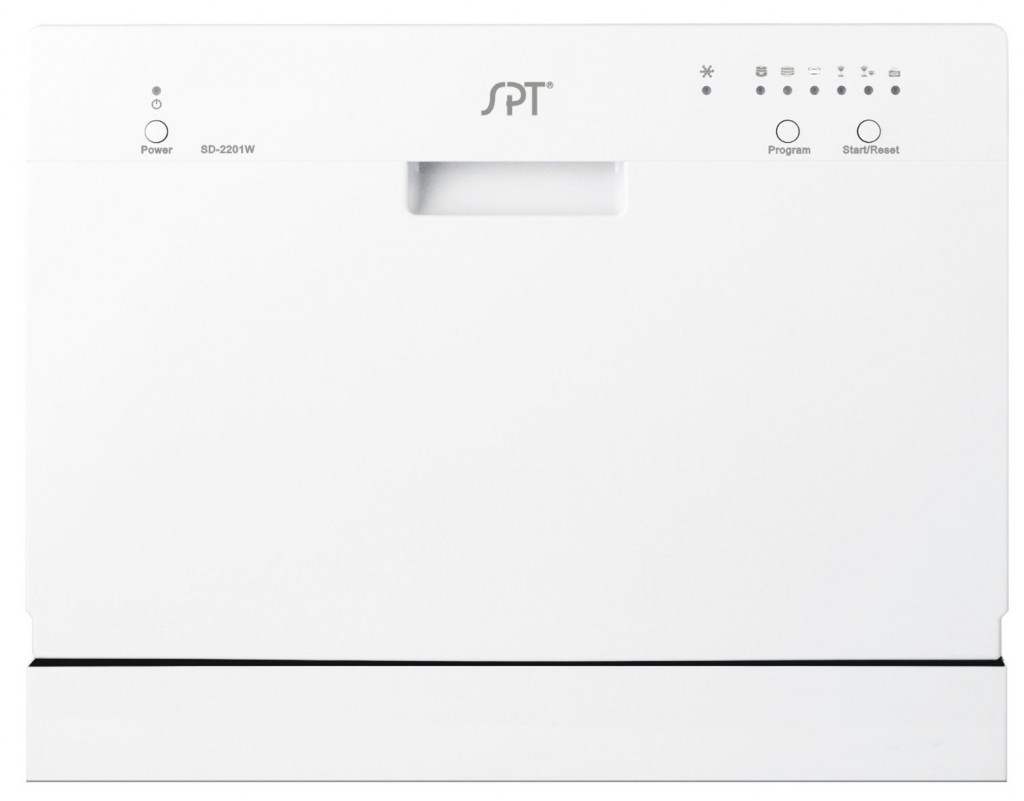 This dishwasher is perfect for apartment, office kitchen or any limited space. It offers full-size power in a compact design. This unit will fit most countertop and cabinetry with its not-too-high height of 17.24 inches. There are six standard place settings, durable stainless steel interior and water high temperature heater equipped. It is very quick to connect to any kitchen and it will eliminate the stage of direct plumbing or permanent installation.
Check user reviews and latest prices on Amazon
2. EdgeStar 6 Place Setting Countertop Portable Dishwasher – Silver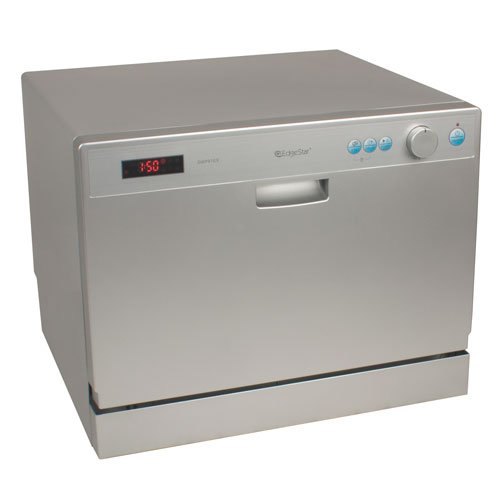 This machine is extremely easy to operate. It features an LED display with full digital controls including a child lock function, six wash cycle programs and a delayed start feature so you can wash dishes when you want. A stainless steel interior makes the dishwasher look good no matter where it is, while a powerful spray arm ensures a deep and wash of all your dishes.
Check user reviews and latest prices on Amazon
3. Danby DDW611WLED Countertop Dishwasher – White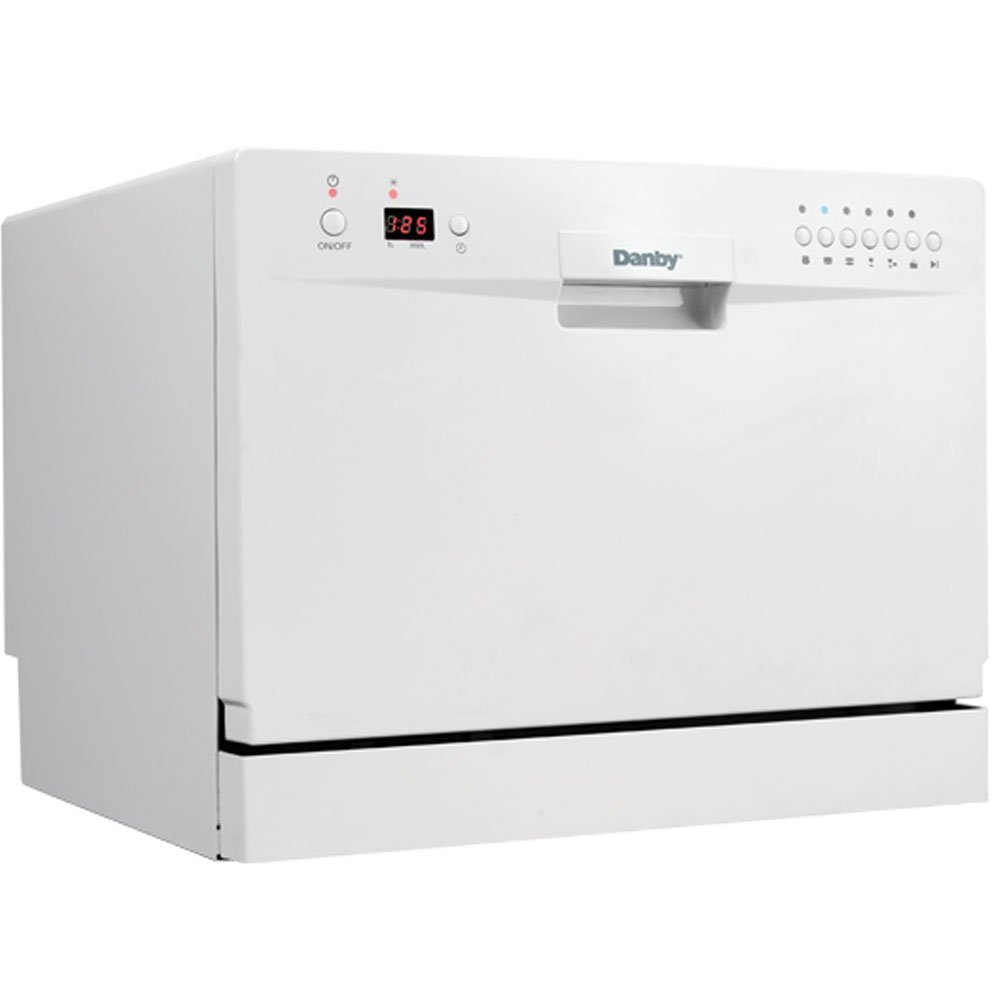 Danby's DDW611WLED dishwasher helps save water and energy with its energy adjustable conditioner. With 6 standard place settings, this unit is good for any family. What' more, the quick connect system lets you hook it up to any kitchen tap and the 6 wash cycles will get dishes sparkling. The product dimensions are 19.7*21.6*17.2 inches.
Check user reviews and latest prices on Amazon
4. Koldfront 6 Place Setting Portable Countertop Dishwasher – Black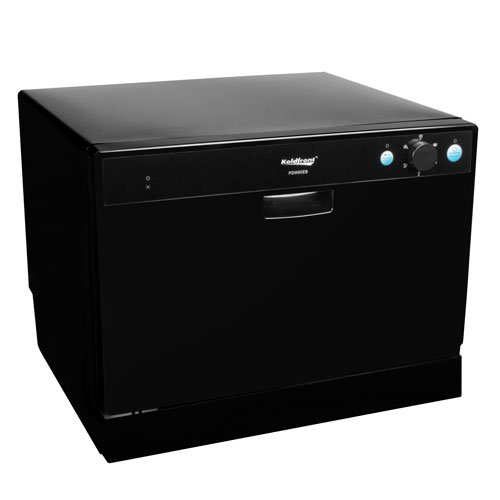 Featuring 6 standard place setting capacity including dish rack, cup shelf, and cutlery basket, the machine provides a large and powerful internal structure. Equipped with stainless steel interior, water consumption, it helps saving a lot of water and amount of money. The produce dimensions are 17.3*21.1*19.1 inches and it fits most countertop and cabinetry.
Check user reviews and latest prices on Amazon
5. SPT 18-Inch Portable Dishwasher, Stainless Steel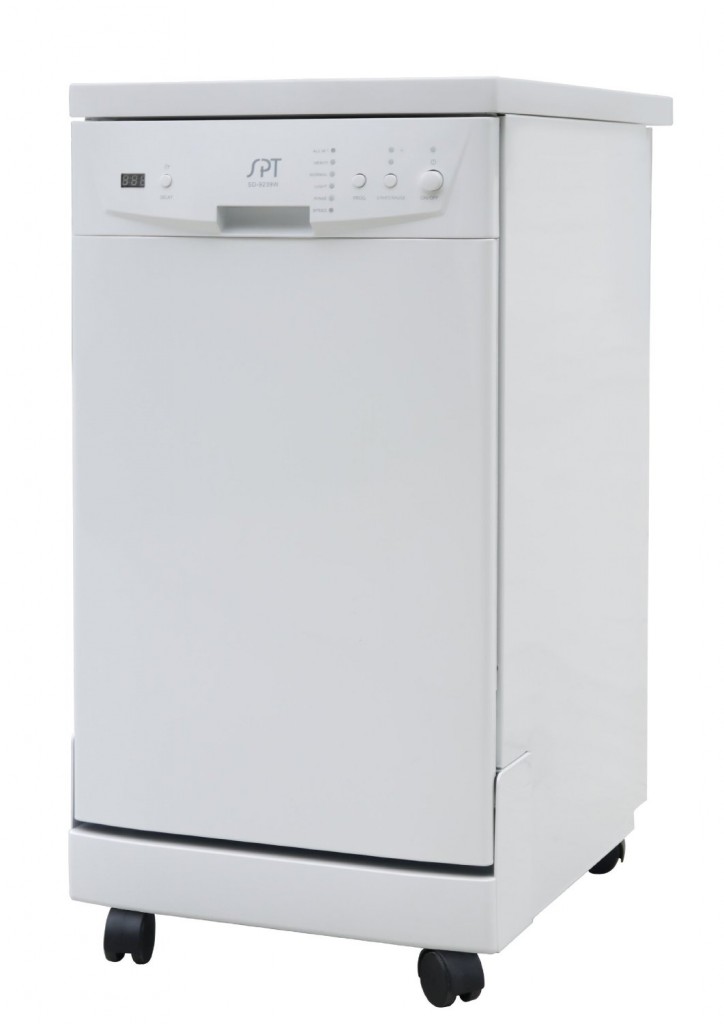 Another dishwasher from SPT. This one combines with black and silver and it is full of modern sense. The time delay feature allows you to program operation at a later start time. With 8 standard place settings, the dishwasher fits most countertop and cabinetry. In addition, the high temperature heater helps eliminate the growth of bacteria.
Check user reviews and latest prices on Amazon