Do you like eating breakfast in bed? Looking for a portable tabletop surface for someone who is immobile due to injury or illness? The bed tray table is an excellent choice. Convenient and practical, the bed tray table is perfect for those times when you want to eat in bed, for those who are recovering from treatments or for working on the laptop.
1. SONGMICS Bamboo Adjustable Laptop Desk USB Fan Breakfast Serving Bed Tray Tilting Top Drawer ULLD003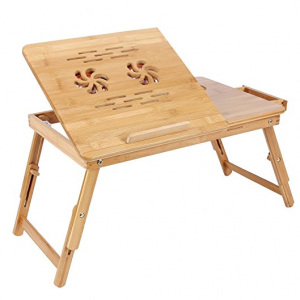 Finally, a durable and practical tray can be used as a laptop table, reading desk, breakfast tray, and a working desk. The Songmics bamboo lap desk features USB Fun and beautiful hollowed out a design for better heat dissipating. The adjustable tilt and legs provide a better viewing experience. Also features a small drawer with a built-in magnet to store your pen, note pad, or phone. Lightweight and foldable. 100% Natural Bamboo. Environmental friendly and easy to clean.
Check user reviews and latest prices on Amazon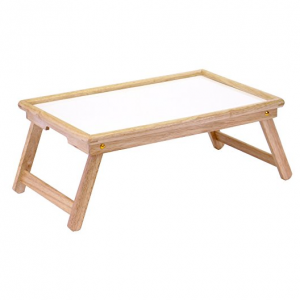 If you are looking for a perfect tray for serving in bed, on the sofa, or outside on the patio, the Winsome Wood Bed Tray is for you. This bed tray features a solid wood frame with a natural finish and white melamine top. The legs can be folded for use as a serving tray and for compact storage when not in use. Lightweight and easily portable. Easy to clean with a damp cloth. Perfect for eating or working on the laptop.
Check user reviews and latest prices on Amazon
3. SB Trays Folding Bamboo Bed Tray: Serve breakfast in bed or use as a TV table, laptop computer tray, snack tray or serving platter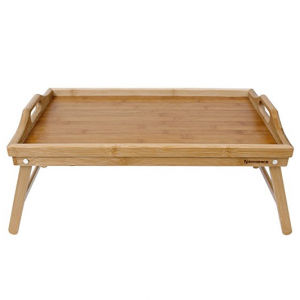 Stylish, durable, and practical, the SB Trays Folding Bamboo Bed Tray is the perfect serving solution for your home. It features a large surface with a 2-inch rim so nothing falls off. The legs fold under the tray for easy storage. Made of sturdy yet lightweight bamboo that not only offers a classic, stylish look but also is a more eco-friendly choice. Perfect for eating dinner by the TV, serving food at parties, or using it as a mobile desk.
Check user reviews and latest prices on Amazon
4. Greenco Bamboo Foldable Breakfast Table, Laptop Desk, Bed Table and Serving Tray, Bamboo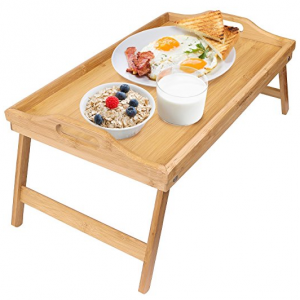 Made of durable natural bamboo, the Greenco Foldable Breakfast Table is strong and beautiful. This tray can be used for serving breakfast, dinner, wine, laptop desk, or for an elegant decoration display. The foldable legs and two hollowed out handles make it easy to store and carry. Surrounding tray lips prevent items from falling over. Measures approximately 20″ L x 12″ W x 2.5″ H when folded, 9″ H when standing. Hand washes with mild soap warm water.
Check user reviews and latest prices on Amazon
5. Home-it Bed Tray table with folding legs, and breakfast tray Bamboo bed table and bed tray with legs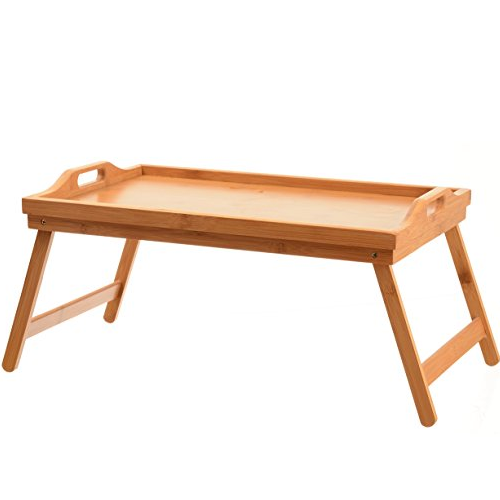 Add an elegant touch of bamboo style to your home with the Home-it Bed Tray table. This tray is constructed of a sleek bamboo finish to ensure durability and stability. It comes with handles for easy mobility. The legs are foldable, making storage a breeze. Lightweight and sturdy. A multipurpose folding bed tray that can be used to bring treats to your guest, to eat breakfast in bed, or for sitting on the sofa and watching tv.
Check user reviews and latest prices on Amazon