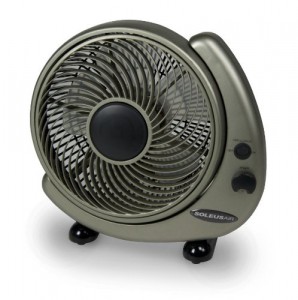 Product description
Give yourself a restful night with this Soleus Air's FT2-25-03 10-inch table fan. It features three speeds and a five-finned blade which moves more air compared to the traditional four to cool you down effectively. Its 180 degree pivot head allows fan direction to be changed without relocating the fan.
Equipped with an asymmetrical, crescent-shaped stand, this Soleus Air 10 High Velocity Wall MountTable Fan has a modern look and is a good addition to any room. This unit can be used for a desktop/table fan and its design is quiet and compact. In order to eliminate scratches as well as fan vibration, this unit comes equipped with rubber feet. And there are three fan speeds to ensure optimal comfort. The large control dials that offer simple operation are designed to deliver a no-brainer breeze.
Click here to see what others are saying…
This Soleus Air 10 High Velocity Wall MountTable Fan is built of heavy-duty silver plastic and comes with blue-gray detailing. There are wall-mounting screw brackets on the underside of the feet. And the speed selection is made with a sliding knob on the side. In addition, it features a simple on-off toggle for the oscillation.
Key features
Wall Mountable for space saving
Table/Desk Fan Option
3 Fan Speeds for Best Comfort selection
180 Degree Pivot Head for Directional Breeze
Rubber Feet Eliminate Scraches as well as Fan Vibration
Pros 
Smart looking and doesn't take up too much space
Puts out a decent amount of air
Can be mounted on the wall and works very quietly
Affordable, reasonable price
Cons
The wall mounting bracket on the bottom is a little bit flimsy
Maybe more suitable for small rooms, not so much powerful for large areas