Cooking pasta, potatoes or vegetables become a whole lot safer and easier with a past pot with strainer lid. With strainer lid is a great features which allows you to strain and drain foods directly from the pan. As a result, you'll enjoy having no colander to clean and no food accidentally pouring into the sink. Great gift for any pasta lover.
1. Farberware Classic Stainless Steel 8-Quart Covered Straining Stockpot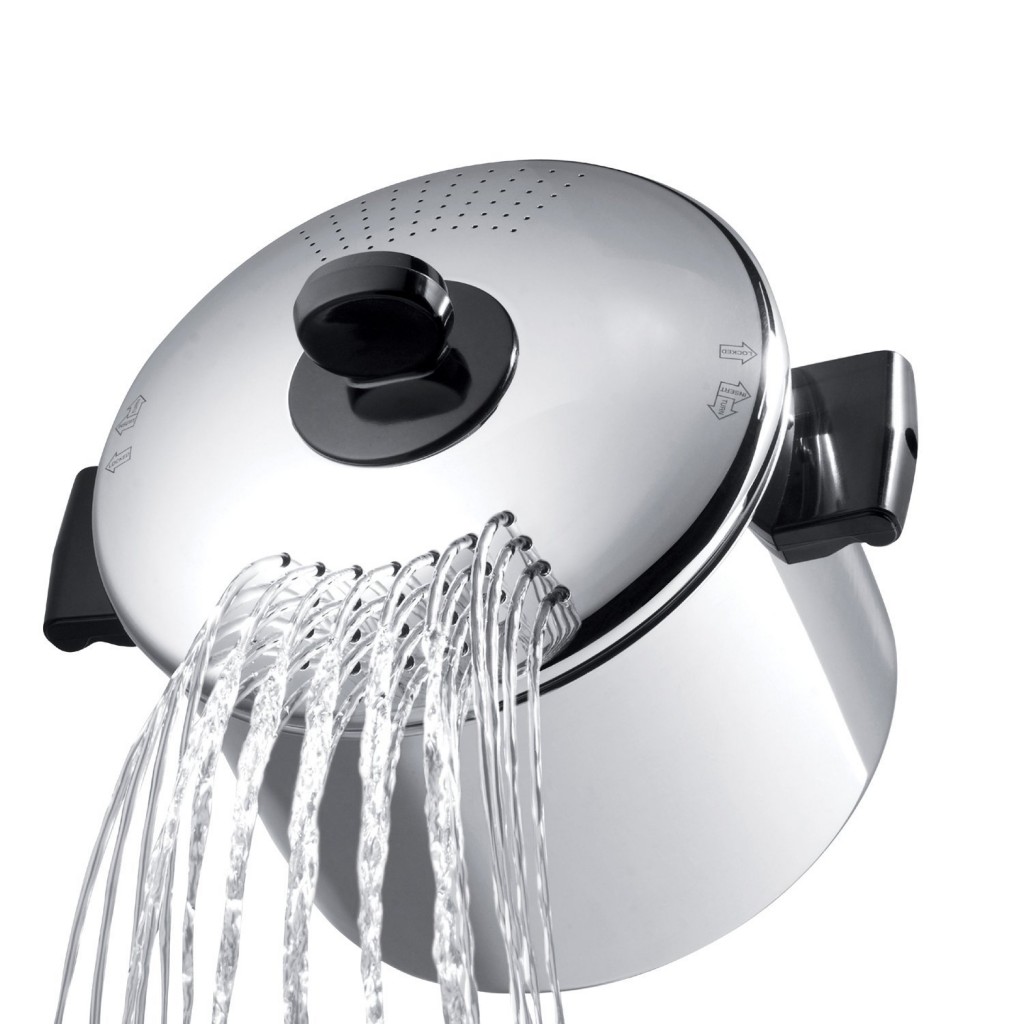 Cook a lot of pasta? You will love the Farberware Classic Stainless Steel 8-Quart Covered Straining Stockpot. This stockpot features built-in colander lid that allows you to strain and drain foods directly from the pan, eliminating the need for a separate colander. The thicker, rolled pan rims provide enhanced drip-free pouring and easy handling. With durable stainless steel construction, this pot is dishwasher safe for easy cleanup.
Check user reviews and latest prices on Amazon
2. Bialetti 7265 Trends Collection 5 Quart Pasta Pot, Charcoal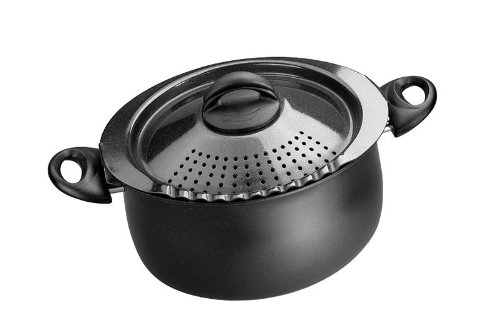 Make cooking pasta fun and so easy with the Bialetti 7265 Trends Collection 5 Quart Pasta Pot. Thanks to its oval design, this pot accommodates whole spaghetti and lasagna noodles without breakage. It features aluminum construction for quick and even heating, ensuring even cooked pasta every time. Simply twist and lock lid for easy straining, no need to pull out your old colander. Stay cool handles for added comfort and safety. Nonstick interior makes cleanup a breeze.
Check user reviews and latest prices on Amazon
3. Stainless Pasta Cooker 8Qt Stock Pot Strainer Lid Set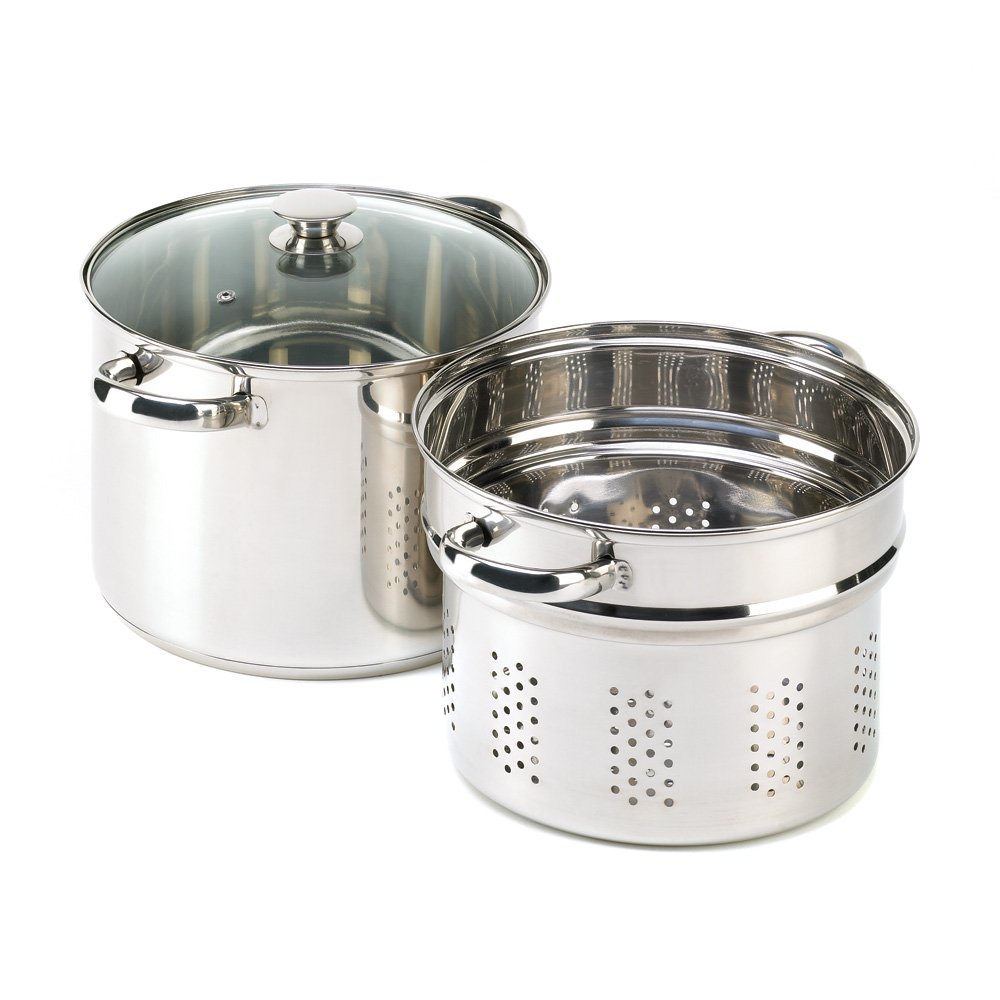 Whether cooking pasta or soups, this Stainless Pasta Cooker 8Qt Stock Pot makes your task a breeze. The generous and versatile stockpot set is great for steaming, boiling, and cooking. Durable, functional, and easy to clean, this set is a great gift for any gourmet cooking enthusiast and a must have in all kitchens. Set includes outer pot, strainer insert and lid. Dishwasher safe but hand wash recommended for best care.
Check user reviews and latest prices on Amazon
4. Norpro KRONA 8 Cup Multi Pot with Straining Lid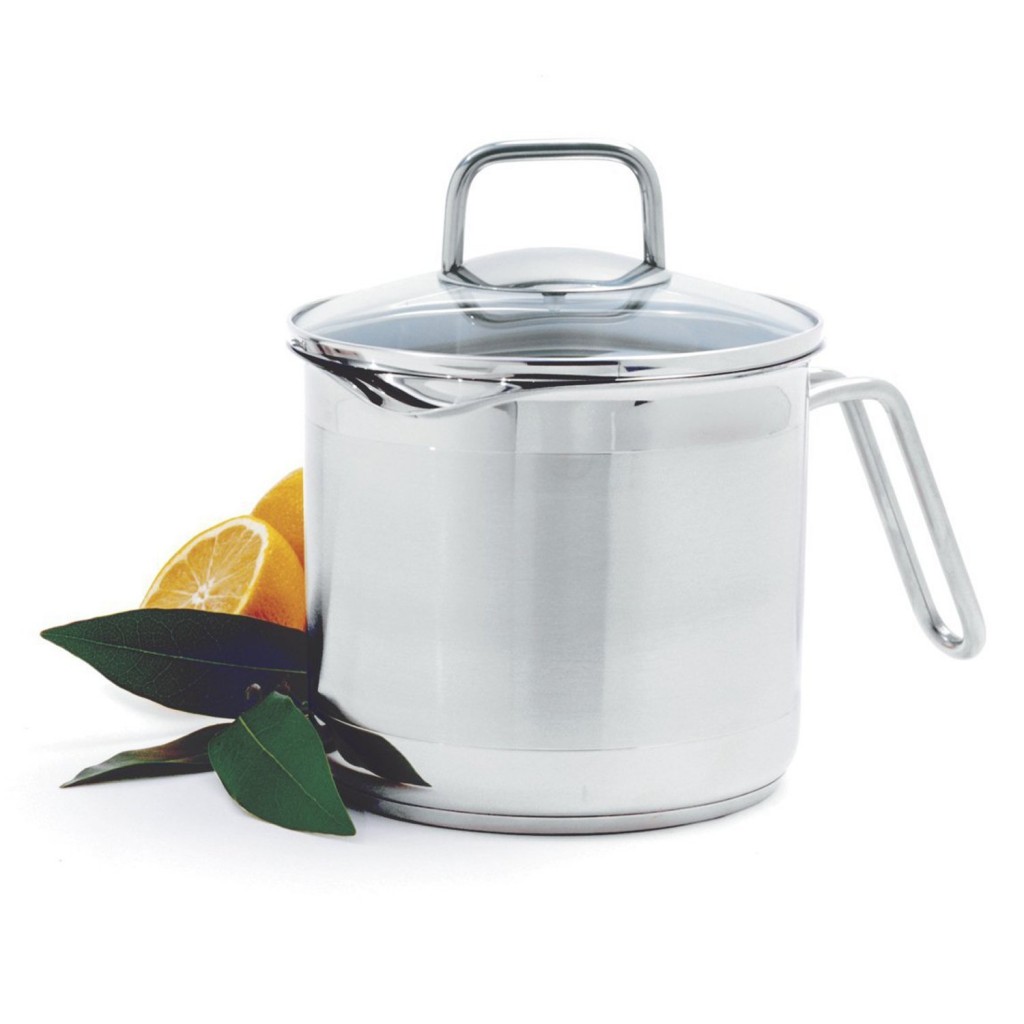 Need a hassle-free way to cook vegetables, pasta, boiling eggs and more? The Norpro KRONA 8 Cup Multi Pot with Straining Lid is a great solution. This multi pot features a vented straining lid with 3mm and 6mm vented/drain holes for wonderful versatility. Simply turn lid to seal or release steam or drain pastas and vegetables. You will also love its tri-ply encapsualted base which provides increased heat conductivity, even heat distribution and protection from hot spots and burning.
Check user reviews and latest prices on Amazon
5. Prime Pacific Stainless Steel Pasta Pot Set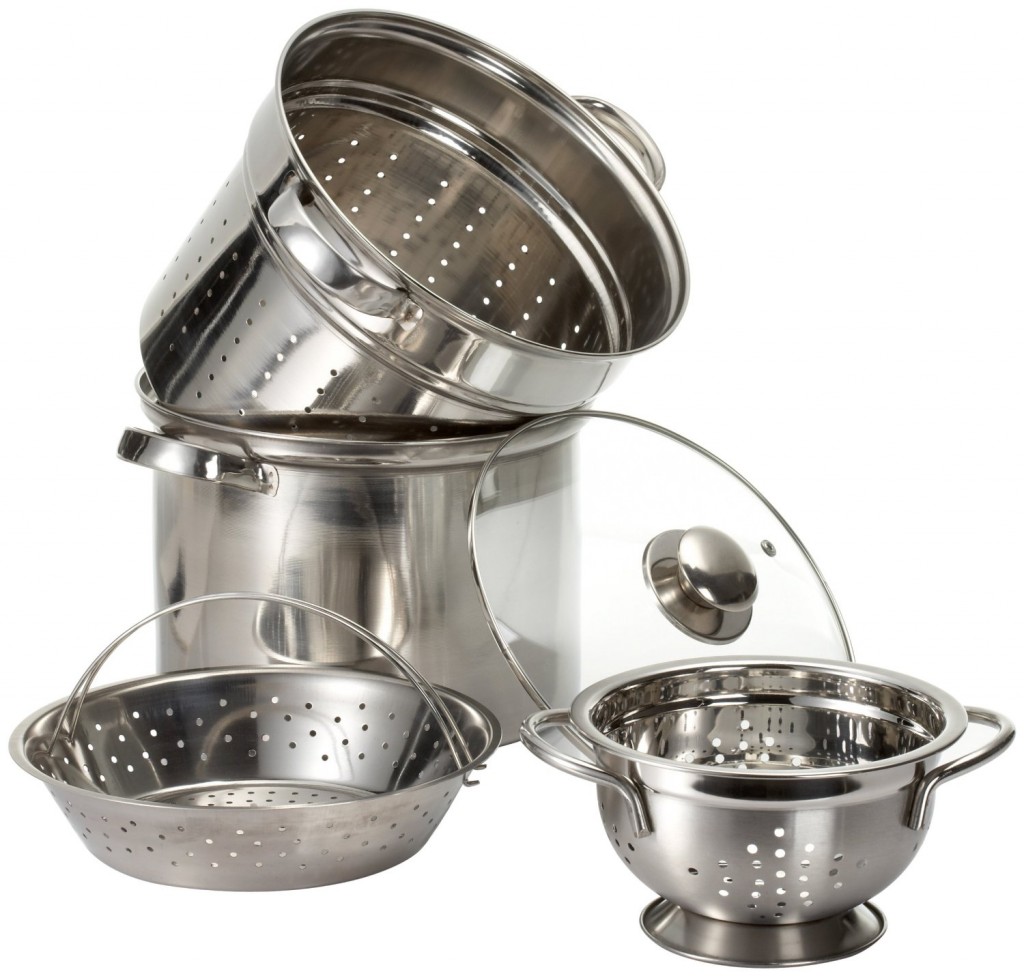 Sturdy, well made and works great, the Prime Pacific Stainless Steel Pasta Pot Set is great for any pasta lover. This pasta pot set is perfect for cooking pasta and makes it extremely easy to strain without loosing a noodle. With this set, you don't have to have a colander. Set includes a 2-quart stainless steel pasta pot, a 6-quart stainless steel pasta pot, and a cheese grater. Easy to use and easy to clean.
Check user reviews and latest prices on Amazon
This is a list of the top 10 most popular products by consumers.
Bestseller No. 1
Sale
Bestseller No. 2
Airtight Food Storage Containers Set with Lids (24 Pack) for Kitchen and Pantry Organization - BPA Free Kitchen Canisters for Cereal, Rice, Flour & Oats - Free Marker and 24 Labels
Kitchen Storage Containers - 24 BPA free food storage canisters included. These airtight food storage containers come with reusable chalkboard labels, a chalkboard marker, and a measuring spoon set.
From Small To Tall - This storage jar set comes with 6 extra-large (11.83 cups/2.8 liters,) 6 large (8.45 cups /2.0 liters), 6 medium (5.92 cups /1.4 liter), and 6 small containers (3.38 cups /0.8 liters)
Keeps Food Fresh - These clear four-sided dry food storage containers have locking lids that are perfect for storing flour, sugar, coffee, cereal, pasta, nuts, soup, juice, and any other leftover food item. Stores liquids, solids, and granulated powders.
The Perfect Home Organization Gift - These stackable, durable canisters will add a Zen like quality to your kitchen or pantry. Use them in the fridge, freezer, cupboard or closet. The storage jars are easy to clean and relabel.
Our Promise - If you're not 100% thrilled, just let us know and we'll make it right by refunding your purchase. Click Buy Now to get your nifty kitchen canisters today and start your pantry storage organization project this weekend.
Bestseller No. 3
T-fal E765SEFA Ultimate Hard Anodized Nonstick 14 Piece Cookware Set, Dishwasher Safe Pots and Pans Set, Black
Set includes: 8 inches fry pan, 10.25 inches fry pan, 11.5 inches fry pan with lid, 10.25 inches square griddle, 1 quart; saucepan with lid, 2 quart; saucepan with lid, 3 quart; saucepan with lid, 5 quart; Dutch oven with lid, and a 3 quart; steamer insert with 2 side handles
Built to perform: A true workhorse in the kitchen, hard anodized aluminum retains perfect heat and has a much stronger protective layer than the original metal, making it corrosion and scratch resistant, plus it won't react to acidic foods
Heat mastery system: T fal's Heat Mastery System is a 3 ingredient recipe for perfectly delicious cooking results every time; Superior and longer lasting non stick coating, an anti warping, even heat base and patented Thermo Spot technology
Thermo spot indicator: The ring around the spot turns solid red to show when pans are perfectly preheated and ready for ingredients to be added proper preheating is key to sealing in flavor and cooking food evenly
Durable nonstick: Hard Titanium reinforced, scratch resistant and toxin free nonstick interior stands up to everyday use and keeps food sliding smoothly along the surface, making cooking easier and cleanup a breeze
Sale
Bestseller No. 4
Instant Pot Ultra 80 Ultra 8 Qt 10-in-1 Multi- Use Programmable Pressure Cooker, Slow Cooker, Rice Cooker, Yogurt Maker, Cake Maker, Egg Cooker, Sauté, and more, Stainless Steel/Black
For large families, 6 plus people. Item dimensions are 14.88 x 13.90 x 10.39 in inches
Instant Pot Ultra electric pressure cooker is the next generation in kitchen appliances. A central dial with a simple turn and press provides added precision in program selection and adjustment
New features: Altitude adjustment, cooking indicator, and a steam release reset button. The Ultra button provides custom programming. The new features include sterilize, cake and egg programs
Replaces 10 common kitchen Appliances pressure cooker, slow cooker, rice-porridge cooker, yogurt maker, cake maker, egg cooker, sauté/searing, steamer, warmer, and sterilizer
Developed with the latest 3rd generation technology with an embedded microprocessor. The microprocessor monitors the pressure and temperature, keeps time, and adjusts heating intensity and duration. Power supply: 120V – 60Hz, power supply cord length: 35 inches
Bestseller No. 5
Simple Chef Cast Iron Skillet 3-Piece Set - Best Heavy-Duty Professional Restaurant Chef Quality Pre-Seasoned Pan Cookware Set - 10", 8", 6" Pans - Great For Frying, Saute, Cooking, Pizza & More,Black
HEAVY DUTY – Cast iron skillets are a timeless must-have for every kitchen. The Simple Chef Cast Iron Skillet 3-Piece Set is virtually indestructible and will last years, decades. Better than any Lodge cast iron set!
READY TO USE – The skillet set is ready to use, straight out of the box. They are factory pre-seasoned, which is much more effective than at home pre-seasoning. Factory pre-seasoning makes our cast iron skillets virtually non-stick, easy to clean, protected against scratches, and will also make your food rich in flavor!
MULTI-FUNCTIONAL – Our cast iron cookware is multi-functional, and suitable for many different cooking methods. Use our skillets on the stove top, in oven, over a campfire, and even when slow-cooking! Our set is great for frying, sautéing, cooking, grilling, and more.
HEAT RETENTION – Our design provides superior heat retention for cooking. And they conduct heat evenly, so that your meals will turn out perfectly cooked every time. Plus the sturdy handle aids in lifting, and provides a hole for hanging when not in use.
SATISFACTION GUARANTEED – We are so confident in the quality of our product that we offer a 30-day satisfaction guarantee! If you are unsatisfied, simply contact us to return the product for a full refund.
Sale
Bestseller No. 6
14 Pcs Silicone Cooking Utensils Kitchen Utensil Set - 446°F Heat Resistant,Turner Tongs,Spatula,Spoon,Brush,Whisk. Wooden Handles Gray Kitchen Gadgets Tools Set for Nonstick Cookware (BPA Free)
HEAT-RESISTANT, NON-MELTING, WOODEN HANDLE - The silicone cooking utensils can withstand temperatures up to 446°F. even if they are used in a high-temperature frying environment, they will not melt or produce smoke. The wooden handle feels comfortable and strong to hold, prevents heat transfer, so you don't have to worry about scalding the chef's hands. these cooking utensils set is a good gift choice for mom
SAFE, BPA FREE, FOOD GRADE SILICONE,ODORLESS - The kitchen utensil set are made of high quality food grade silicone.BPA free. no harmful smell. Note: It must be soaked for half an hour when it is used for the first time, and then exposed to the air for about 3 hours, the original smell of silica gel will disappear. The silicone cooking utensil is safe to use for any type of food. These kitchen utensil set does not react with food or beverages
FULLY MEET THE NEEDS OF THE KITCHEN. NO MORE WASTE OF MONEY - These kitchen utensil sets include 9 cooking tools and 4 baking tools. A large utensil holder. Buy it at one time and get what you need in the kitchen. No more waste of money. Deep Soup Ladle, Solid Serving Spoon, Slotted Spoon, Flexible Spatula, Round Spatula, Pasta Server, Slotted Turner, etc. These silicone kitchen utensil perfectly protect the surface of the non-stick pan from scratches
NO GAPS, NO FOOD IS CAPTURED, EASY TO CLEAN - Add stainless steel to each cooking utensil to maintain an initial optimal memory state. Never warp. And full of flexibility. One-piece molding without any gaps to capture food. Make cleaning easier. Note: Because of the wooden handle, these kitchen tools are not suitable for prolonged soaking in water and dishwasher cleaning
QUICK AFTER-SALES RESPONSE AND PRECAUTIONS : QUICKLY ANSWER ANY OF YOUR QUESTIONS - Whenever you tell us the challenges you face through Amazon Buyer Page. we will continue to listen carefully. We value you and your open and honest questions, which can help us focus on your most urgent needs. Your question will generally respond quickly within 12 hours
Sale
Bestseller No. 7
Hudson Essentials Stainless Steel Measuring Cups Set (6 Piece Set)
Complete set of six: includes 1/4, 1/3, 1/2, 2/3, 3/4 and 1 cup premium stainless steel measuring cups
Conveniently nests inside one another, allowing you to store them in any drawer, cabinet or cupboard
Premium food grade stainless will never rust or corrode, you can throw them wash in the dishwasher for quick and easy cleanup
The stainless steel spout lets you easily pour out the contents inside without drips or spills
These measuring cups are built to last a lifetime, they are rust proof, corrosion proof, and chemical resistant
Bestseller No. 8
Sale
Bestseller No. 9
Big Red House Heat-Resistant Oven Mitts - Set of 2 Silicone Kitchen Oven Mitt Gloves, Grey
HEAT-RESISTANT: Our high-quality, high heat oven mitt is cast-iron safe up to 480 °F - so however hot the kitchen, you can keep your cool.
SILICONE STRIPING: This oven mitt set features an impressive silicone striping that provides a non-slip grip for superior handling.
QUALITY: Crafted from a combination of silicone and cotton, and lined with a soft terry cloth, our oven mitts for baking provide maximum heat protection, flexibility, and comfort.
EASY CLEAN: Machine washable and complete with a handy hook, our oven mittens are designed to make your life easier.
PROTECTION: Measuring an optimum 12.5" in length and available in 6 different colors, these oven mitts will fully cover your hands and wrists.
Bestseller No. 10
Swify Set of 3 Asian Strainer Ladle Stainless Steel Wire Skimmer Spoon with Handle for Kitchen Frying Food, Pasta, Spaghetti, Noodle-30.5cm, 32cm, 35cm
Stainless steel Strainer: This kitchen Strainer are made of high quality stainless steel, Net wiring and sturdy outer framework and handle, won't react with foods, safety and durable.
Multiple size: Set of 3 different strainers, diameter: 4. 3Inch, 4. 9Inch and 5. 7Inch(11cm, 12. 5cm and 14. 5cm), total length: 12Inch, 12. 6Inch and 13. 7 inch(30. 5cm, 32cm and 35cm). The long handle can protect your Hands from hot grease and oils when you cooking or frying.
Wire Strainer: the concave net catches food securely while releasing oil and and other residue. Perfect for frying foods, like potato chips, chicken legs, and scoop up noodles, spaetzli, pasta, spaghetti and more.
Hanging loop: convenient hanging hales on each of Skimmer, it can be hung on the wall After use, to keep dry and clean. Easy to storage and easy to quickly grab these skimmers.
Easy to clean: Simply wish with Warm soapy water or put them in the dishwasher.
Last update on 2022-04-21 / Affiliate links / Images from Amazon Product Advertising API