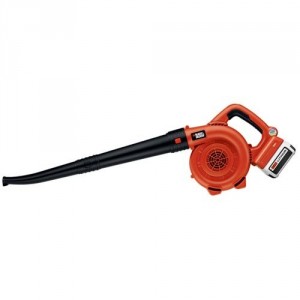 Product description
Clean your yard easily and efficiently with this cordless Black & Decker 36-volt Lithium Sweeper (model LSW36). Powered by Black & Decker's high-powered 36-volt lithium battery, this unit delivers power, excellent runtime, and the versatility to share batteries with other tools within the system while eliminating the weight, noise and hassles of gas-powered equipment.
Compared with older battery technologies and gas options, the Black & Decker's 36-volt lithium-ion system provides more power into a small and compact battery. Featuring a longer lifecycle than other types, the lithium batteries hold their charge longer when taken off the charger, which means a lithium battery is always ready to use once charged. Energy Star-rated fast charger makes sure you won't spend a lot of time getting the battery fully charged.
Click here to see what others are saying…
Featuring an efficient design and a 120-mph air speed, this sweeper is great for hard surfaces like patios, decks, walkways, driveways, and garages. Its Power Command controls are designed for adjusting speed for maximum run-time or maximum power. In addition, there is a built-in scraper enables the Sweeper to loosen matted leaves and stuck-on debris.
Get tired of the heavy sweeper? Try this Black and Decker 36V Lithium Ion Sweeper. This blower weighs in at just 4.7 pounds, making it a great gift for anyone to use for extended periods.
You don't have to worry about annoying your neighbors when operates this unit. It features Sweeper's electric motor to reduce the roar, protecting your hearing and reducing noise pollution.
Features
Clears debris from hard surfaces like patios, decks, walkways, driveways and garages
36-volt lithium-ion battery provides longer runtime and longer battery life year after year
Fast charger recharges 36-volt battery in about 1 hour
Power Command controls speed for maximum run-time or maximum power
Blow tube with built-in scraper allows users to loosen matted leaves and stuck-on debris
Soft grip handle; lightweight at just 4.7 pounds
Pros
Small and lightweight, easy to control
Quieter than gas-powered
Very affordable
Does a good job blowing leaves
Cons
The wind speed is not high enough