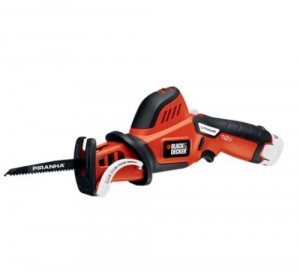 Product description
Not only are the versatile Black & Decker PSL12 cordless outdoor pruning saw perfect for pruning branches and removing shrubs and bushes, but also can be used to cut plywood, 2x lumber, metal and PVC (when using "T" shank blades). Its specialized 6-inch pruning blade is able to cut branches up to 3-inch in diameter. And it comes with an exclusive clamping jaw to secure branches, ensuring a clean cut without too much vibration. In addition, its lightweight design and compact size make it possible to reach into tight spaces where other saws can't.
Click here to see what others are saying…
The Black & Decker PSL12 is powered by a 12-volt Max lithium-ion battery to deliver a longer lifespan. It can cut over 50 1-inch oak branches per charge. In addition, the battery also has a lightweight design. The result is that the unit weighs just 2.5 pounds with battery installed.
The external battery charger is Energy Star-qualified, which means you will waste less money on your electrical bill. The Black & Decker PSL12 cordless outdoor pruning saw comes backed by a two-year limited warranty.
Key features
Specialized 6-inch pruning blade cuts branches up to 3-inch in diameter
Exclusive clamping jaw secures branches ensuring clean cuts and less vibration
12-volt Max lithium-ion battery provides longer lifespan
Lightweight design and compact size for tight space pruning
Energy Star-qualified external battery charger for energy efficiency and saving you money on your electrical bill
Versatile design handles multiple DIY jobs
Limited 2-year warranty
Pros
Small and light, easy to handle
Cuts quickly through the smaller branches
Easy to charge
Great price
Cons
Not powerful enough for big tasks
Battery needs frequent charging