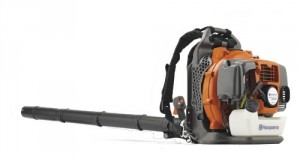 Product description
The Husqvarna 350BT back pack blower features 2.1-horsepower engine and maximum power speed of 7,500 RPM, making it a great choice for professional landscape contractors as well as homeowners with large land areas. Generating wind speeds up to 180 miles per hour, this unit provides enough power to blow away even the most stubborn yard waste. And when you need more power, the Husqvarna's patented 2-stroke X-Torq engine technology with up to 20 percent less fuel consumption and up to 60 percent less emissions will help you.
Click here to see what others are saying…
The 350BT features an integrated harness to help reduce load with a hip belt that's shaped to fit the contours of the operator and wide shoulder straps, making it possible to use for hours comfortably. In addition, there is an easily adjustable soft grip to provide optimal maneuvering.
It features a high-volume 42.27-ounce tank which can sustain hours of use. And its cruise-control function maintains a constant fan speed so you can complete big jobs without having to constantly regulate your blower's speed. The air purge function removes air from the carburetor and fuel system, ensuring much easier starting. 2 Year Parts & Labor Warranty.
Key features
Lightweight blower with integrated back pack harness for landscape professionals as well as homeowners
2.1 HP X-Torq engine reduces harmful exhaust emissions and increase fuel efficiency
Comfortable, ventilated and load-reducing harness with hip belt and wide shoulder straps
Fan speed can be set for easier handling; air purge removes air from carburetor and fuel system for easy starting
CARB Compliant, 692.17 cfm
Purchase this Husqvarna handheld item along with 3-32 ounce cans of Husqvarna pre-mix fuel, register your product online, and your consumer warranty will be extended from 2 years to 4 years
Pros
Lightweight and simple to use
Quiet compared to many other blowers
Powerful motor
Easy to start
The backpack is comfortable to use
Cons
Tubes don't come apart easily for storage
Have to take the blower off your back to restart the blower if run out of gas