Clear all your snow on your sidewalk or driveway effortlessly and quickly with a gas-powered snowblower. Equipped with a powerful engine, these snow blowers provide you with high performance to get your job done more quickly. And many of them feature electric start for added convenience. Choose the right one for your job.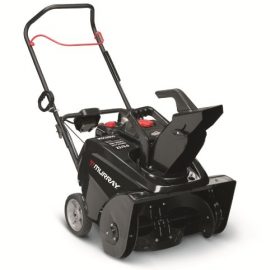 Great for light-use conditions up to 8-inches of snow, this gas-powered single stage from Murry help clear a path through up to a foot of snow. Equipped with a wear-resistant polymer auger and auger-propelled drive system, this unit can clean down to the pavement. Easy to use, and easy to maintain, this thrower also features Briggs & Stratton 800 Snow Series OHV Engine. Electric start, cord included.
2. Power Smart DB7651 24-inch 208cc LCT Gas Powered 2-Stage Snow Thrower with Electric Start

Equipped with a 208cc LCT storm force overhead valve engine, this Power Smart DB7651 208cc two-stage snow thrower provides the powerful performance you need to finish your job quickly and effortlessly. It delivers 24-Inch clearing width and 21-Inch intake height to ensure efficient snow removal. 4-way joystick control allows you to adjust the direction and height of snow discharge. Four forward and two reverse speeds.
3. Poulan Pro PR621 21-Inch 208cc LCT Gas Powered Single Stage Snow Thrower

Delivering a lot of snow-clearing capacity while featuring a compact and lightweight design, this Poulan Pro 208cc single stage 21-Inch snow thrower is a must-have in winter condition. It comes with a reliable 4-cycle engine, a manual remote deflector, and 7-Inch x 2-Inch wheels, allowing you to clear all your snow on your sidewalk or driveway quickly and efficiently.
4. Husqvarna 924HV 24-Inch 208cc SnowKing Gas Powered Two Stage Snow Thrower With Electric Start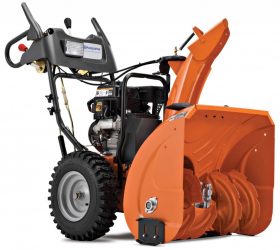 Featuring a sturdy two-stage auger/impellor system, this Husqvarna 924HV tackles up to 23-inch snow depths and cut 24-inch swaths. It comes equipped with a 9-pound/foot gross torque SnowKing engine for efficient results. Single hand control makes it possible to adjust chute controls while the wheels and auger are engaged. LED headlight included for added convenience.
5. Power Smart DB7651 26-inch 208cc LCT Gas Powered 2-Stage Snow Thrower with Electric Start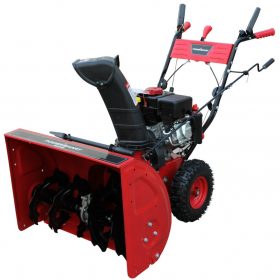 With a professional and powerful snow engine, this Power Smart 7651 26-Inch 208cc two-stage snow thrower makes it a snap to clear away the snow on sideways. It delivers 26-Inch clearing width and 20-Inch clearing depth for efficient snow removal. It comes equipped with 12-Inch serrated, all-steel augers that pull snow into the blower unit to power through tough conditions. 4 forward and 2 reverse speed.