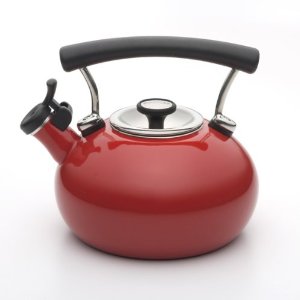 Every tea drinker needs a clean tea kettle to make fresh and clean tea or other hot beverages. The headache problem is the scaly deposits on the interiors of tea kettles, making the tea kettle not only look bad but also have worse performance. The scaly deposits are almost inevitable because they are produced by tap water that contains a high mineral content. What you should do is to learn how to clean them effectively. Here are some tips and suggestions.
When comes to the material for cleaning out mineral deposits, the white vinegar is highly recommended. Use the equal amounts of vinegar and water, then fill them into the tea kettle and boil the diluted vinegar. Leave the hot mixture in the kettle for about 1 hour before you wash the tea kettle.
In addition to the vinegar-water mixture, you can also use the lime juice to remove mineral deposits. Add the tea kettle with the right amount of lime juice and water. The effect will be better if you leave the mixture in the tea kettle overnight. But remember, you need to eliminate the taste of lime juice before you boil water for tea with the tea kettle. Otherwise, the flavor of the tea will be compromised because of the taste of lime juice.
In order to make your tea kettle look better, removing the mineral deposits is not enough. You also need to clean the outside of your tea kettle. If you have got a stove-top tea kettle, it may take you more effort to clean it due to grease and food stains. The solution is to use baking soda and scrubbing pad. It can effectively remove these stains and grease.
Clean your tea kettle regularly and let yourself enjoy more tasty tea. Besides, regular cleaning of your tea kettle makes it last longer.
Click here to see what others are saying…