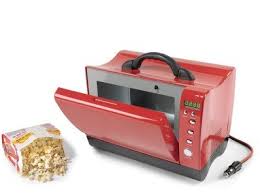 Mini oven is a thermally insulated hall that is used for the heating, drying orbaking of stuff. Mini ovens are more versatile yet smallerversions of the traditional microwave oven. They are multifunctional and allow convection, quartz and even steam cooking. It will cook evenly and the food is prepared without drying out.
Thanks to programming these days, recipe buttons are introduced. For want perfect food in little time, a 100-watt model with a timer would be enough. Mini ovens are compact enough with a capacity ranging from 10 to 38 liters. With some accessories for the mini oven, like a drip tray, roasting spit, and interior oven light it could quite be the replacement of an oven.
The 5 best mini ovens available in the market are

1. Andrew James Black 23 Liter Mini Oven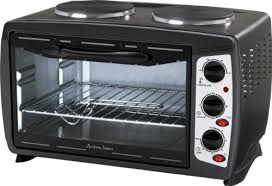 The compact design allows the oven to fit into places with limited space. The oven is also portable which makes it ideal for camping holidays. The 23 Liter oven is large enough to deal with day to day cooking. The oven has temperature control which allows selection from 100 C to 250 C. Also a 60 minute timer with automatic switch off function and buzzer allows safe use of the oven.
This mini oven also has three functions, Upper heating element with circulating air which is ideal for casseroles, Lower heating element is ideal for crisp pie crusts and upper and lower heating elements with circulating air are ideal for cakes and roasts.
2. ARGOS VALUE RANGE MINI OVEN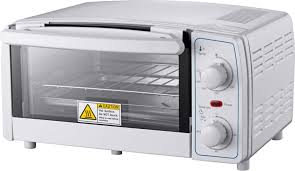 This oven could be the perfect solution for kitchens with congested spaces. The Argos value mini ovencomes with all the specifications for a miniature oven and features of real oven. It is a 1000 watt oven with interior capacity of 10 liters. With adjustable temperature setting ranging from 100-230 C, this is the perfect mini oven. A 60 minute auto switch off timer could make users place food set timer and forget worrying.
3. COOKWORKS STAINLESS STEEL MINI OVEN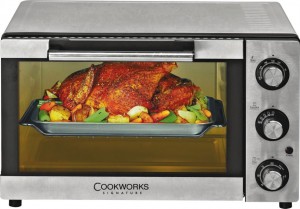 This mini oven is a good appliance for small families living in congested space and ideal for travelling too. It is convenient and Cost effective the oven temperature can be increased to 230°C and it has a fan too for even cooking. This allows a delicious homemade meal every time it's used. It is a 1500 watt oven with a capacity of 28 liters and it is fan assisted and also has shelves grill and a timer of 60 minutes for the safety of the users who have a forgetful mind.
For all those travelling freaks and for the people with limited assets and incapability of buying costly products, here is a revolutionary product which could fulfill all the basics of oven cooked food and yet cost really less and measure really small in size. A capacity of 9 liters and a stainless steel construction makes it compact and yet strong enough for travelling safe. With 4 heat settings switch and a 60 minutes timer and bell ring, this appliance could be just like any other.
5. MORPHY RICHARDS CONVECTION MINI OVEN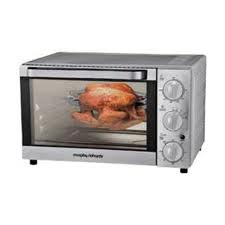 Morphy Richardsmini ovenhas 2 extra electric hobs for parallel cooking with the oven activities which saves space and money. It has a fan for evenness and a grill tray too. Also a crumb tray is available which makes cleaning easier. Key features are 28 liters capacity, light, 280Ctemperature potential fan assistance, shelf rack and grill.