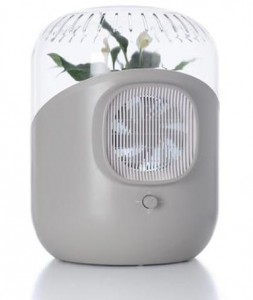 As a great addition to any home, Home Air Purifiers are used in the home to reduce bacteria and viruses, oxidizes odors, fungi, mold, and toxic chemical gases, providing a healthier environment in your room.
Featuring HEPA filtration and PlasmaWave™ technology incorporated into the 5-stage air cleaning system, Home Air Purifiers remove all airborne pollutants without generating harmful Ozone, and keep the allergies or asthma away from you.
Healthy Home air purifiers have sophisticated styling, making it blend perfectly into any surrounding. They are all in near silence and will never disturb your sleep if placed in the bedroom.
Five Best Home Air Purifiers
1. Honeywell Compact Air Purifier with Permanent HEPA Filter, HHT-011

This HEPA Clean Compact air purifier from Honeywell is designed to work in spaces up to 85 square feet. It reduces and eliminates your indoor air pollutants in the following ways. First, the 3-stage filtration system helps clean the air by using a washable pre-filter to capture large airborne. Then the permanent HEPA-Type filter captures up to 95% of microscopic particles such as mold, spores, pollen, pet dander, smoke, and dust. The filtered air then enters an ionizer field providing extra cleaning and air freshening. In addition, it has an optional ionizer for extra cleaning power, 3 power levels, and electronic filter check.
Designed to work in spaces up to 85 square feet, this compact unit can be tucked just about anywhere. You can also place it horizontally or vertically. Three-year warranty.
Check user reviews and latest prices on Amazon
2. Hamilton Beach True Air Allergen-Reducing Air Cleaner

Featuring high performance HEPA-grade filter, the HEPA Hamilton Beach True Air Allergen Reducer removes pet dander, dust, dust mite debris, pollen and mold/mildew spores. The Hamilton Beach Allergen Reducer comes with a 3-speed motor with settings that include High for faster cleaning, Medium for all-day or Low when extra quiet is needed. In addition, the permanent filter is easy to clean and you will save up to $49 a year verses units with replacement filters.
The HEPA Hamilton Beach True Air Allergen Reducer is ideal for rooms up to 160 sq ft, and can be used vertically or horizontally (you decide). Capturing 99 percent of airborne allergens down to three microns at a very affordable price, this unit will never let you down.
Check user reviews and latest prices on Amazon
3. Whirlpool Whispure Air Purifier, HEPA Air Cleaner, AP51030K

The Whirlpool AP51030K comes with a three-stage filtration system comprised of a pre-filter, carbon filter, and a true HEPA filter. The air purifier's outside grill is responsible for capturing large particles and preventing them from entering the unit. Large particles work to eliminate odors and protect the life of the HEPA filter. HEPA filters remove up to 99.97% of particles that are 0.3 microns and larger such as pet dander, dust mites, pollen, ragweed, mold spores, and other microscopic irritants.
Ideal for large rooms up to 500 square feet, this unit has electronic controls and 4 fan speeds, including Turbo Setting to clear the air quickly, and Sleep Mode for quiet operation while saving energy.
Check user reviews and latest prices on Amazon
4. Fellowes Quiet Air Purifier with True HEPA Filter (AP-300PH)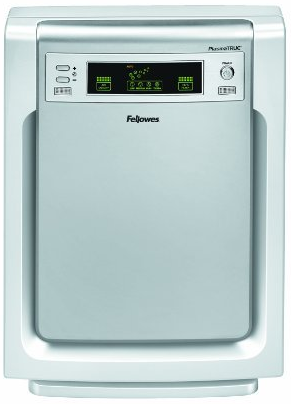 The Fellowes AP-300PH Air Purifier is equipped with a True HEPA filter and PlasmaTrue technology, removing 99.97% of airborne particles as small as 0.3 microns such as pollen, ragweed and other allergens, mold spores, dust mites, germs, pet dander, cigarette smoke and odors. The filter change indicators signal will show you when the True HEPA and Carbon filters need replacing.
The Fellowes AP-300PH purifier comes with an air purity sensor for monitoring the air quality and automatically adjusts the fan speed to keep your air cleaner. Ideal for large sized rooms up to 300 square feet. 5 year limited warranty.
Check user reviews and latest prices on Amazon
5. Winix PlasmaWave 5300 Air Cleaner Model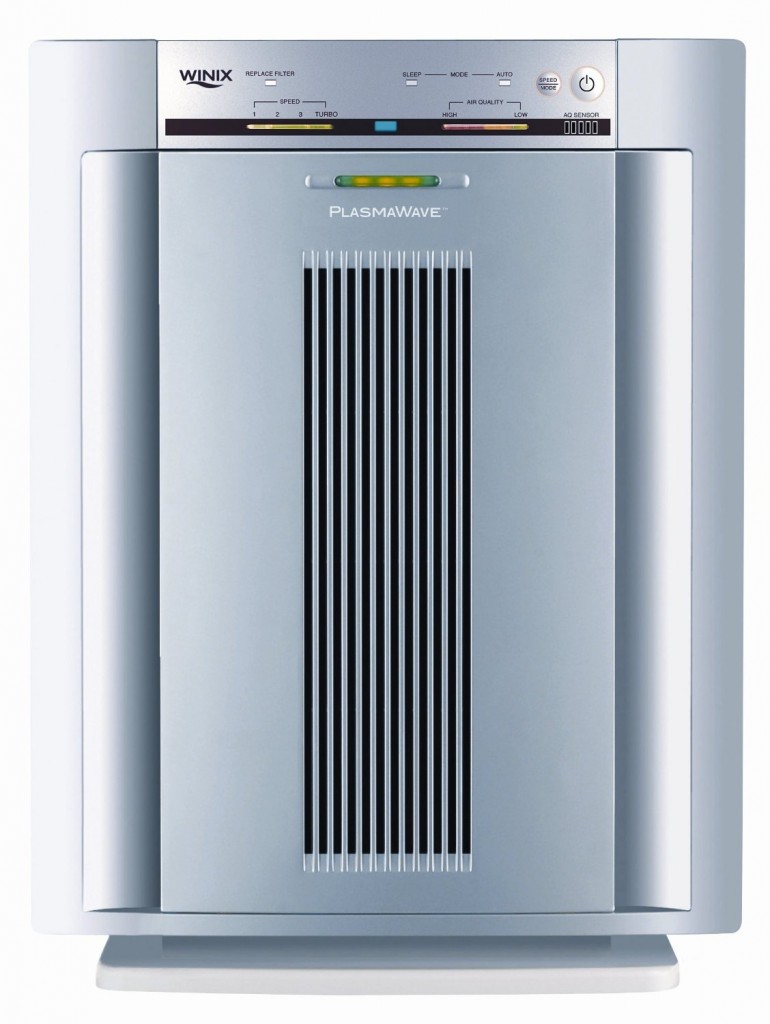 With 3 stages of Air Cleaning, the Winix WAC5300 True HEPA Air Cleaner capture and neutralize a broad range of indoor pollutants quietly and efficiently. The True-HEPA filter captures 99.97% of particles as small as 0.3 microns in size and the PlasmaWave Technology combines the best air cleaning technologies to capture all of the unseen particles suspended in the air.
Perfect for a large family room or bedroom up to 350sq feet. AHAM Certified. 1-year limited warranty.
Check user reviews and latest prices on Amazon
This is a list of the top 10 most popular products by consumers.
Bestseller No. 1
LEVOIT Air Purifier for Home Allergies Pets Hair in Bedroom, H13 True HEPA Filter, 24db Filtration System Cleaner Odor Eliminators, Ozone Free, Remove 99.97% Dust Smoke Mold Pollen, Core 300, White
OZONE FREE: Levoit air purifiers avoid using UV-C light, an air cleaning method that research has shown can produce harmful ozone and secondary pollution
HIGH PERFORMANCE: Enjoy fresh air in minutes with the Core 300 True HEPA Air Purifier. Featuring VortexAir Technology and 360° air intake, the Core 300 cleans spaces up to 547 ft² in 30 minutes, 219 ft² in 12 minutes (CADR: 141 CFM / 240 m³/h). Only products over 6 pounds can be equipped with such powerful motors that optimize the air cleaning performance
FIND RELIF: Ease sneezing, congestion, and other allergy symptoms caused by airborne contaminants. The H13 True HEPA Filter works alongside the Pre-Filter and High-Efficiency Activated Carbon Filter to capture 99.97% of airborne particles 0.3 microns in size, such as dust, smoke, pollen, odor
MULTIPLE FILTER CHOICES: Choose from a variety of replacement filters to best meet your needs. The Toxin Absorber Filter specializes in smog, toxins and VOCs. The Smoke Remover filter specializes in wildfire, smoke and etc. And the Pet Allergy Filter helps to capture pet dander and absorb unpleasant odors
MOST SILENT AIR CLEANER: Choose Sleep Mode at night and then forget all about your air purifier while you sleep. QuietKEAP Technology reduces noise levels to a near-silent 24dB, ensuring the Core 300 won't get in the way of a good night's rest
Bestseller No. 2
MOOKA Air Purifier for Home, 3-in-1 True HEPA Filter Air Cleaner for Bedroom and Office, Odor Eliminator for Allergies and Pets, Smoke, Dust, Mold, 3D Filtration, Night Light
[TRUE HEPA AIR PURIFIER]: Filters out particles as small as 0.3 microns including dust, pollen, pet dander, PM 2.5 and other air pollutants. Perfect for bedroom, bathroom, office, RV or hotel room.
[ENVIRONMENT-FRIENDLY AIR CLEANER]: Equipped with 3-Stage Filtration system including Pre-filter, TRUE HEPA Filter, Activated Carbon Filter, this purifier can effectively remove odor and smoke, such as pet odor, cigarette smoke and cooking odor around your living space, with zero harmful Ozone emission.
[EFFICIENT AIR PURIFICATION]: The 360-degree air intake and outlet maximize the amount of fresh and healthy air provided to all directions, improving the air circulation in your room. It can clean 50 cubic meter air per hour in normal mode.
[EASY OPERATE, SIMPLE DESIGN]: Using this air purifier couldn't be easier. It takes one single press of the same button to turn it on/off and control the fan speed, while press and hold the same button to switch on/off the light. The minimalist design makes it look elegant and sleek and fit any style of room decor.
[WHISPER QUIET, ENERGY-SAVING]: At quiet mode, the noise is controlled with our unique noise-reducing fan blade design. You will barely be able to hear it at arm's length. And its rated power is only 8W, making it affordable to run all day long.
Bestseller No. 3
LEVOIT Air Purifier for Home Large Room with H13 True HEPA Filter for Allergies, Cleaner for Smoke Mold, Pollen, Dust, Quiet Odor Eliminators for Bedroom, Smart Sensor, Auto Mode, White
OZONE FREE: Use your purifier with peace of mind. This Levoit air purifier is 100% ozone free and does not use UV-C light or anion purification methods that can cause harm to the user
PROFESSIONAL AIR CARE: The H13 True HEPA Filter works alongside the Pre-Filter and Activated Carbon Filter to target dust, pollen, pet dander, VOC's, tobacco smoke, household odors from pets, cooking, and other allergies. Better than H11 HEPA, H13 HEPA filters 99.97% of airborne particles 0.3 microns in size
EXTRA-LARGE CLEANING AREA: The LV-H134 purifies air in 2340 ft² rooms in one hour, and 1170 ft² rooms in 30 minutes (CADR 530), making it perfect for living rooms, bedrooms, apartments, offices, kitchens, basements and playrooms. The wheeled design helps to bring fresh air to every room of your home
POWERFUL DESIGN: Enjoy the fresh air on all sides with help from the air purifier's tower structure and 360° air circulation for quick, efficient filtration
UNDISTURBED REST: Sleep soundly by turning off the display light, setting a timer for up to 12 hours, and selecting Sleep Mode for noise levels as low as 23dB
Bestseller No. 4
LAVIEAIR Shoe Dryer, Boot Deodorizer, Ultra Quiet, White Color
DEODORIZE YOUR FOOTWARE. - Removes dampness and sweat from your shoes, gloves, and boots to keep them dry and odor free.
NOISE FREE. – Warm wind goes through tubes to dry shoes, gloves, and boots without making any bothering sound.
POWERFUL DRYING YOUR GEAR. - Continuous drying your wet gear within 8-12 hours, 36 watts only, less electricity than a standard light bulb, save more energy.
WARM, BUT NOT HOT. - Help protect your gear. No damage caused to your gear investment. Suitable for all kinds of material, including leather, rubber, vinyl, neoprene, canvas, synthetics, fleece, microfiber and more.
ETL certified product. - Give you more confidence on purchasing our boot dryers. And note that please unplug it when not use.
Bestseller No. 5
Air Purifier with H13 True HEPA Filter, Air Cleaner for Pets, Allergies, Dust, Pollen, Smoke, Mold, and Odors, C350 Air Purifiers for Home, Large Room, Bedroom, Office by Storebary
【Effective 3-Part Filtration System & Certified】 The pre-filter, H13 true HEPA filter, and high-efficiency activated carbon filter removes 99.97 percent of particles as small as 0. 3 microns, our air purifier for home trapping dust, pollen, smoke, cooking odor or pet odor, pet dander, wildfires, mold, VOCs, and allergies. Energy Star certified and available for California.
【Sleep Mode & Display Off】 In sleep mode the fan is blowing less than when it's on the lowest regular setting, the HEPA air purifier is running with the lowest noise level 24.5dB to help you sleep deeply. If you are a light-sensitive sleeper, the display light can be turned off completely to help you enjoy a perfect night of sleep.
【Smart Filter Reminder & PM2.5 Air Quality Monitor】 Our ozone-free air purifier is easy to remember when to change the filters with a built-in filter lifetime indicator, we recommend replacing the air filters every 2,500-3,000 hours depending on the air quality and frequency of using the odor eliminators (Please search C350-RF to get filter replacements). It's also easy to know your room's current air quality with a PM2.5 sensor.
【Auto Mode & Timer Setting & Kid Friendly】 In auto mode, the smart air purifier adjusts the fan speed based on your indoor air quality. You can also leave the smoke eater run all the time or set a timer for 2, 4, 6, and 8 hours to save energy. Long press the lock button for 3 seconds to prevents kids or your pets from tampering with any of the other buttons or settings.
【5 Fan Speeds and Large Coverage】 Our air cleaner allows you to choose a suitable speed from Ⅰ to Ⅴ based on indoor air quality and space, suitable rooms up to 226ft² (22m²) with CADR rating of 250m³/h, create cleaner, healthier air for your living room, bedroom, office, basement and kitchen. Please remove the plastic package before use.
Sale
Bestseller No. 6
Air Purifier for Home Large Room, H13 True HEPA Filter Air Cleaner for Dust, Allergies, Odors, Pets, Smoke, C380 Air Purifiers for Bedroom with Auto Mode, Sleep Mode, PM2.5 Display by Storebary
【Efficient Filtration System】Storebary air purifier contains a three-stage efficient purification system. It comprises a pre-filter, H13 true HEPA filter and activated carbon filter that captures and reduces up to 99.97% of particles 0.3 microns in the air, include dust, pollen, pet dander, cooking and smoke odors in a certain space.
【Effective Range】The Storebary C380 air cleaner is designed to accommodate rooms up to 279 sq. ft. (CADR:300 m³/h). Rooms up to 5 times an hour. You can enjoy every breath in your home. Suitable for home (living room, bedroom, kitchen) and office. AC 120V/60HZ for USA(Available for California).
【Smart Auto Mode】Our auto mode will automatically adjust the fan to filter the air between 1, 2, 3 according to the surrounding air quality. At the same time, the value of PM2.5 AQI and the led indicator on the panel changes color according to the air quality in real time (Blue--Very good, Green--Good, Orange--Moderate, Red-- Bad).
【Multifunctional Air Purifier】In sleep mode, noise is merely 22.5dB at the lowest mode which will not affect your work, study and sleep time. You can set a timer from 1-8 hours, no longer worry about forgetting to turn off the air cleaner. Long press the display lock button for 3 seconds to set the child lock mode for your air purifier, can prevent pets and children from accidentally touching.
【Smart Filter Replacement】The convenient and quick intelligent filter reset button allows you to no longer blindly replace the filter. Search for B08TWG528K on Amazon to find the right replacement filter to maintain the performance of your air purifier. (Note: Please remove plastic packaging of new filter before running the air purifier.)
Bestseller No. 7
Wynd Essential Smart Personal Air Purifier - App Integrated, Dual Mode Air Cleaner - Ideal For Use Against Allergies, Asthma, COPD – Ideal for Home, Desk, Car, Travel – Black Matte
ESSENTIAL AIR PURIFIER - Engineered to generate a positive pressure bubble to keep bad air out. Wynd's personal purifier traps particles such as pollen, pet dander, dust, and pollution in a silver infused, medical grade air filter. This system automatically adjusts itself to clean air fast or slow based on your local official air quality stations.
APP INTEGRATED - Remotely monitor your air quality, control your Wynd devices, and observe air quality trends for optimal health and comfort. The Essential includes the Wynd app to control multiple modes and purifier settings as well as check the air quality from thousands of stations globally. (Note: Essential does not come with a built-in Wynd Tracker)
POWERFUL DESIGN - Speed and power in the palm of your hand. Designed by engineers from NASA and MIT, Wynd air purifiers are powerful enough to remove 99.99% of pollutants in a car cabin in under 15 minutes by purifying up to 8 liters of air per second.
LIGHTWEIGHT & PORTABLE - Breathe clean air no matter where life takes you. Wynd Essential is as small as a water bottle and can fit in a cup-holder, so you can use it anywhere: airplane, car, office, small rooms, inside baby strollers, and more. When it's not plugged in, Wynd Essential lasts for about 8 hours on normal use.
FILTRATION TECHNOLOGY - With a large purification rate to size ratio and a filter that lasts up to 3 months, Wynd is ready to clean your air literally anywhere. Through the app, we can calculate the filter life and track air pollution around the filter—as well as airflow level and usage duration. We can also tell you how used up the filter is and alert you when it's time to order a replacement.
Bestseller No. 8
SmellWell Odor Eliminating Air Purifying Bags (2 Pack | 250g XL) Activated Bamboo Charcoal Air Freshener for use from Gym to Car to Home (Green, Unscented XL)
EFFECTIVE ODOR ELIMINATOR: Developed by Swedish scientists and athletes designed to remove bad smells from the source leaving your gear clean & crisp🍃
3X MOISTURE ABSORBER💧: Our blend of fine grind activated Moso bamboo charcoal and minerals absorbs moisture faster than regular charcoal and is therefore proven to be more effective than competitive formulas.
CONVENIENT EVERYDAY USE: XL Inserts are designed for tougher challenges. Perfect for 👢👜🚗⛸🎿🎽🎒 bigger boots, gym bags, sports gear, closets, cars and much more and they will get to work immediately absorbing moisture and smell.
ZERO CARBON FOOTPRINT: Natural Moso bamboo charcoal and minerals made from sustainable and recycled materials, safe and non-toxic🌱♻
GUARANTEED: Try SmellWell with NO risk and 100% money back guarantee - No questions asked!
Bestseller No. 9
Bestseller No. 10
Last update on 2022-04-21 / Affiliate links / Images from Amazon Product Advertising API