Every household needs a few basic essentials to operate properly. Clotheslines are an essential part of laundry rooms in the house. Traditional outdoor clotheslines have some disadvantages associated with them. If they sag, clothes can get dirty by touching the dusty ground. They can also get damaged damage by the wind, carrying dust particles, bird droppings or unexpected rain.
A viable solution to these problems is an indoor retractable clotheslines. These clotheslines are ideal in such situations since they do not take up much space and are removable when not needed to free up the space they were taking previously. Here are some options to consider:
1.Honey Can Do Retractable Clothesline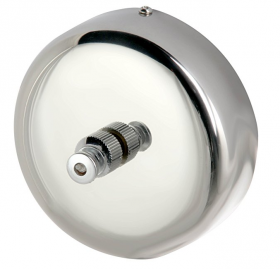 The Honey Can Do retractable clothesline is the ultimate solution to your clothes drying problem. The clothesline is 8 feet long, making it adequately sufficient for daily usage at home. Air dry your clothes to ensure that they have a longer life and do not fall prey to damage done by electric dryers.
The mechanism for retraction is quite easy. With the body made of steel and iron, the line itself is made of nylon and can be retracted for easy usage when needed. The compact structure makes it easy for storage. Just keep it in your laundry basket when not in use.
All you have to do is connect to a wall on the opposite side and you are good to go. The nylon line is braided for bearing more weight. This clothesline is ideal for use inside the house, in your bathroom or your laundry room. It can even be used by students in their dorms for quick and efficient air drying.
Pros
Cons
Not quite stylish for students who would want to use it in their dorms.
Check out the latest prices at Amazon
2.Gideon Indoor Retractable Clothesline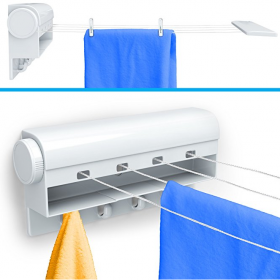 This Indoor retractable clothesline is the best pick for new mommies or large families. It gives ample room for drying clothes to make them stay fresh for a longer time. It is quite convenient for use. You do not to drag around large baskets full of clothes anymore. Nor do you need to waste space in your back yard for a clothesline anymore.
The indoor clotheslines is removable once clothes have dried so you have the space back to yourself once again. It has a tightening knob that makes it easy for the user to tighten the line while the clothes are still on.
The knob maybe tightened before the clothes are put on. This ensures that there is no sagging and your freshly washed clothes do not touch the ground. It is easily retractile. Just pull on the string and it will come out easily.
Made for use convenience, there is no problem of tangling the clothesline while retraction, which can be a nuisance. When you get the product, it is fully assembled. All you need to do is mount it up on your wall using the screws that already come with the product. Retract the line and connect on the opposite wall with a hook, whenever needed.
Making it an even better choice is the fact that it has four clotheslines all of which are 10ft in length. A weight of up to 5 pounds can be put on each line. The lines are useable for all kinds of clothes, ranging from pants and shirt to skirts and dresses.
Pros
Cons
Check out the latest prices at Amazon
3.BESy Retractable Clothesline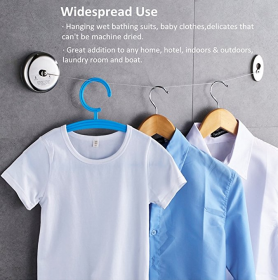 The BESy Retractable Clotheslines combines style with functionality and proves to be one of the best home accessories for homeowners. This indoor clothesline measure 9.2 feet but don't worry if your bathroom is not that big or you do not have that much space in your laundry room. The length is adjustable with the help of a lock feature. Adjust the length according to the number of clothes that need to be air dried and the size of your room. It is easily stored as all you need to do is retract the line when needed. This saves up a lot of space as compared to outdoor clothes lines.
It can be used for a wide range of clothes and areas. It even offers utility on a boat or for hone usage. With its weight bearing ability, it is ideal for drying bath robes or even wet towels that are not to be machine dried.
Most clotheslines get rusted after a while because of constant exposure to water. This particular clotheslines has been sprayed for a stylish and rust proof finish, making it ideal for daily use without the issue of rusting. It can hold up to 22 kg when mounted, so even your heavier washings like towels and baby blankets can be air dried. Moreover, it is suitable to use in hotels for their laundry rooms.
Pros
Good for use at home or for professional use in hotels and guest houses
The line can is retractable when needed
Can bear up to 44 pounds of weight which is quite sufficient
Rust proof, making it efficient for excessive usage
Cons
Check out the latest prices at Amazon
4.Barbantia Indoor Retractable Line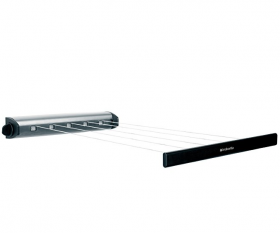 The Barbantia Indoor Retractable Line comes in handy for daily usage if you need to save space and do not want to have permanent clothesline in your laundry room or your bathroom. It is an ideal solution for those clothes that need air drying.
The line is retractable when not in use, making it easy for storing. Simply, mount on the wall where it needs to be with the screws provided. Take out the line when you need to dry your clothes and attach to the opposite wall with hooks.
The functionality of this line is increased by the fact that it is a combination of four clothes lines, altogether measuring up to a sufficient 72 feet. The housing is made up of stainless steel, which provides resistant against corrosion by water and chemical factors that are present in the detergents.
The lines can spool out easily, without tangling, as they have their own housing compartments in the vertical clothesline. The vertical line measure 19 inches wide, so it is installable even in smaller areas like your bathroom. The manufacturers give a warranty of up to five years with the product so that says a lot about the durability of the clothesline.
Pros
Four lines for drying many clothes
Measures 72 feet in total
Easy tospool with no tangling
5 years warranty with the product
Cons
The weight that this product can bear is not specified by the manufacturer.
Check out the latest prices at Amazon
5.Kingsuper Travel ClothesLine Retractable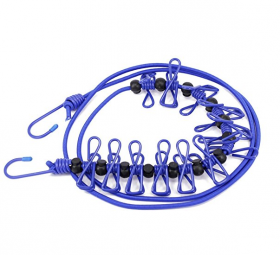 The Kingsuper clothesline is quite different from other clotheslines. With its bright blue colour and innovative design, it is the retractable clothesline that can even be used during travel. The clothesline stretches up to 320cms and can be used indoors or outdoors. It is a great accessory for people who travel a lot or new mommies who need a small clothing line for daily washings. The coiled clothesline can have up to 12 clothespins on it. They come with back support so that the clothes do not slide off or do not glide to the centre of the line.
The elastic rubber band stretch material ensures that the clothesline will last you for a long time. The material used in making it is quite durable. Such a light weight clothes line is easy to carry around and is ideal for indoor use. It can be used to dry your wash clothes, hand towels, baby nappies and smaller clothes. The quirky style and lighter weight makes it a good choice for dorm students too.
Pros
Rubber elastic material makes the line very durable
Can hold up to 12 clothes pins
Good for use inside the house, in the bathroom
Cons
Not ideal for a large number of clothes
Not designed to bear the weight of heavier clothes such as jackets or coats
Check out the latest prices at Amazon
6.Better Houseware Clothing Line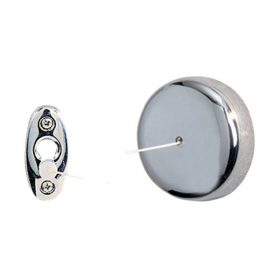 The Better Houseware Clothing Line lives up to its name and is a good choice for homeowners. It is suitable for use in bathrooms or laundry rooms. It may even be used in RVs. The clothing line is retractable and can be automatically retracted when not in use. For easier storage, it takes up very little space and ensures that your space is not wasted up. It reaches up to 94 inches when spooled out and is suitable for air drying everyday clothes as well as towels.
For more convenience of the user, the spooling process is quite simple. Since the clothesline retracts automatically, there is no chance of tangling while spooling. The mounting material comes with the product and you just need to find the right wall to mount the clothesline with screws.
Pros
Useable indoors
Is retractable for saving space inside the house
Quite usable for daily laundry
Cons
The weight limit that can be put on the line is not mentioned by the seller
Check out the latest prices at Amazon
7.Household Essentials Retractable Clothesline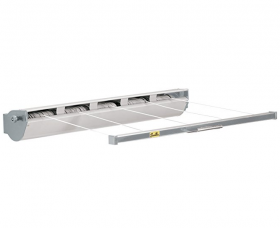 The Household Essential Clothesline is actually a household essential for you. With its compact design, it offers ease of storage and can be put out of sight when not in use. Since it can be used indoors, it frees you from the worry of rain, dust or birds that may damage and soil your clothes if your air dried them outside. It comes with a knob on the side and this can be used to tighten the line when needed. When you need to put on some heavier clothes, all you need to do is tighten the knob so that the line does not sag under the pressure or weight of the clothes.
It has five lines in a row that all extend up to 34 feet so you have an extensive space of up to 170 feet for drying multiple rounds of laundry in one go. Such large space makes this line suitable for a large family or for use by guesthouses or hostels.
Pros
Lot of space for drying laundry
Knob for tautness so that the line does not sag and there are no tangles.
Retractable when not in use
Cons
The weight limit has not been mentioned
All lines have to be retraced when even only one or two are needed
Check out the latest prices at Amazon
8.Minky Indoor Retractable Line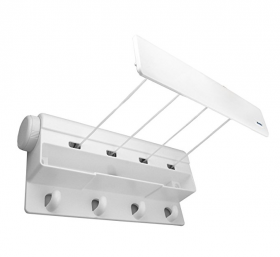 The Minky Indoor Retractable Line is ideal for use in indoor spaces such as the laundry room. It comes with 4 lines that all extent almost up to 9 feet, making a total extension area of 39 feet for air drying your clothes. It comes with mounting apparatus and is quite easy to install at home without any help. Moreover, it has a line tension dial. This ensures the tautness of the lines so that they do not sag under the weight of wet clothes.
The tautness also keeps the line safe from tangling. For easier storage, it unspool when not in use. This feature helps save up a lot of space. The product also comes with a set of free pegs which is an added bonus of this clothesline.
Pros
Tautness given by dial tension
No tangling of the clothesline while spooling or retraction
Usable inside the house
Comes with free pegs for an added bonus
Offers a large drying space for air drying loads of laundry, in one go
Cons
Check out the latest prices at Amazon
Take a pick from any of these clotheslines for a more convenient
drying experience and protecting
your delicate clothing items from damage.