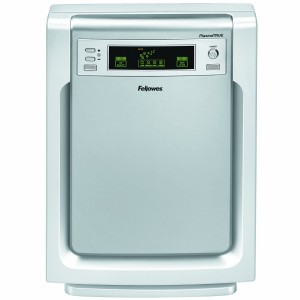 Product description
The Fellowes AP-300PH Air Purifier improves its performance of cleaning your indoor room air quality by using an innovative 4-stage system. It efficiently removes airborne   pollutants as small as 0.3 microns from your air. Equipped with True HEPA and carbon filters, Sanitized technology, and PlasmaTrue technology, the AP-300PH removes a variety of pollutants from your air, including viruses, allergens, germs, pollen, odors, dander, and much more.
Click here to see what others are saying…
The carbon filter is responsible for removing odors and safely removes larger airborne particles from your room. It is equipped with Sanitized technology, reducing the development of bacteria, fungi, dust mites on the carbon filter itself effectively, and preventing the microbes settling on the filter and being re-circulated into the air.
With this True HEPA filter, you can get rid of even the smallest microbes in your room. It removes 99.97 percent of particles as small as 0.3 microns from your home or office, including mold spores, pollen, dust mites, most airborne microbes, allergens, pet dander,viruses, germs, bacteria, and cigarette smoke. And there are yellow and red lights on the display panel to notice you when the filter need changing.
Featuring PlasmaTrue Technology, the AP-300PH is able to instantly neutralize harmful germs, viruses, and bacteria in the air.
Don't worry about the noise of this AP-300PH Air Purifier when it operates. It features an ultra quiet operation, making it ideal for use in any home or office setting. There is a manual speed adjustment to let you set the fan speed of your choice. And the air purity sensor is designed to monitor and adjust the fan speed according to levels of pollutants in the air.
Key features
Air purity sensor monitors the air quality and automatically adjusts the fan speed to keep your air purified
True HEPA Filter safely removes 99.97% of airborne particles as small as 0.3 microns, including pollen, ragweed and other allergens, mold spores, dust mites, viruses, germs, pet dander, cigarette smoke and odors
PlasmaTRUE Technology creates an ionized field to help safely remove airborne pollutants
Purifies large sized rooms up to 300 square feet
Ultra quiet operation
Pros
Very quiet on low speed
Very easy to set up and use
Does a good job cleaning the air
True HEPA with carbon filter
Cons
The power cord is a little bit short
It is large, takes a bit more space