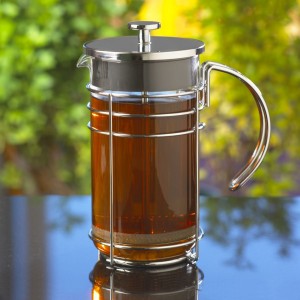 A tea maker allows you to brew the perfect cup of tea easily. There are a variety of tea makers on the market. Some are great for making great tasting iced tea. Some can make both french coffee and tea for increased convenience. The following five tea makers offer both quality and functionalily, enhancing your tea making experience.
1. Breville BTM800XL One-Touch Tea Maker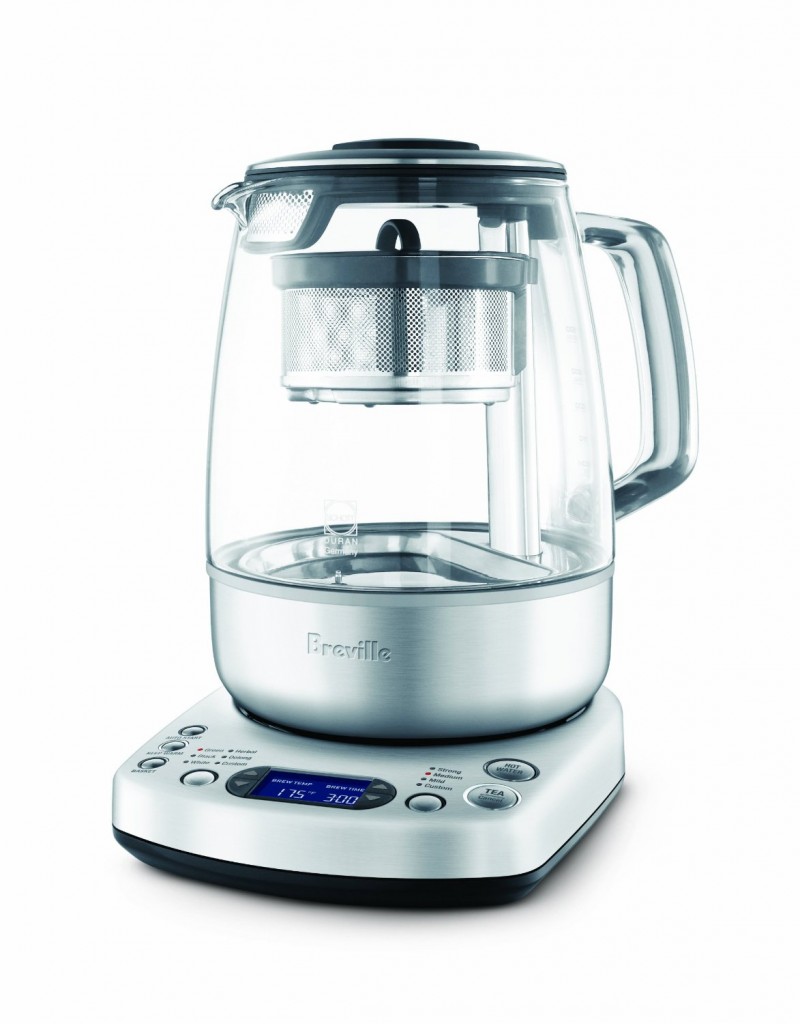 Enjoy a perfect cup of tea easily and quickly, every time with this Breville BTM800XL One-Touch Tea Maker. It comes with a fully automated tea basket which moves down, then up, gently agitating the leaves to precisely infuse your tea. The 60 minute Keep Warm feature allows you to enjoy fresh and warm tea each time. Its German-made Schott glass kettle is not only durable but also stain resistant for better performance.
Check user reviews and latest prices on Amazon
2. Mr. Coffee Fresh Iced Tea Maker, 3-Quart
Make great tasting iced tea easily with this Mr. Coffee Fresh Iced Tea Maker. It works with loose or bagged tea and comes with a removable brew basket and simple on/off button with power indicator light for better performance. And the auto shut-off function ensures added safety and peace of mind. This 3-quart iced tea maker also comes with dishwasher-safe pitcher for effortless clean up. Measures 8-1/2 by 15-1/2 by 12-1/2 inches.
Check user reviews and latest prices on Amazon
3. Mr. Coffee BVMC-TM33 Tea Cafe Iced Tea Maker, 1, Black
Coffee BVMC-TM33 Tea Cafe Iced Tea Maker, 1, Black" src="https://www.tlbox.com/wp-content/uploads/2013/12/Mr.-Coffee-BVMC-TM33-Tea-Cafe-Iced-Tea-Maker-652×1024.jpg" alt="Mr. Coffee BVMC-TM33″ width="151″ height="250″>
No matter you want to brew simple spiced iced tea, Antioxidant Pomegranate-Blueberry Sparkler tea, Tea Sangria or your own custom brew, this Mr. Coffee BVMC-TM33 Tea Cafe Iced Tea Maker will suit your needs. It comes with dishwasher-safe 2.5 quart glass pitcher, brew basket and permanent filter, making cleanup a breeze. 20 recipes included for added convenience.
Check user reviews and latest prices on Amazon
4. Teavana PerfecTea Tea Maker, 16oz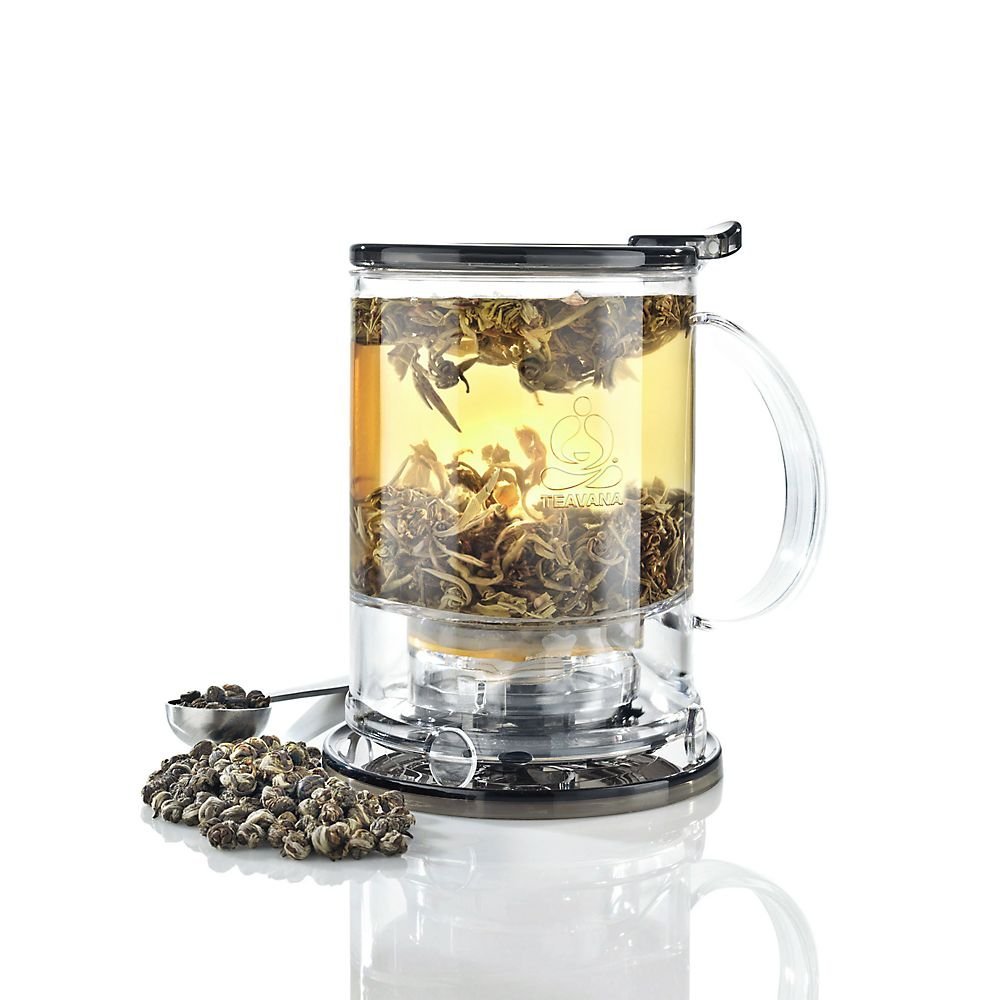 Brew the perfect cup of your tea with this Teavana PerfecTea Tea Maker. This new and improved tea maker is made of sturdy polycarbonate that is BPA free, making it not only durable but also safe to use. Featuring four piece construction, this tea maker allows you to remove the filter for effortless cleanup and easily reassemble. It fits cups with a 3.5 inch diameter.
Check user reviews and latest prices on Amazon
5. GROSCHE MADRID Premium French Press Coffee and Tea maker, 1 liter 34 fl. oz capacity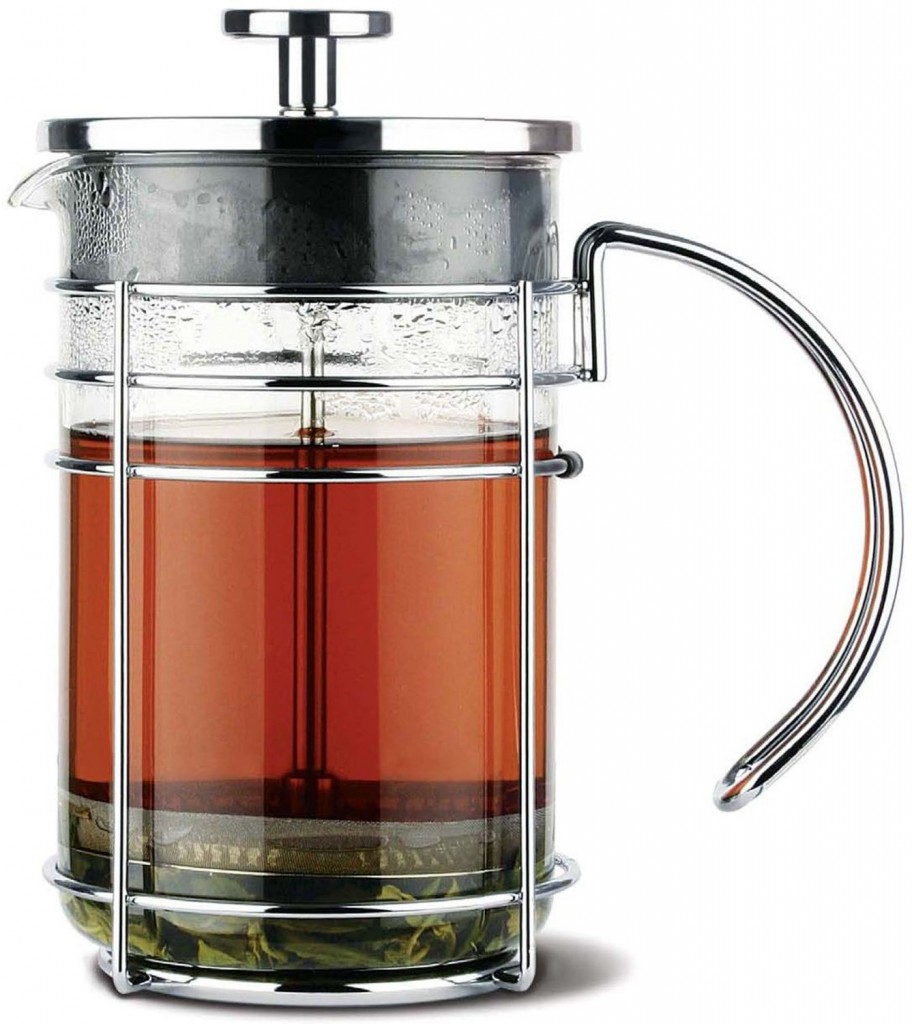 Delivering a great combination of quality, functionality and style, this true premium quality french press coffee and tea maker will be a great addition to your kitchen table. It brews 1 liter, 32 oz. of the best tasting coffee or tea, ensuring the fullest flavor extraction from the coffee or tea. This unit also features a dual filter system to optimize the performance. Dishwasher safe for effortless cleanup.
Check user reviews and latest prices on Amazon
This is a list of the top 10 most popular products by consumers.
Bestseller No. 1
Mr. Coffee TM75 Iced Tea Maker, 1 EA, Blue
Iced tea and iced coffee maker with 2 qt. pitcher capacity; Can brew tea bags or loose tea
Removable brew basket
Auto shut-off after cycle is complete. Wattage: 700 watts, Batteries Required: No
Creates single and double servings
Programmed cleaning cycle
Bestseller No. 2
Brentwood KT-2150BK Iced Tea and Coffee Maker with 64 Ounce Pitcher, Black
ICE TEA & COFFEE IN MINUTES: Enjoy a delicious, iced beverage with the press of a button using this iced tea and coffee maker; Dimensions (L x W x H): 9.5 x 6.75 x 14.5 inches
BREW 8 SERVINGS: Brew 8 servings of tea or coffee at a time in the included 64-ounce pitcher
REUSABLE FILTER BASKET: Reusable filter basket helps save money and decrease waste from paper filters
CUSTOMIZE DRINK STRENGTH: Strength selector dial lets you customize the strength of your drink
AUTOMATIC SHUTOFF: Features automatic shutoff for your convenience and peace of mind
Sale
Bestseller No. 3
HomeCraft HCIT3BS 3-Quart Black Stainless Steel Café' Iced Tea And Iced Coffee Brewing System, 12 Cups, Strength Selector & Infuser Chamber, Perfect For Lattes, Lemonade, Flavored Water, Large Pitcher
ULTIMATE BREWING: Enjoy smooth, delicious drinks at home Brews the best iced coffees, iced lattes, iced tea, lemonade, flavored water & more
3-QUART CAPACITY: Large pitcher holds up to 12 cups and has a large handle for easy lifting and pouring. Includes a three-position lid that turns for free pouring, pouring with ice guard or closed
BLACK STAINLESS DESIGN: The black stainless steel gives it an elegant look making it a good fit for any kitchen.
FILTER BASKET & SHOWER HEAD: The removable filter basket works with fresh ground coffee, tea bags and loose leaf teas, while the shower head is designed for complete saturation and optimal flavor extraction
STRENGTH SELECTOR DIAL: Choose your desired flavor strength using the strength selector dial - ranging from mild (left) to strong (right)
Bestseller No. 4
Breville BTM800XL Tea Maker, Brushed Stainless Steel
Tea Basket Cycle - Auto Lowers and Lifts
Auto Start. Construction Materials - Brushed Stainless Steel Power Base
60 minute Keep Warm feature
Variable temperature control; Jug Capacity: 51 oz.
Time Since Brew - LCD timer; LCD Display: Accurate temperature sensor with real time display to monitor progress.
Sale
Bestseller No. 5
BUYDEEM K2423 Tea Maker, Durable 316 Stainless Steel & German Schott Glass Electric Kettle, Removable Infuser, Auto Keep Warm, BPA Free, 1.2L
6-in-1 Control Base - Boil, Black/ Herbal, Oolong, White, Green, Stop/ Off.
User-friendly Design - One-click pre-programmed temperature, stainless steel removable infuser, button with lights Indicates and stop by one-click anytime.
Auto Keep Warm - 60 minutes automatically keep warm feature and auto-shutoff.
Food-grade Material - German schott duran glass, 316 stainless steel infuser, with FDA certifications.
Satisfaction Guaranteed - 30-day money back and 1-year warranty.
Bestseller No. 6
Bestseller No. 7
Primula Half Moon Teapot with Removable Infuser, Borosilicate Glass Tea Maker, Stainless Steel Filter, Dishwasher Safe, 40-Ounce, Black
EXCEPTIONAL QUALITY AND DESIGN - Made of heat-resistant borosilicate glass with a durable protective holder and comfortable grip handle. High-quality glass allows for crystal clear viewing so you can easily brew to your desired strength
PREMIUM FILTRATION SYSTEM - The fine mesh stainless steel filter is perfect for loose leaf teas, keeping sediment out of your cup while developing full flavor brews. The filter is also removeable to accommodate blooming or flowering teas
SAFETY FIRST - Features a drip-free pour spout for safe and easy pouring. Non-slip silicone base prevents accidental slips
EASY TO USE - Simply add tea or tea bags. Slowly pour in hot water and allow to brew to desired strength. Serve and enjoy.
DISHWASHER SAFE - The entire teapot is dishwasher safe, saving you time on clean up in the kitchen in between uses
Sale
Bestseller No. 8
Hiware 1000ml Glass Teapot with Removable Infuser, Stovetop Safe Tea Kettle, Blooming and Loose Leaf Tea Maker Set
This teapot is completely hand crafted, made from heat resistant borosilicate glass, specially designed with non dripping spout and perfect ergonomic handle for sturdy grip
Removable high-grade 18/10 stainless steel mesh infuser filter for loose teas or blooming teas, the lid fits the tea basket both when inserted or removed
This beautiful teapot can be placed directly in the microwave oven or on either gas or electric stove tops, use a medium level heat source to heat water to brewing, your delicious teas can also be reheated either by microwave, directly on gas or electric stove tops, or kept hot on open flame tea pot warmers, can also be placed in refrigerator or in direct sunlight for cold brewing
Borosilicate glass body has been optimized to be more thicker, it is stronger for everyday freely use. Dishwasher top rack safe or hand clean
We are so confident in our premium glass teapot, However, if at any point you are not happy with our product, contact us directly so that we can make it right.
Bestseller No. 9
Chefman Temperature Control, Removable Tea Infuser, 5 Presets Indicator, 360° Swivel Base, BPA Free, Stainless Steel, 1.8 Liters, Electric Glass Kettle w/LED Color Lights
#1 KETTLE MANUFACTURER IN THE US: Bring home an electric kettle by the #1 kettle manufacturer in America today! With rapid boiling times, a 1.8-liter capacity, and a sleek stainless steel design, it's no wonder that the Chefman Electric Kettle is the best in its class. With advanced temperature control and 5 built-in temperature presets, this is the perfect kettle for any kitchen.
COLORED LED LIGHTS: 5 different colored LED lights correspond to the ideal temperatures for your best brew. When brewing Green Tea, set your kettle to Green, which boils to the water to 175°. The Blue setting heats water to 185° perfect for White Tea. Oolong Tea is best brewed at 195° which can be brewed by selecting Yellow. For a cup made in the French Press, simply select Purple, which boils the water to an even 200°. The Red setting sets the water to 212°, perfect for brewing black tea.
ALL-IN-ONE VERSATILITY: Great for hot or iced tea, coffee, instant food, and baby bottles, the kettle has an option to keep water at the desired temperature for up to 60 minutes. A bonus tea infuser is included for brewing your favorite loose-leaf or bagged teas directly in the stain-resistant borosilicate glass kettle. The kettle easily lifts from its 360° swivel base for easy filling at the sink and graceful serving without the hassle of a power cord.
ADVANCED SAFETY: This kettle has added safety features such as a stay-cool handle. The internal temperature control boils water quickly and provides additional safety by shutting off the kettle once the water reaches a boil. There is no need to worry about this kettle boiling dry, as the Boil-Dry feature automatically turns the kettle off when it is nearing empty.
RESOURCES: cETL approved with advanced safety technology for long-lasting durability, & 1-year warranty provided by Chefman, so you can purchase worry-free - we've got your back! For information on how to use your product, scroll down for a PDF User Guide. 1500 Watts/120 Volts – RJ11-17-CTI
Bestseller No. 10
Chefman Digital Electric Glass Kettle, Removable Tea Infuser Included 8 Presets & Programmable Temperature Control, Auto Shutoff, Water Filter, 6+ Cup Capacity, 1.5 Liter
#1 KETTLE MANUFACTURER: The Chefman Electric Kettle, from top kettle manufacturer, has a digital touch display with programmable steep times and boils water faster than traditional methods. 8 presets included make it easy to get the perfect hot water for your needs; black, herbal, oolong, oil, French press coffee maker, white, green, and delicate. Just pick your preset and the hot water boiler will make more than 6 cups.
FOR ANY HOT WATER NEED: Great to make the perfect temperature pot of water for hot or iced tea, coffee, instant oatmeal, baby bottles and more; has an option to keep water at the desired temperature for up to 60 minutes. Bonus removable tea infuser is included with purchase for brewing your favorite loose-leaf or bagged teas directly in the stain-resistant high-quality borosilicate glass kettle
SAFETY FEATURES: This kettle has added safety features such as a stay-cool handle to prevent your hand from burning and provides added safety by shutting off the water boiler automatically once water reaches a boil. No need to worry about this kettle boiling dry, the Boil-Dry auto shut off feature turns the kettle off when there is little, or no water left so you can sip the safe way
EASY CLEAN: Just unplug the kettle, remove lid, and wipe down the glass and stainless steel exterior with a soft, damp cloth. The kettle has a filter to keep the water/tea clean and only needs to be rinsed with hot water. The tea steeper an be washed in warm soapy water and rinsed thoroughly
RESOURCES: cETL approved with advanced safety technology for long lasting durability, & 1-year assurance provided by Chefman, so you can purchase worry-free - we've got your back! For information on how to use your product, scroll down for a PDF User Guide. 1300 Watts/120 Volts – RJ11-15-SSTC
Last update on 2022-01-22 / Affiliate links / Images from Amazon Product Advertising API