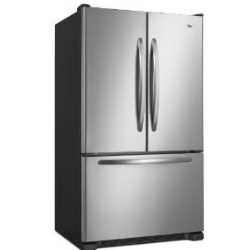 The original business of Amana Refrigerator company was called Amana Refrigeration. Amana Refrigerator company was the first company build a home upright freezer and then side by side refrigerators in 1950. It has been around for nearly 70 years and has always provided high quality, affordable refrigerators and refrigerator freezers.
1. Amana 14.4 Cubic Foot Top-Freezer Refrigerator, A4TXNWFWW, White

If you have a limited space and you want to keep your food always fresh and nice, then this compact Amana 14.4 Cubic Foot Top-Freezer Refrigerator is the perfect choice. Up-front temperature controls are able to keep your food cool easily. It also features adjustable shelves, making it easy to customize storage. With 14.4 Cu. Ft. Total Capacity, this unit allows you to store ample food.
2. Amana 18-1/2-Cubic Foot Bottom-Freezer Refrigerator, ABB1921WEW, White

Featuring temp assure freshness controls, this Amana 18-1/2-Cubic Foot Bottom-Freezer Refrigerator allows you to get your fresh food at eye level. It comes with reversible-swing doors so you can let it fit into your kitchen seamlessly. 18.5 Cu. Ft. total capacity allows you to store more food. It also features two full-width adjustable glass shelves, two humidity controlled garden fresh crisper drawers and gallon door storage.
3. Adana 18.5 -Cubic Foot Bottom-Freezer Refrigerator, ABB1924WES, Stainless-Steel

This refrigerator is equipped with 4 adjustable, half-width spillsaverglass shelves to keep the mess contained and allow you to adjust. This 2 humidity-controlled crisper drawers are designed to keep fruits and veggies fresh for longer. And the temp assure freshness controls put consistent temperatures right at your fingertips. This unit is ENERGY STAR qualified, which means you will save money on utility bills.
4. Amana 25 -Cubic Foot Side-by-Side Refrigerator, ASD2522WRD, Silver

Combines with a stylish look and cleaver features, this Amana side-by-side refrigerator is designed to meet all your requirements. It features an exterior dispenser, providing quick and easy access to ice and water. The adjustable door bins and gallon door storage are designed to offer versatile storage options within easy reach. The slide-out plastic freezer basket allows you to store meat, preventing them get rotten.
5. Amana 21.9 cu. ft. Bottom-Freezer Refrigerator, ABB2224WES, Stainless-Steel

With a reversible door swing, this Amana 21.9 cu. ft. Bottom-Freezer Refrigerator will have a nice fit your kitchen. There is a dairy center allows you to store yogurt or butter so you can find them easily. The easyfreezer pull-out drawer with easyclose drawer track system ensures smoothly open and close, whether it is fully loaded or not. Even more, glide-out wire freezer basket with Quick Split™ organizer let you have a large storage and keep it all arranged.