Razor blade sharpeners are a staple for everyone who shaves. It is very important to have sharpened blades or otherwise the user is at risk of getting cut by the razors and has an uncomfortable shaving experience. We looked through some of the best razor blade sharpeners to narrow down the selection range for you to choose from.  All these products are quite easily available and are great for regular use.
1.RazorPit SlideRazor Blade Sharpener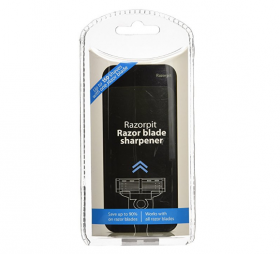 The RazorPit Slide Razor blade is a revolutionary product that is aimed at ensuring absolute ease for users. It is the latest model from the brand and uses the best technology that there is. The blade uses frictional force to sharpen the razor blades. Along with that, it also cleans your razor blades to keep them suitable for future use.
Buying razor blades is a nuisance for people since they have to buy a new blade every now and then. With this sharpener, you can have 150 shaves using the same razor blades. This does not only provide convenience but also keeps quite a lot of money safe. Invest once in this razor blade sharpener and you will not have to spend extra bucks on your razors.
The surface of this particular sharpener is quite soft and it is due to this texture of the sharpener that the razor has better and closer contact with the sharpener. This ensures easier cleaning and better sharpening of the razor.
The usage process for this sharpener is quite easy. All you have to do is to apply some shaving cream on the soft surface of this sharpener. After that, you need to hold your razor firmly and push it on the surface of the sharpeners. The silicon surface of the sharpener will rid the razor of any dirt residues or hair that may be present in it.
The best part about the razor is that it is compatible with all kinds of razors. Even if you are using disposable razors or cartridge blades, this sharpener will work with them too. There are two different colors available; black and white.
Pros
It employs friction technology for cleaning and sharpening the razor blades.
Makes your blade last for 150 shaves.
Works with all brands such as Gillette and King of Shaves
Cons
Some users experienced that Gillette 2 Turbo is destroyed by this sharpener.
May reduce the sharpness of the blades.
Check out the latest prices at Amazon
2.Sustainable Village Razor Blade Sharpener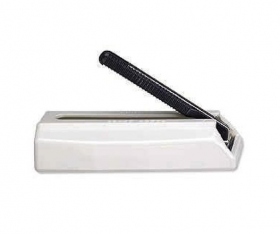 This razor blade sharpener is a must-have in everyone's bathroom. It helps to get the sharpness of your blade back quickly and is suitable for both disposable and regular blades. By doing so, it ensures that your blade lasts longer and you can do many more shaves with it. It can also ensure that you use 75% fewer blades by extending the life of your razors.
Replacement blades can burn a hole in your pocket if you are a hairy guy. For you, the best solution is to use this sharpener and save your bucks. It is a user-friendly product with minimal work involved.
When the edges of the razor blade are smooth, you will be able to enjoy a more comfortable and easy shaving experience. Making all its features even better is the fact that this sharpener is one of the quickest ones you will ever find in the market
The sharpener is compatible with all standard sizes of razors, as it works with single, double, and triple-blade razors.
Pros
Simple to use the product.
Takes only 10- 15 seconds of your daily time
Makes your razor blades sharper and better for daily use
Extends the life of your razor blade
Is much cheaper than other sharpeners in the market
Cons
Some concerns about not delivering a smooth shave.
Sharpening surface may crack after extended use.
Check out the latest prices at Amazon
3.GoSharp Shave Solution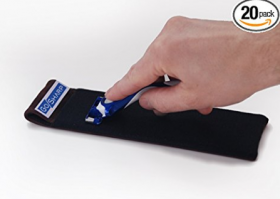 There are many razor blades that you can get from brands like Gillette and others. However, these are quite expensive. The main reason to change a razor blade is that it fails to shave the same way as before. Having to change your razor blades every 2 weeks is a costly process.
This is why the GoSharp Save Solution razor sharpener is a cost-effective option that helps sharpen razors and make them available for long-term usage. The sharpener sharpens current disposable razors after each use, prolonging their utility.
This product comes with microscopic diamond abrasives and is suitable for sensitive skin types.
This is a product that is not only good in the pocket but is also a step towards environment-friendly usage of goods. It is ideal for anyone who needs a regular and comfortable shave on a budget. Can work for both men's and women's razors extending their life up to 10 times.
Pros
Makes the razors last for a longer time
User-friendly product
Suitable for men's and women's shaving needs
Comes in a pack of 20
Uses micro-diamond abrasive technology
Environmentally friendly option
Made in USA
Cons
The sharpener does not come with any instructions, making consumers unsure whether to run the blade against or with the grain
For some customers, the product did not work at all.
Check out the latest prices at Amazon
4.Sodial ElectricRazor Blade Sharpener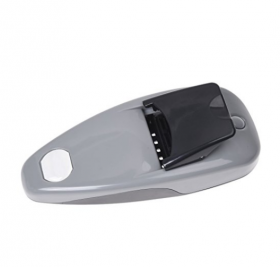 The SoDial Blade sharpener is a great tool for men who need to shave on a regular basis. The product has been tested in a lab for functionality and safety. Moreover, it is electric and can be used for your whole lifetime.
The sharpening material used in this sharpener is carbide silicone which helps keep the blades sharp on contact. It is compatible with most razor blades, including the simple ones and the multi-cartridge ones. Quite unfortunately, it does not work with the Gillette Mach3 or the Fusion Blade.
To use it, you have to lift up the clamp by pressing it. After that, simply move the razor under the clamp. When you do this, your razor should be wet. Once the razor is in its right place, you can close the clamp. Now, put the switch in the socket and activate the sharpener for 5 seconds. This much time is enough to sharpen the razor blades.
The remains of shaving foam or hair residues will be removed from the razor and the razor will come out much sharper.
Pros
Prolongs the life of the razor blade up to 200 shaves
Works with electricity so you do not need to buy batteries
Is quite easy to use
Is quite cheap
Makes the blades sharper in just 5 seconds
Cons
Does not work with the Gillette Mach 3 and some other blades
Check out the latest prices at Amazon
5.RazorpitRazor Blade Sharpener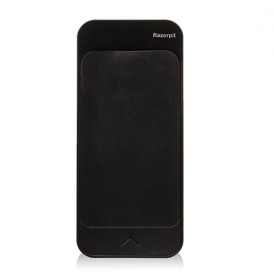 The Razorpit sharpener is a sharpener and cleaner, both and gives your blade a new feel. If you feel that your razors blades have lost their touch and need to be replaced, use this sharpener instead to get a new razor to feel the experience.
Shaving can also become dysfunctional because not only because of dull blades but also because different residue builds up in them. These may be the residues from hair that you have removed or the shaving cream that you are using. Moreover, there are dust particles present in the air at all times which can also get into the rims of the razor blades, making them blunt.
Razorpitremoves the built-up organic material from the blade and makes the razor last much longer. This is quite convenient since the user can get the same razor blade to work again and again without having to splurge on newer blades every month.
This product is suitable for use with disposable blades, double-edged blades or even cartridges.
Pros
Saves you the cost of buying new razors every month.
Prolongs the life of blades for up to 150 shaves.
Cost-effective product.
Cons
Some users said that it keeps half the razor blunt while only the other half is sharpened.
Check out the latest prices at Amazon
6.Razorpit BlackTeneo Blade Sharpener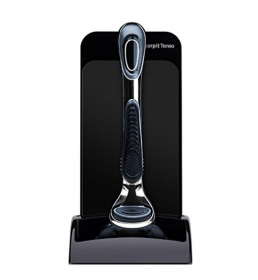 Razorpit has innovative friction technology that helps to get rid of the bluntness of your razor blades. It makes the blades sharp after they have been used multiple times and also keeps the dust and hair away from the blade.
With Teneo, you do not have to throw away the blades after using for just 6 to 7 shaves. Now, you can just sharpen the blades and use them for over 150 shaves. One of the distinguishing features of this sharpener is that it comes with a razor blade stand. You can keep your razor on this stand so that it is not damaged by constant exposure to water.
The Teneo sharpening product is much better at sharpening razor blades than other sharpeners of the same sort. This is because it allows closer contact with the razor and its texturized surface sharpens the razor with ultimate ease and efficiency.
The sharpener also has a storage place. You can keep up to 4 blades in the sharpener so that they are not misplaced and you do not have to keep them in random, dirt-prone places in your bathroom.
Pros
Has a storage space
Prolongs the life of the razor up to 150 shaves
Sharpens the blades and keeps them free of dust
Comes with a razor stand
Cons
Check out the latest prices at Amazon
7.Razorpit Men's Blade Sharpener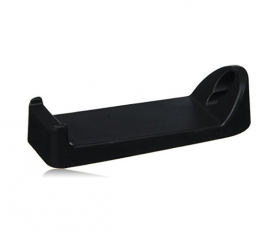 This tool is quite an effective and stylish addition to your toiletries. It can save the cost of self-care up to 90% since you do not have to waste your money on buying new razors every second day. While normal razors can offer 10 shaves, the sharpener makes the razor deliver 100 shaves.
The patented friction technology makes the sharpener work effectively for sharpening blades that you use on a regular basis. With the use of this sharpener, you can recycle your blades and your waste is also decreased. It weighs only 3.2 ounces and can be carried around in travel bags too.
Pros
Makes the blades last up to 100 shaves.
Uses patented friction technology for better working.
Can be used regularly.
Cons
Does not work on female blades such as Schick Quattro blades
Check out the latest prices at Amazon
8.Hone Alone Blade Sharpener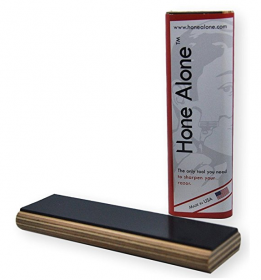 This product is quite stylish and the sleek design makes it a good addition to your toilet space. The friction technology of the sharpener makes it a much better choice than other razor sharpeners.
This is quite an economic investment since it saves money that would otherwise be used for buying new blades. A normal blade works for 6 to 7 shaves and the longevity of the blade can be increased by sharpening it every day using this sharpener. This sharpener is compatible with all kinds of razors.
Whether you use disposable razors or DE razors, you can sharpen them using this sharpener.
Pros
Makes the blades work for 150 shaves
No batteries needed
All American made
Easy to use product
Is compatible with all kinds of razors
Cons
May not be compatible with some Gillette razor blades
Complaints about the product being too narrow for some razors.
Check out the latest prices at Amazon
There is a wide option of using manual or
battery operated
razor sharpeners. Based on the frequency and use of your razor blades you can
choose a product that suits your needs
well.
For this list, the technology present in these razor blade sharpeners is fairly upgraded. With the use of these sharpeners, users can use the same razors for as long as 3 to 4 months. Along with being favorable for the pocket, these tools are also great for a reduction in waste.