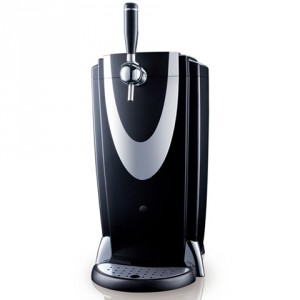 If you want to drink a tasty beer whenever you want, then a draft beer refrigerator will be the best solution. A draft beer refrigerator allows you to enjoy fresh beer any time you want at home rather than in a finished bar. There are various types, sizes, colors of draft beer refrigerators for you to select. So make your home into a mini bar with this draft beer refrigerator.
1. Beverage-Air BM23-B 7.8 cu.ft. 24″ Portable Draft Beer Cooler

Enjoy your fresh and cool beer in the summer at home with this Beverage-Air BM23-B 7.8 cu.ft. 24″ Portable Draft Beer Cooler. It features self-closing door with locks, 3″ insulated tower with single faucet and self-contained refrigeration. It has a capacity of one keg. Galvanized interior and stainless steel floor and black exterior make it stronger and more attractive. 4″ casters for mobility.
Buy on Amazon.com
2. Keggermeister KM2800BK Kegerator Full-Size Single-Tap Beer Refrigerator and Dispenser, Black

Keep your beer chilled and prevent it from going flat for up to three months with this Kegerator Full-Size Single-Tap Beer Refrigerator and Dispenser. It features an adjustable temperature control and 3-sided chrome guard rail around top work surface. The stainless steel tower comes with a black and chrome spout to accommodate a variety of different-size beer glasses or mugs. And its four durable casters make it more convenient to move around.
Buy on Amazon.com
3. EdgeStar Full Size Dual Tap Kegerator & Draft Beer Dispenser – Black

This inexpensive imported refrigerator combined with commercial-grade, NSF approved beer lines allows you to enjoy your favorite beers on draft while saving money. This EdgeStar Full Size Dual Tap Kegerator & Draft Beer Dispenser doesn't support use of Coors, Miller rubberized or other oversized kegs but can store up to a full sized half shell Sankey standard keg. Easy installation instructions and 5 lb. brewer preferred aluminum CO2 cylinder (supplied empty) included.
Buy on Amazon.com
4. TRUE TDD-1 Draft Beer Cooler 1 Keg, 115v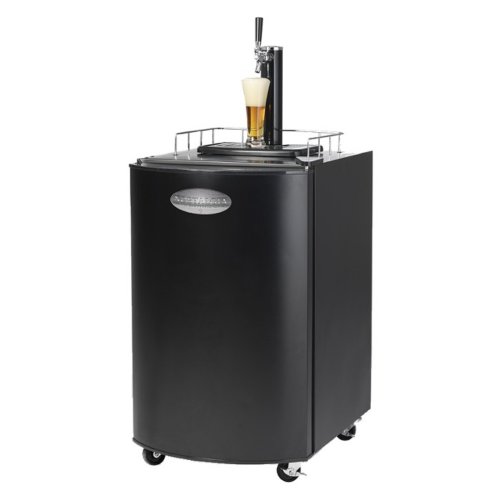 Designed to accommodate all types of beer kegs, this TRUE TDD-1 Draft Beer Cooler features an epoxy coated evaporator to eliminate the potential of corrosion. Its exterior features a heavy duty, wear resistant laminated black vinyl front and sides and the interior comes with 300 series stainless steel floor with1/2″ (13 mm) reinforced lip and heavy gauge galvanized steel walls. Its extra large evaporator coil balanced with higher horsepower compressor and large condenser.
Buy on Amazon.com
5. KRUPS and HEINEKEN B100 BeerTender with Heineken Draught Keg technology,Black

This KRUPS and HEINEKEN B100 BeerTender with Heineken Draught Keg technology are designed to work exclusively with Heineken, Heineken Premium Light and Newcastle Brown Ale. The Heineken DraughtKeg unit releases Co2 every time the tap is opened with the 25 patented components, keeping the beer remains fresh for up to 30 days. Ultra quiet and efficient Peltier cooling system provides constant and consistent cooling of the keg.
Buy on Amazon.com
This is a list of the top 10 most popular products by consumers.
Bestseller No. 1
Bestseller No. 2
KUPPET Beer Kegerator - Full Size Stainless Steel Kegerator, Draft Beer Dispenser - Keg Beer Cooler, Compressor Cooling CO2 Regulator Casters, Dual Tap, 6.0 Cu.ft. (Black)
【High Capacity】: 6.0 Cu.ft capacity holds US standard 1/6, 1/4, and 1/2kegsaccommodating for large parties, recreational rooms, bars, barbecues,and mancaves. (KUPPET Beer kegerator do not contain Kegs.)
【Stylish Design】: The appearance is novel and unique, and the single tap kegerator is independent of the brewing bar and the restaurant.It features a stylish black cabinet, an easy-to-clean detachable built-in drip tray, and a chrome-plated guardrail.
【Easy Mobility】: The four casters on the bottom allow the beer kegerator to be easily transported from one room to another, and the front casters can be locked to ensure that the unit does not roll on a hard floor.
【High Performance】: A stainless steel internal floor mat helps to prevent damage to the liner and also allows the kegerator to slide smoothly in and out during loading and unloading.All components are of high quality, ensuring long-term performance.
【Includes】: One stainless steel beer tower with stainless steel faucet, one CO2 tank (empty), one single gauge regulator, one stainless steel D coupler, one ID beer line, one ID gas line. The unit measures 21.3 W x 26.61" D x 35.43" H.
Bestseller No. 3
Kegco Dual Tap Tower Kegerator Conversion Kit, None
Kegco Standard Dual Tap Tower Conversion Kit includes everything you need to convert a refrigerator or freezer into a dual tap keg dispenser
Kegco two product dual gauge regulator displays both PSI and CO2 volume and features a large, easy-to-use adjustment knob
NSF-approved Kegco KT85D-L "D" system keg couplers has a convenient lever handle design and is designed for use with all domestic brand American "D" system Sankey kegs
3" diameter air-cooled chrome-plated metal draft tower comes complete with two NSF-approved chrome-plated metal faucets, two faucet knobs, and two 5' lengths of 3/16" I.D. beer line
Includes an empty 5 lb. aluminum CO2 tank made from high strength aluminum alloy, which is lighter than steel tanks and will not rust
Sale
Bestseller No. 4
Commercial Dual Tap Kegerator - KITMA 58 Inches Keg Beer Cooler Refrigerator with Digital Display, 4 Faucet, 33°F - 38°F
【Quality Warranty】Only sent to the east of the United States. Our products are all certified in the United States, we provide 24 hours / 7 days Customer Service and 1 years prompt responses onsite services including parts & labour. When your product has broken, we will perform "maintenance staff on-site service" within 48 hours. Make sure every item we sold in integral and have good working condition
【17.3 Cu.Ft Capacity】This kegerator has a large 17.3 cu.ft capacity that is enough to easily hold any full size keg, it can also hold up to 4 home brew kegs at the same time, which gives you the option to dispense more than one beer at a time to meet your high business demands
【Proper Temperature】This unit uses 1/6 hp compressor to maintain temperatures from 33 to 38 degrees Fahrenheit, ensuring that beer are always kept at the perfect temperature. Plus, through the digital temperature control you can always know the temperature of the kegerator whether suitable for your beer storage
【Double Faucet Towers】This keg cooler includes all the beer dispense equipment you'll need to provide cold beer for your customers. The double faucet towers can connect 2 or even 4 beer kegs with different flavors and types of beer, providing more options for your customers, so that your customers can easily fill his his favorite cold beer with beer glass
【Easy to Clean and Remove】This commercial kegerator features a black coated steel exterior and stainless steel top that is both durable and easy to clean, while a drip tray helps contain liquid for a further expedites end-of-day cleaning. Plus, outfitted with a set of casters, the unit easily rolls aside for regular cleaning or maintenance tasks
Bestseller No. 5
PEAK COLD 2 Door Commercial Beer Dispenser - Double Tap Keg Cooler - Kegerator; 48" W
Double Tap Keg Cooler - Commercial Grade Kegerator; Dimensions: 48.8" wide X 24.4" deep X 35.6" tall
Keg Capacity: 2 Half, 1 Half and 3 Slim Quarters, or 1 Half and 4 Sixths
Forced Air Cooled Towers and Keg Couplers Included
ETL and NSF Certified; R290 Refrigerant - Environmentally Friendly and Energy Efficient!
1 year parts and labor warranty, 5 year part warranty on compressor - commercial or residential
Bestseller No. 6
Sale
Bestseller No. 7
SPT BD-0538 Mini Kegerator & Dispenser
Accepts standard 5 liter kegs and 5L Heineken mini kegs
CO2 pressure control; Three (3) CO2 cartridges included
Thermoelectric cooling technology
LED temperature display; Adjustable temperature
Stainless steel housing
Bestseller No. 8
Kegco Kegerator Commercial Three Keg Beer Cooler Refrigerator - Three Faucet
DIRECT DRAW KIT NOT INCLUDED: This kegerator comes with one single faucet draft beer tower and one dual faucet draft beer tower, but it DOES NOT include a direct draw kit. If you do not already own the necessary draft dispense components, you will need to purchase them before you can begin dispensing kegs using this kegerator. You will need a CO2 cylinder, a CO2 regulator, keg couplers that are compatible with the types of kegs that you will be dispensing, air line, and clamps.
DIGITAL TEMPERATURE DISPLAY: The digital temperature display allows you to easily view the internal temperature without requiring you to open the door and disrupt cooling. The temperature can be adjusted between 31 degrees Fahrenheit and 41 degrees Fahrenheit using a manual dial conveniently located inside of the unit, allowing you to store and dispense your kegs at their ideal temperature. Beer is best dispensed between 32 degrees Fahrenheit and 38 degrees Fahrenheit.
LARGE INTERIOR: This draft beer dispenser has a large enough interior capacity to accommodate three full size or pony kegs, up to six quarter slim kegs, and up to eleven 5 gallon kegs (with an externally mounted CO2 tank). The versatile beer keg refrigerator even comes with two heavy duty adjustable shelves, allowing you to store cans and bottles or keep your mugs frosty cold on one side while dispensing multiple 5 gallon kegs from the other side.
POWERFUL COOLING TECHNOLOGY: Forced air refrigeration keeps the beer in your kegs ice cold, while hoses direct cold air into each beer tower to ensure that the line is cooled all the way up to the faucet. The refrigeration system uses ozone friendly R134a refrigerant and can be easily accessed at the front of the unit, making it suitable for both built-in and freestanding applications. This kegerator has a 25% more energy efficient design that will help save you money each month.
DURABLE COMMERCIAL GRADE CONSTRUCTION: This kegerator has a sturdy steel construction with a smooth black exterior, and has been designed to withstand the demands of commercial use. It features a rubber floor mat that reduces the shock of heavy kegs on the stainless steel floor, helping to ensure that it provides reliable performance for years to come. Built-in drip trays with external drains and secure door locks add to this unit's convenience. Measures 36.2" H x 72" W x 24.5" D.
Bestseller No. 9
Ivation Full Size Kegerator | Dual Tap Draft Beer Dispenser & Universal Beverage Cooler | CO2 Cylinder, Temperature Control, Drip Tray & Rail, Fits 1/2, 1/4 Pony Keg, (2) 1/6 Kegs (Stainless Steel)
SERVE ICE COLD DRAFT BEER AT HOME | Freestanding Keg Refrigerator & Universal Beverage Cooler Keeps Up to [2] Separate Beers Types on Tap for Amazing Anytime Refreshment! | Fits a Standard Full-Size Half Barrel Keg [1/2], Pony Keg [1/4], Slim Pony Keg [1/4], Up to [2] Sixth Barrel Kegs [1/6] or [2] Cornelius Homebrew Kegs
STUNNING DUAL-TAP CHROME TOWER | Gorgeous 3" Drink Dispenser Includes Two-Faucet Tap, Eye-Level Styling, Sleek Polished Chrome Finish, Removable Drip Tray & Guard Rail to Prevent Spills | 15" High Tower Provides Ample Clearance to Accommodate Lager, Stout, Ale, Pilsner, IPA, Porter, Weizen, Pint Glasses & More
FAST, POWERFUL 34° REFRIGERATION | Indoor Draft Beer System Keeps Contents Icy Cold All Season Long with Convenient 7-Level Temperature Control Knob | Cools to Average of Low 30s to Mid 40s to Ensure Minimal Foaming, Ideal Carbonation & Balanced Flavor | Energy-Efficient Design Saves You Money & Peace of Mind
CONVERTS TO A BEVERAGE COOLER | No Keg? No Problem! | Flexible Features Include [2] Height Adjustable Wire Shelves, [5] Built-In Shelf Slots, Reversible Door, Automatic Defrost, Smooth-Rolling Caster Wheels & FDA Food-Safe Components | Enjoy Versatile Cooling & Storage for Beer, Wine, Soda, Water Bottles & Beyond
CO2 TANK WITH COMPLETE ASSEMBLY | American "D" System Sankey Keg Tapping Kit Comes with Everything You Need to Get Started! | Includes 5Lb. CO2 Cylinder (Empty), Regulator, Gas Lines, Accessories & Mount Gear for Storing Tank on the Rear of the Kegerator | The Ultimate Gift for Beer Lovers' Birthday, Anniversary, Housewarming, Man Cave, Etc.
Bestseller No. 10
Kegco BF STCK-NT Standard Tower Kegerator No Tank Beer Conversion Kit, Standard
PRO SERIES DUAL GAUGE REGULATOR: Easily measure PSI and Co2 volume and adjust Co2 output pressure using this Kegco 542 Pro Series Double Gauge Regulator packed with premium features. The top gauge indicates output pressure, while the side gauge tells you what's left in the Co2 tank, so you don't run out of gas during a party. The Standard plated brass body has a large pressure adjustment knob for easy use and includes a manual pressure release valve.
LEVER HANDLE KEG COUPLER: This NSF-approved Kegco KT85D-L D System Keg Coupler features a sturdy nickel-plated forged brass body with a stainless steel probe, and is designed for use with all domestic brand American D system Sankey kegs. The lever-handle design is easy to use - simply pull out and then down on the handle to couple the keg. A 55-psi pressure relief valve makes this coupler even more convenient to use, allowing over-pressurized gas to escape before it enters your keg.
SINGLE FAUCET DRAFT BEER TOWER: Featuring a beautiful Standard-plated metal finish and a matching Standard-plated faucet with metal lever, this 3" diameter air-cooled Kegco D4743T draft beer tower is the same stylish tower used on most commercial grade kegerators. This tower conveniently includes 5 feet of clear beer tubing ending in a nozzle and hex nut assembly for quick connection to all standard keg couplers, as well as a gasket and for screws for easy mounting.
STANDARD METAL BEER FAUCET WRENCH: This beer faucet spanner wrench is an essential tool that allows you to quickly and confidently loosen or tighten shank collars without scratching your faucets. This wrench has been built to last with a rugged all-metal construction and a convenient 5-1/4" length.
INCLUDES DETAILED INSTRUCTIONS: This kegerator conversion kit comes with easy-to-follow directions and all of the high-quality draft dispense components you'll need to quickly and easily convert your refrigerator into a high-performance draft beer dispenser
Last update on 2020-11-28 / Affiliate links / Images from Amazon Product Advertising API