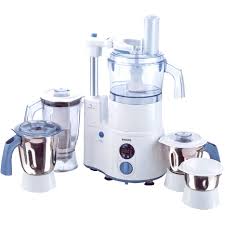 It is to be highly noted that a food processor has become a part and parcel of our home kitchen. Depending on the type and size of the food processor, several cooking task can be done within the given cooking area in the kitchen. Most of these home appliances help to powdering, blending, chopping, grinding and mixing food ingredients according to the requirements. It mostly helps to deal with grains, vegetables, fruits and nuts and many more food items.
What you should do?
All the food processors are accompanied by an instruction manual. Assemble the food processor according to the assembling instruction given. It is to be remembered that the given machine can be disassembled after use and can be stored in a safe place. You should have the habit of cleaning the food processor after each and every use. There may be spill of food items on it so it should be removed immediately. It is better to clean it before and after the use with a neat and clean cloth or duster.
While blending, grinding, powdering and mixing, cut the ingredients into small pieces and never put large pieces in the container. There is much chance of spoiling the given blade through large pieces. Use the lid of the container properly. The lid should be closed tightly so that the ingredients are not thrown out in the grinding process. The container should be cleaned before and after the use.
Very important steps
You should make sure that the cord of the food processor is plugged into the given socket only when in use and should be removed after use. Never have the habit of placing it connected to the direct electricity supply. You should operated the given food processor with it's on and off switches only. Use the speed according to the requirements. You should never overload the container because it may break in the process of operating.
Safety norms
You should follow all the safety norm instruction given in the manual of the food processor. You should adhere to the do's and don't's in the instruction. If you wish to use the given equipment for long term use then you should follow all the given instruction so that it last much longer period. Never show any type of haste while using the processor. Your safety is more important so handle with much care in the kitchen while cooking process. If you follow all these norms and instructions then life is very easy and simple with these food processors.
Click here to see what others are saying…