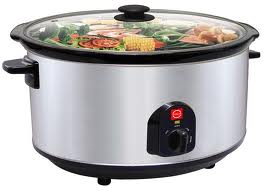 The slow cooker is best suitable for making all kind of soup. Our healthy slow-cooker recipes and are an easy way to organize a comforting bowl of soup or stew for dinner. You can prepare a healthy soup without spending lot of time in kitchen. The soup can simmer in the slow cooker all day, which makes it perfect for a healthy supper when the end of your day is rushed.A slow-cooker is a tool like any other and you'll get better at cooking with it the more you use it.
1. Ingredients to be added at the beginning
vegetables that have to be added at the beginning are onions, root vegetables like potatoes and carrots, winter squashes, tomatoes, celery, cauliflower, and broccoli
in case of meat lean cuts from the shoulder and rump of beef, lamb, goat, pork, whole chickens, chicken thighs, and chicken legs
most spices should be added at the beginning of cooking, though i find that rosemary can become bitter over the longest cooking times and is best added at the end.
2. Ingredients to add at the end
These are the items that have to be added at the end as they do not tend to withstand longer hour of cooking. Softer items like peas, corn, bell peppers, and spinach. Chicken breast, fish,milk, yogurt, sour cream, cream cheese are to be added at the end.
3. Cut all ingredients to the same size to make sure that they get cooked evenly
4. There is very little evaporation in the slow cooker. So put all your ingredients in the slow cooker and then pour the broth over top. Cover the vegetables by about 1/2 inch.
5. Place longer-cooking ingredients on the bottom of the slow cooker so as to make them get cooked well.
6. Choosing a cooking time: recipes like meat are best when cooked for six hours minimum or up to ten hours. Whereas vegetarian recipes are best cooked for around four hours but can do a minimum of two hours or maximum of six hours
These are the key tips to keep in mind when putting together your slow-cooker soup recipes.
The easy to prepare anywhere slow cooker soup can be prepared at ease with the help of a slow cooker. You can prepare lots of recipes using a slow cooker. Get the best slow cooker that can suit your need and budget if you are organizing a low budget party. Find the variety of slow cooker soup recipes online with leading cooking sites. The healthiness of your slow cooker coup depends on the type of ingredients and preparation method you choose. Get seasonal slow cooker soup recipes online to enjoy your festivity in a healthy manner.
Don't have a slow cooker at home? You can purchase high quality slow cookers online with reputed slow cooker dealers offering them at reasonable rates. Also make use of the gift vouchers and coupons available with the slow cooker dealers to save your money while buying high standard of slow cookers.