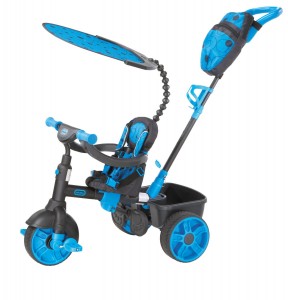 Every child will remember their first bike. Make those special memories with a tricycle with push handler. The push handle is a great feature which allows adults to walk comfortably as they control the speed of the tricycle. Now your little ones can simply enjoy the fun and independence of their first tricycle while you guide them for piece of mind.
1. Radio Flyer 4-in-1 Trike, Red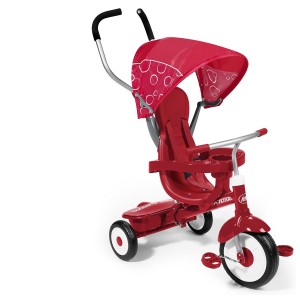 Designed for children 9 months to 5 years, the Radio Flyer 4-in-1 Trike converts from a stroller, steering trike, learning-to-ride trike and finally a classic tricycle. It has removable wrap around tray with cup holder for child's protection. There are 3 point harness to keep infants safe. Also features removable headrest to provide neck support and adjustable seat to grow with your child. Unique stroller-style canopy protection from UV rays. Weight capacity 49-Pounds.
Check user reviews and latest prices on Amazon
2. Schwinn Easy Steer Tricycle, Red/White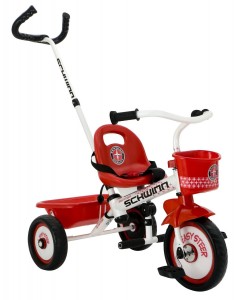 Providing the perfect combination of comfort and child safety, the Schwinn Easy Steer Tricycle will make both you and your little one happy. This heavy duty tricycle features high back seat and 3-point seat belt, makes learning to ride fun and easy. The wide, long-lasting EVA tires offer a stylish look your child is sure to love. There is a gravity lock dump bin to bring along toys, or supplies. Ages 2-4 years.
Check user reviews and latest prices on Amazon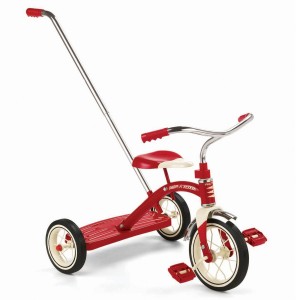 Looking for a cute, easy to ride and sturdy tricycle for your little one? You may love the Radio Flyer Classic Tricycle with Push Handle. This tricycle has removable 3-position adjustable handle to help guide your child's ride. With the controlled turning radius and low center of gravity, this tricycle is easy for little ones to ride. Also features sturdy steel construction, durable steel spoked wheels with real rubber tires. Weight capacity 42.5-Pounds.
Check user reviews and latest prices on Amazon
4. Joovy Tricycoo Tricycle, Greenie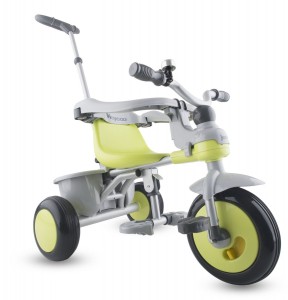 Great for children as young as 18 months and up to 44 pounds, the Joovy Tricycoo Tricycle is the first wheels to introduce your child to balance and coordination. It features fold down footrest and removable baby surround arms to provide stability to a younger child. The removable and adjustable parent push handle allows you to be in control while your child masters each stage of learning. The pedal lock can be unlocked or locked so your child can freewheel or pedal by themselves.
Check user reviews and latest prices on Amazon
5. Little Tikes 4-in-1 Ride On, Neon Blue, Deluxe Edition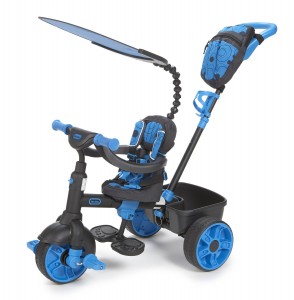 Ride the safe and fun way with the Little Tikes 4-in-1 Ride On. This 4-in-1 trike features durable, quiet-ride tires, non slip pedals and adjustable, detachable push handle that allows parent to control direction with one hand. Seat adjusts to 4 positions to fit almost any size child. Also comes with 5-point seat belt harness and protective safety bar. Durable metal/plastic construction. Great gift for your little one.
Check user reviews and latest prices on Amazon