Have you ever been in a hurry and wished your toddler could feed themselves? Are you looking for an easy solution to take along snacks, water and more? Reusable baby food pouch is your answer. It offers a simple way to take healthy homemade purees, yogurt, smoothies to anywhere you go. Both you and your baby will love it.
1. Resqueeze Reusable Food Pouch 6 oz (4-Pack)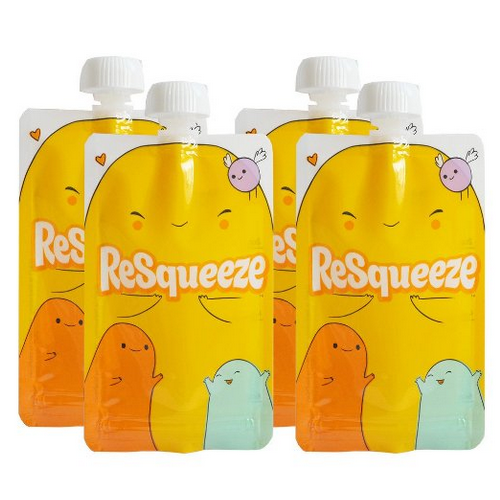 If you are looking something for feeding soft foods to infants, toddlers, and school-age children, then you will be pleases with the Resqueeze Reusable Food Pouch. This pack includes 4 reusable resqueeze pouches with 6 oz capacity. Each features clear fill line and measurement markings. The top-spout extra wide bottom opening makes for easy filling and cleaning. Also features heavy duty dual-zip closure to prevent leaks. Constructed of layers of nylon and food-grade plastic. BPA and PVC free.
Check user reviews and latest prices on Amazon
2. Reusable 8oz Food Pouch, Perfect for Organic and Homemade Baby Food, 4 Pouches, U.S. Lab Verified Safe, Extra Strength Zip-lock System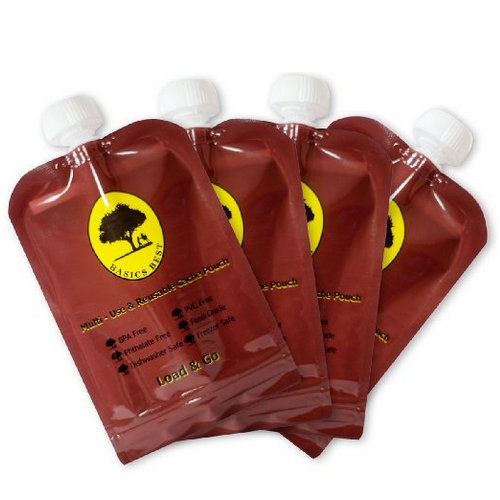 Have active kids and need healthier options for snacks? Turn to these Reusable 8oz Food Pouches by Basics Best. Perfect for yogurt, smoothies, applesauce, and wonderful homemade purees, these pouches feature extra wide zipper opening that makes for easy filling, and is secure enough to trust in your travel bag. Recyclable, BPA, PVC, Lead, and Phthalate free. Dishwasher safe so cleanup is a snap.
Check user reviews and latest prices on Amazon
3. Squooshi Reusable Food Pouch – Assorted Sizes – 6 ct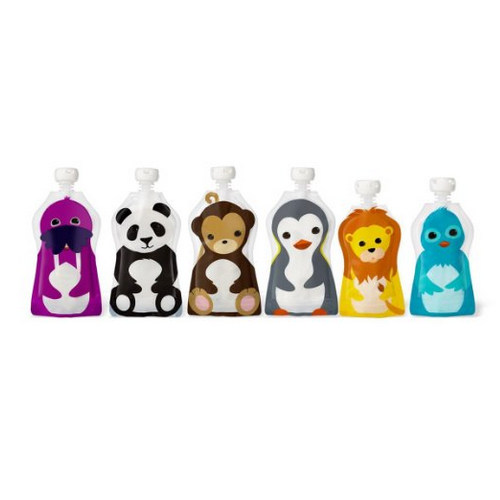 Adorably designed, reusable and safe, the Squooshi Reusable Food Pouches are the perfect solution to hold purees of all types from baby food to applesauce to smoothies. These pouches have straight forward shape with a top spout and wide bottom zipper for easy filling. Easy to clean by hand. Can also be placed in the top rack of your dishwasher. Made to last with durable, BPA, Phthlate, PVC & Lead Free materials. Perfect for babies, toddlers and big kids too.
Check user reviews and latest prices on Amazon
4. Reusable Food Pouch for Baby Toddler and Kids – 8 Pack by GOODIE POUCHES – Homemade Puree & Smoothie Squeeze Pouches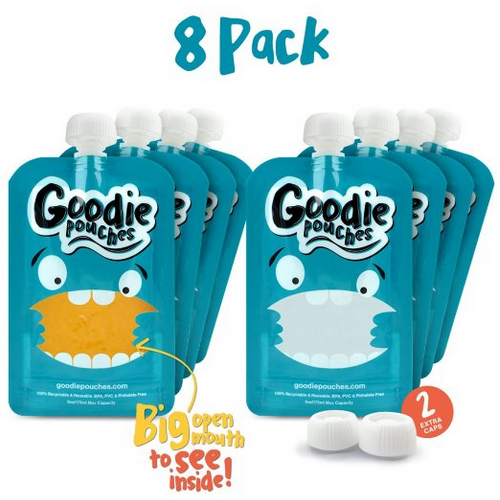 Finally, a perfect meal-time companion that is perfect for homemade organic snacks like yogurt, applesauce, puree fruit and vegetables. The Goodie Reusable Food Pouches feature big wide opening for easy filling and cleaning. The top spout makes handling easier and eating comfortable. With the maximum fill line, you won't overfill and make a mess. Dishwasher and Freezer Safe. Reusable, save you money and help the environment.
Check user reviews and latest prices on Amazon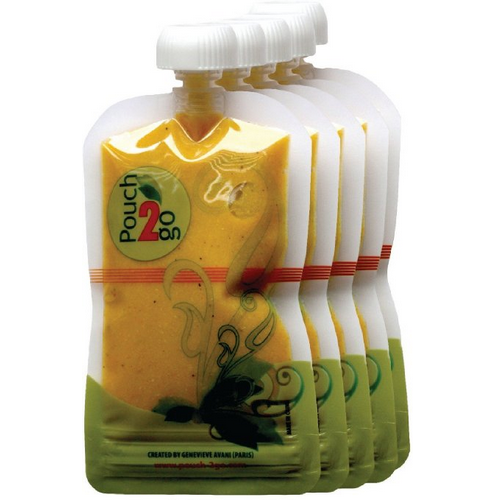 Your search for the best reusable food pouches is finally over. This Pack of 5 Reusable Baby Food Pouches from Pouch2Go have elegant transparent design with wide bottom opening, making them easy to clean and fill. The robust, reliable zipper stays closed and the tops are designed not to be a choking hazard for babies. A perfect solution to taking healthy, wholesome homemade food to anywhere.
Check user reviews and latest prices on Amazon