Do you want to make your own healthy baby food, easily and quickly? Are you tires of buying pre-made foods? Baby food freezer tray is an answer. It is the perfect solution for storing homemade baby food or breast milk. Easy to use, just pour expressed breast milk or pureed baby food in the tray and put it in the freezer. Every Mom or Dad will love it.
1. Silicone Baby Food Freezer Tray with Clip-On Lid, Makes 9 X 2 Oz Cubes, BPA Free, FREE 31 Page EBook with 25 Homemade Baby Food Recipes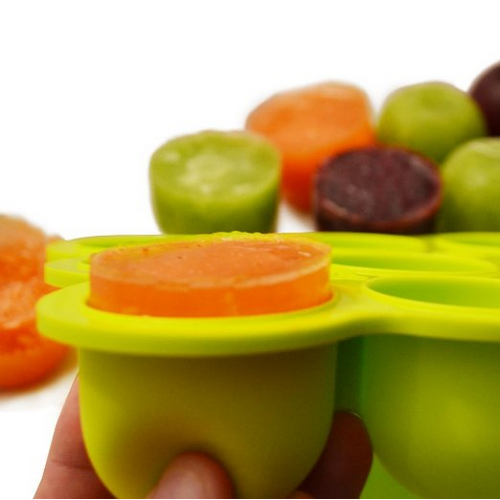 Tired of those hard to use glorified plastic ice cube trays with hard to put on lids? Turn to the Silicone Baby Food Freezer Tray from Simple Kitchen Products. Made of high quality FDA approved food grade silicone, the freezer tray is bacteria resistant, Certified BPA Free and safe to use in the freezer, dishwasher, microwave and in the oven up to 460°F. Thanks to the non-stick design, the tray provides you with easy to release portions cubes. Also comes with clip-on silicone lid to prevent spilling and protect your food.
Check user reviews and latest prices on Amazon
2. Baby Food Storage Tray – Silicone Pop Out Portion Freezer Tray (2 Pack) – Breast Milk and Food Storage Made Easy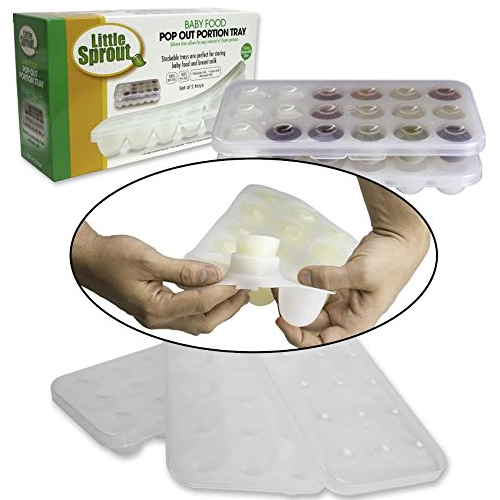 Make breast mill and food storage easier with this set of 2 Baby Food Storage Trays from Little Sprout. Each tray has 18 cups and each cup holds 1 ounce. The removable silicone liner for easy removal of frozen portions. The plastic base gives you a durable base for easy stacking. These trays are 100% BPA and phthalate free so they are safe for baby. Also safe to use in dishwasher, microwave and freezer.
Check user reviews and latest prices on Amazon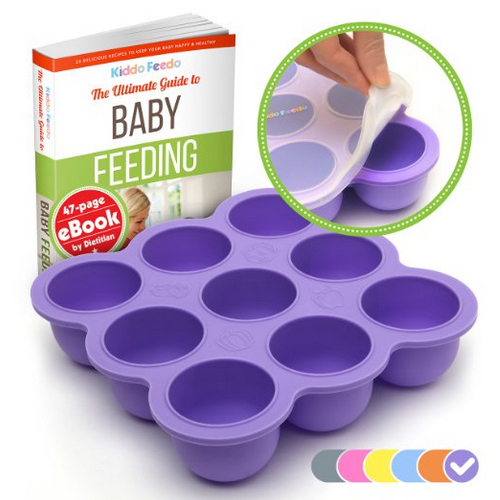 If you are looking for a smart, safe and simple way to freeze homemade baby food, then you will be pleased with the Kiddo Feedo Freezer Tray. Made of non-stick flexible silicone, this freezer tray features wider, round cubes that allow you to release portions individually without disturbing the other cubes. The lid is also made of silicone so it is easy to clip on and remove. The tray is stackable to save valuable space in your freezer. BPA, phthalates, PVC, latex and lead free.
Check user reviews and latest prices on Amazon
4. NUK Homemade Baby Food Flexible Freezer Tray and Lid Set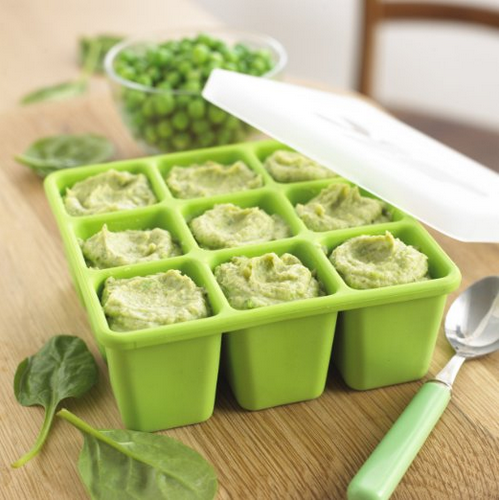 Making nutritious homemade food for your baby has never been easier than with the NUK Flexible Freezer Tray. Designed to freeze and store the perfect portions of your homemade baby food, this tray stores (9) 1-ounce portions of baby food and comes with a lid for easy storage. You can easily pop the frozen food out of the tray since it is made of 100% silicone. Freezer-safe, dishwasher-safe and BPA-free.
Check user reviews and latest prices on Amazon
5. Fresh Baby So Easy Baby Food and Breast Milk Trays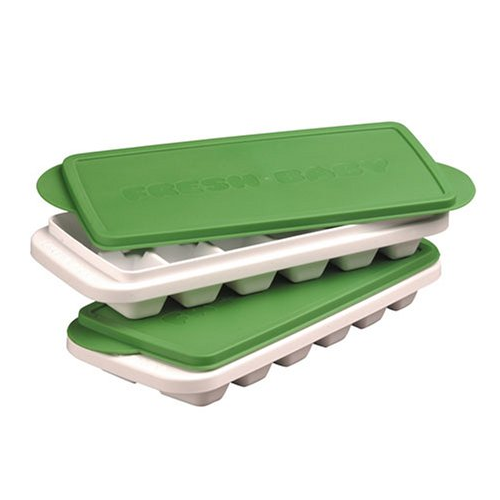 Simplify feedings and reduce waste of baby food or breast milk with the Fresh Baby So Easy Baby Food Storage Trays. Each tray makes 12 pre-portioned servings and comes with a cover so there are no spills, no mess, and no odors. They are stackable for space saving. Dishwasher safe for quick and easy cleaning. FDA-approved food-safe, BPA, PVC, Phthlates and Plasticizer-Free. Very convenient for Mom and Dad.
Check user reviews and latest prices on Amazon